TV Pick-Ups! Syfy's 'Defiance' Renewed, 'Ground Floor' at TBS and 'Inside Job' at TNT Get Series Orders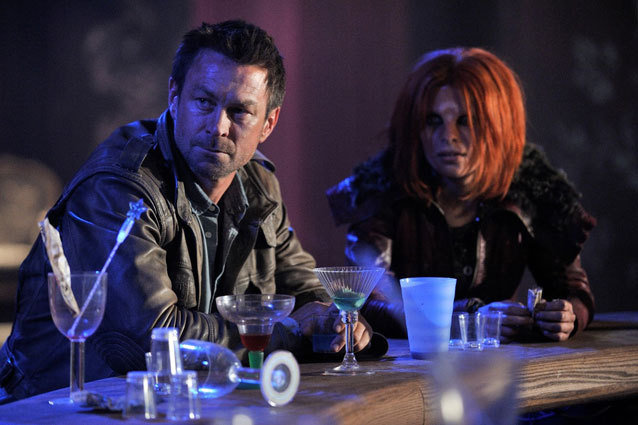 So basically we had a month's worth of TV news crammed into a single day today. You all know that NBC pretty much canceled its entire lineup, except for Community and Parks and Recreation, and that CBS nixed CSI: NY,  Vegas, and Rules of Engagement. Certain TV creators were very happy May 10, however.
Syfy's Defiance, an ambitious new series launched in February in conjunction with a corresponding massively multiplayer online game, got a second season pickup. It'll return in 2014 for another 13 episodes, and begin production in Toronto this fall.
TNT has given the greenlight to a job-search reality competition series that sounds like an even more Orwellian version of The Apprentice. The six-episode Inside Job, launching in 2014, will take four qualified candidates for a six-figure executive job at a major corporation and have them all stay in a mansion together for the duration of a grueling interview/vetting process that involves an element of spying. One of the four candidates is already in management at the company and is observing the other three to discover which may be the best for the job. Yep, this is what you have to do to get employment nowadays.
But perhaps Bill Lawrence, best known as the creator of Scrubs and Cougar Town, had the best day of all. His Surviving Jack and Undateable already got pick-ups from Fox and NBC respectively, but he also got a third series order today for Ground Floor on TBS, a comedy he's been developing with former Friends and How I Met Your Mother executive producer Greg Malins. Launching with 10 episodes in 2014, it's a modern day take on Romeo & Juliet, about a hotshot young banker who has a one-night stand with a woman…only to discover that she works in maintenance at his office.
Plan on watching any of these?
Follow Christian Blauvelt on Twitter @Ctblauvelt
More:
NBC Adds Bill Lawrence's 'Undateable' and More to Lineup
Bill Lawrence Stepping Down as 'Cougar Town' Showrunner
Syfy Show 'Defiance' Is a Geek and Gamer's Dream
---
From Our Partners:


Watch Justin Bieber Attacked in Dubai (Celebuzz)


33 Child Stars: Where Are They Now? (Celebuzz)