Wyatt Cenac Signs Off From 'The Daily Show'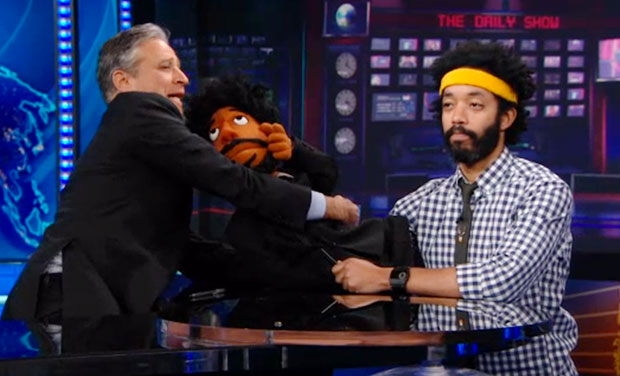 Fans of The Daily Show all knew this day was coming, but that still didn't make it any easier. On Thursday night Wyatt Cenac stepped down from his post as one of the best f**king correspondents from the Emmy-winning fake news show. After five years with the series, Cenac (who is also a stand-up comedian and an up-and-coming indie actor) is moving on to different things. Hopefully, things with puppets. 
Thankfully the wry 36-year-old tried his hand (get it?) at puppetry one last time. During a surreal and utterly hilarious final segment, Cenac traveled to San Juan to investigate Puerto Rico's most popular news network Super Xclusivo whose hard-hitting journalist is….a gaudy lady puppet. Seriously. Cenac can't believe his eyes (neither can I actually) until he himself transforms into a hard-hitting journalist puppet, too. (Sadly, no final interview with puppet Michael Steele here.) 
Check out Cenac's wonderful send-off below, including host
Jon Stewart
's spot-on praise that he's "an unbelievably talented man and really fun to watch" and maybe ease the pain of his departure with some Puerto Rican rum. 
[Photo credit: Comedy Central]
More:
Wyatt Cenac Leaving The Daily Show

'The Hobbit' Cast: A Who's Who New Character Guide (Moviefone)