10 Food Scenes in Movies That Will Make You Hungry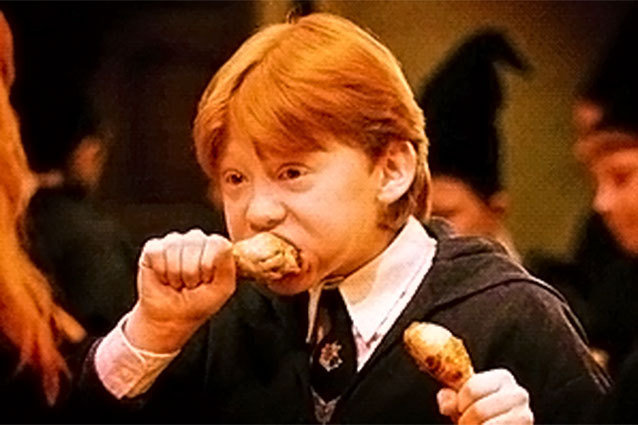 Warner Bros.
Food is a staple of life, and therefore, it's a staple of film. While some people aren't that good at making food look that appetizing on camera (we're looking at you, Martha Stewart), many excel at making the food look so delectable in films that you want to throw the bowl of popcorn in your lap away in frustration. Popcorn is tasty, but not as tasty as whatever Ron Weasley is eating.
Here our 10 movie scenes that make us wish that we could jump through the screen and eat anything and everything:
(Warning: The below content will make you hungry.)
1. Any Great Hall feast scene in Harry Potter: Unlimited delicious food is one thing, but the fact that it magically appears and replenishes itself makes it possibly the best thing ever. If I'm ever as happy and content as Ron is while he chows down on chicken legs, then I will have lived a good life.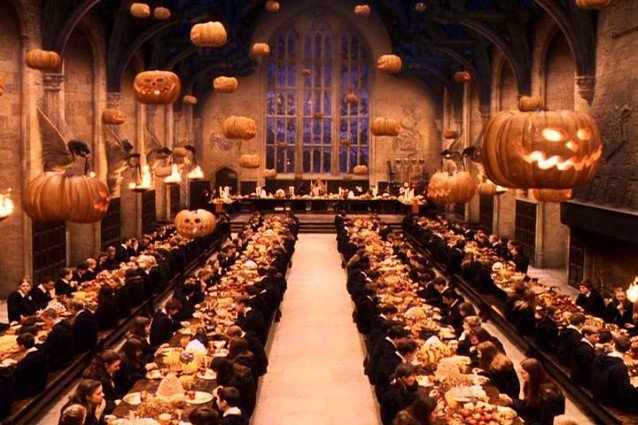 Warner Bros.
2. When Harold and Kumar finally get to eat at White Castle in Harold and Kumar Go to White Castle: I think it's someone's dream out there to be surrounded by burgers and fries. (If it's not, it totally should be.) Yeah, you might feel like s**t afterwards, but it's totally (maybe) worth it.
New Line Cinema via Everett Collection
3. The food critic eating the ratatouille in Ratatouille: The warm colors! The sauce! The presentation! Remy the rat more than mastered the French dish, so much so that Anton Ego's tastebuds drifted him back to a time in his childhood of pure joy. Any food that floods you with memories of happiness is a dish that needs to be tasted by all.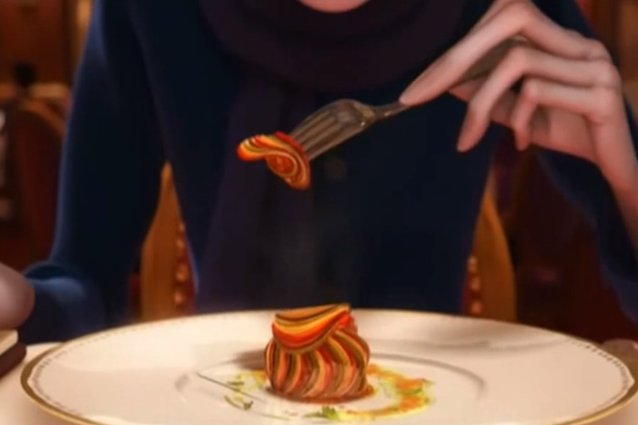 Walt Disney
4. The "Pure Imagination" scene in Willy Wonka & the Chocolate Factory: Food is one thing, but candy is whole other ball game. We're talking gigantic gummy bears in trees, a chocolate waterfall, arm-length candy canes, jawbreakers the size of pumpkins, and edible teacup flowers. I don't care if I drop down a chicken chute — I want to eat everything.
Everett Collection
5. Almost every scene in Marie Antoinette: The film may lack plot and progression, but it sure knows how to make stuff look good. From shoes to dresses to hair to food, Sofia Coppola knew what kind of look she was going for. Now someone please pass me anything that has strawberries and whipped cream on it.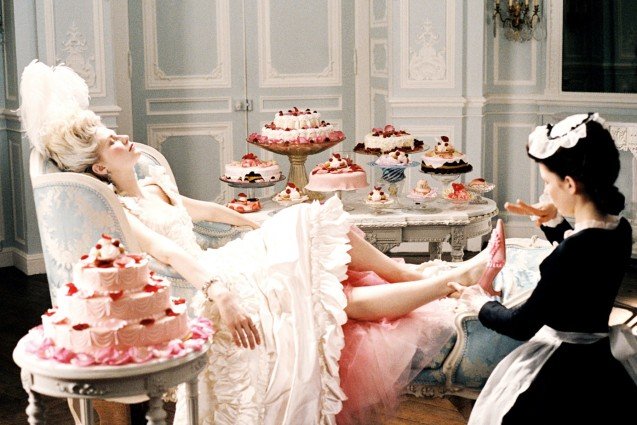 Sony Pictures via Everett Collection
6. The surprise breakfast scene in A Little Princess: Waking up to breakfast in your bedroom is a wonderful way to spend a Sunday morning, but this scene managed to take it a step further by decorating the whole room with sunset orange curtains, sunflowers, and, most importantly, a table filled with breakfast foods. And the meal is even more special because it's basically the first time Sara is treated kindly since she was banished to a life of servitude at a boarding school after her father went missing and was presumed dead. Is anyone else tearing up?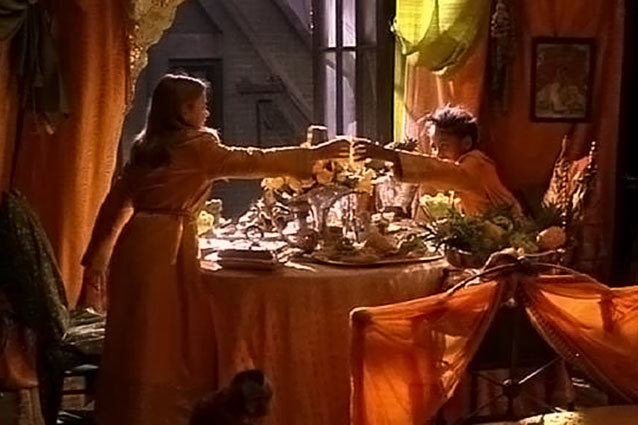 Warner Bros.
7. When Steve Martin and Meryl Streep make croissants in It's Complicated: Not only does Streep's character have the most country-chic kitchen ever, but she knows how to make a chocolate croissant while flirting. Now that's a skill. The croissants are a perfect golden brown, there's a light crunch to them, and they're so delicious that they cause Martin's character to say, "Oh, baby." (Plus, cooking/baking in a kitchen after hours is something I've always wanted to do… I'd also take being stuck in a grocery store over night.)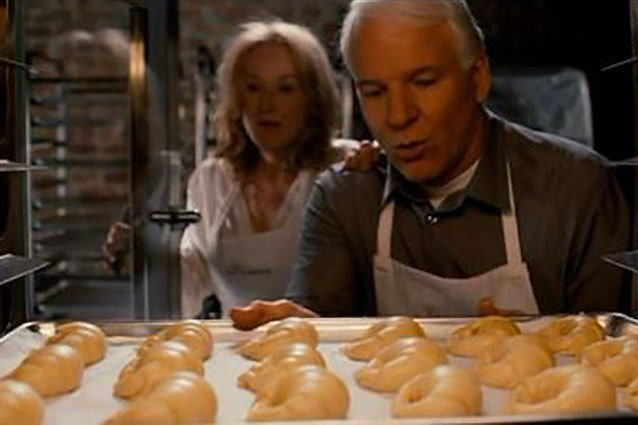 Universal
8. Basically any scene in Julie & Julia: Because this movie aims to make us pass out from hunger the whole way through, every scene in this movie makes the list. Except for the raw chicken scene… I don't want that.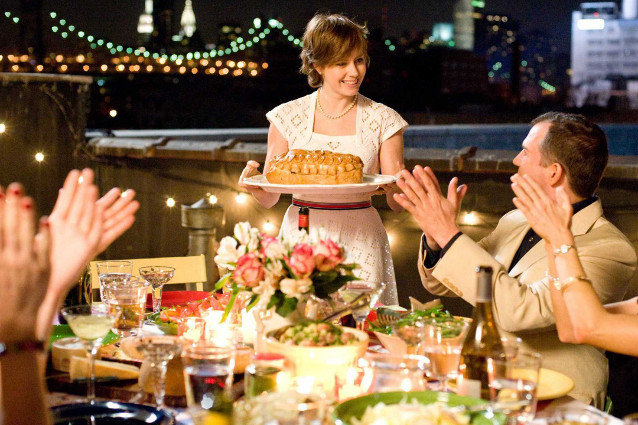 Columbia Pictures
9. When the Grinch cuts the "roast beast" in the How the Grinch Stole Christmas 1966 TV special: Combine Christmas dinner with a heartwarming ending to a story and you've got yourself the ultimate holiday meal. Or maybe I just want the cartoon food so badly because I know I'll never be able to have it…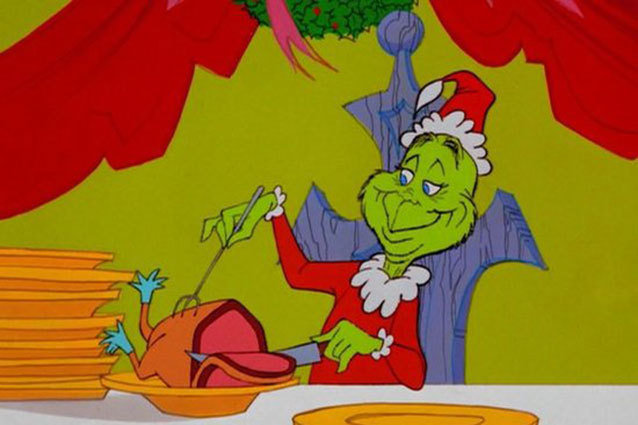 CBS
10. When Timon and Pumbaa eat bugs in the Lion King: So I guess I like animated food scenes — so what? Yeah, I've been told that I'm weird for thinking that the bugs look absolutely delicious, but I firmly stand by my belief that they would taste amazing. Slimy yet satisfying!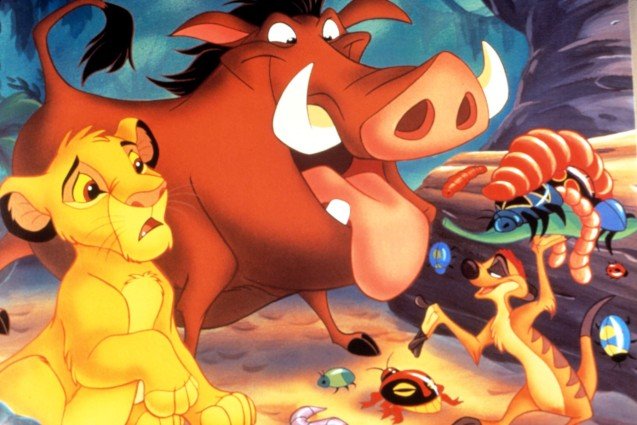 Buena Vista Pictures via Everett Collection