Drones Have Graduated from Amazon Delivery and Are Making Movies Now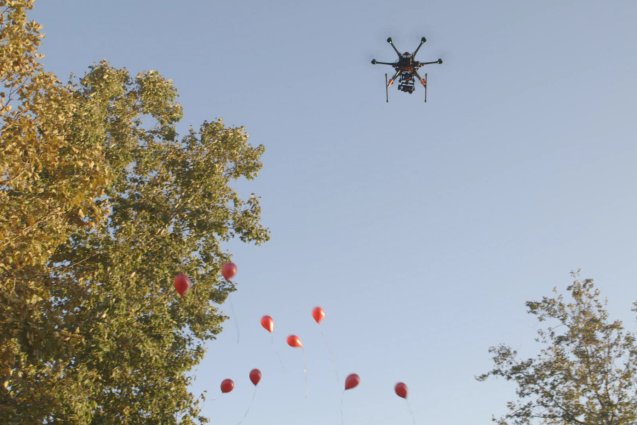 Omelet
Last week, we all caught wind of Amazon.com's new scheme to use drones in a terrifying means of instantaneous package delivery. But we've learned a slightly less Asimovian use for this technology takes place in the world of cinema, as independent filmmakers are beginning to utilize the airborne robots to shoot their movies. One upcoming feature that has opted to induct drones into production is the documentary License to Operate, which looks to open viewers' eyes to the eponymous Los Angeles-based program that sees reformed criminals and gang members working with the police force to put an end to local crime and violence.
"When you watch the film, not only do you have straight face-to-face interviews with the LTO members, you have time-lapsed shots from a mile above the city, you have shots that show the difference between the violent neighborhoods in comparison with the larger metropolitan areas," says Devin Desjarlais, a representative of Omelet — the company behind the production of License to Operate. Needless to say, when discussing the film and the weight of the issues within, we were surprised to land on the topic of drones. Bearing such controversial connotations, we didn't imagine that drones could be (much less are being) utilized in the craft of moviemaking.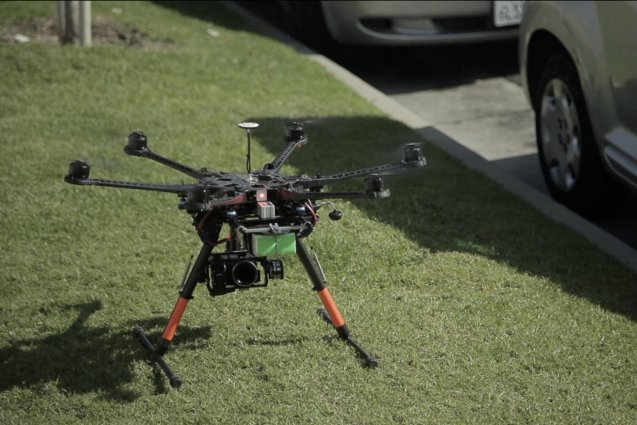 Omelet
But apparently, they're not only capable, they might even be technically superior to some traditional methods: "The reason we chose to use drones is because we were able to get those shots for a relatively reasonable amount of money. Of course we didn't have a huge budget for this, but we wanted to be able to show those comparisons, the bird's eye view shots, all of the shots that somebody would be able to do if they had a crane or plane, for instance. But we needed a way to do it. So we found these drones."
Knowing little about the technology itself, we asked Desjarlais to elaborate. "They're essentially hover cameras," she says. "They have six legs, and there's a Canon DSLR that attaches underneath it. These drones are able to lift off the ground and slowly move around in a very fluid manner, and go up to a mile above the city. It's incredible; it's so cool to watch. And course, we're able to do these incredible crane shots, where the LTO members are walking down the train tracks and walking towards the camera. You go from shooting at their feet to going 500 feet above their head, which the drones allowed us to do for a much more reasonable cost than a crane would."
Omelet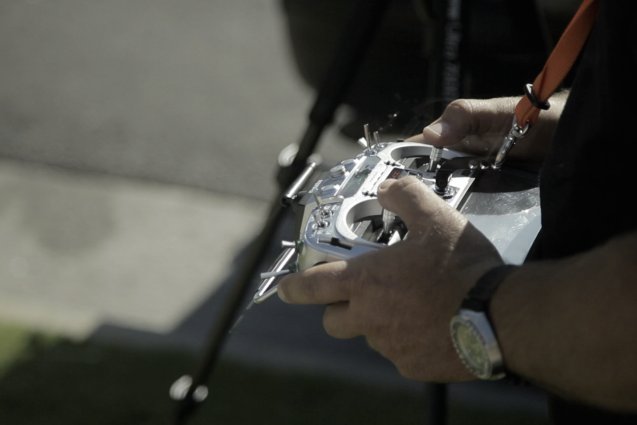 Omelet
Beyond price, Desjarlais sang the praises of the drones' ability to capture a moving shot. "In terms of the advantages to using a drone — in comparison even to a comparably scaled helicopter — is that drones actually have four rotors, sometimes more, that rotate in a much smaller diameter. So a drone offers less kinetic energy, which means that you get a smoother shot and you can actually get closer to the subjects you want to film if necessary. These drones can maneuver through a crowd of people and not touch anybody because they move so fluidly. It's cool to watch."
Abetting both a tight production budget and the want for more fluid cinematography, drones appear to be an unexpected gem for independent filmmakers like the men and women behind License to Operate. Click over to the project's Kickstarter page and keep watch for further coverage here at Hollywood.com to learn more about the upcoming movie. In the meantime, check out some of the footage captured by License to Operate's team of drones here and here.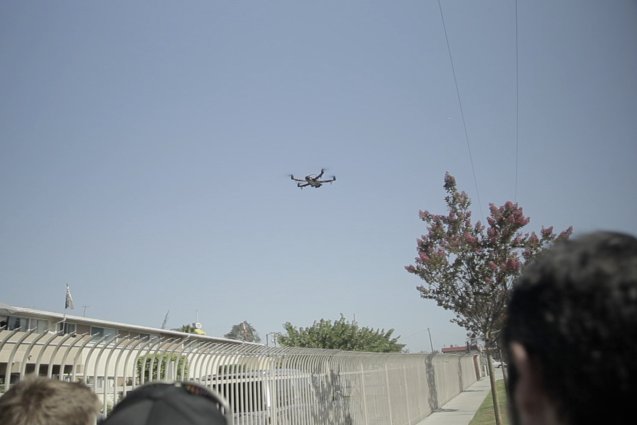 Omelet