How Steven Spielberg's Daddy Issues Influenced Every Film from 'E.T.' to 'Lincoln'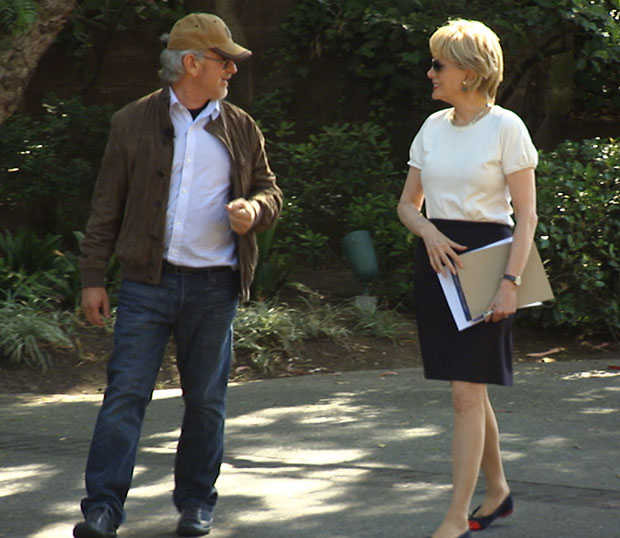 Try as your mother and father might to do right by you, it is inevitable that they'll end up screwing you up in some way. In fact, it is the divine responsibility of the American parent to brand its children with some form of psychological malady. But while we all end up a little bit nuts at the hands of our moms and dads, not all of us turn that nuts into blockbuster feature films. Only the Steven Spielbergs of the world can lay claim to that transformation.
The time-honored director was featured on Sunday night's episode of 60 Minutes, discussing how his childhood affected his filmmaking career. During the segment, Spielberg discusses a history of being bullied in childhood. "I was a nerd in those days," he tells interviewer Leslie Stahl. "Outsider. Like the kid that played the clarinet in the band and orchestra, which I did."
Spielberg's parents, who are also featured in the segment, reveal that the family undertook a great deal of antisemitism as well. "We lived in an all non-Jewish neighborhood," Spielberg's mother, Leah, states. As Stahl reveals, a movie camera that Spielberg's father gave him was what brought the budding artist to discover his eventual passion. But that isn't the extent of the effect Spielberg's dad, a computer engineer who Spielberg describes as a "workaholic," had on his career.
In the interview, Spielberg discusses his parents' divorce, and how it inspired his 1982 classic E.T.: The Extra Terrestrial. "E.T. began with me trying to write a story about my parents' divorce," the director says, admitting that he did "pin" the blame of the marital split on his father (unbeknownst to Steven for many years, it was his mother who decided to end the marriage when she fell in love with another man). "Even after I knew the truth, I blamed my dad," Spielberg continues. "It's still a mystery to me, but even though my mother was kind of like an older sister to me, I kind of put her up on a pedestal. And my dad was much more terrestrial, much more grounded, much more salt of the earth. And for some reason, it was easier for me to blame him than it was to someone who I … already exalted."
Beyond E.T. alone, Stahl notes that the "workaholic absent father is a recurring character in Spielberg's movies." Many of Spielberg's other films, including Close Encounters of the Third Kind, Indiana Jones and the Last Crusade, and Hook, exemplify strained father-son relationships, or absent fathers altogether. But Spielberg tells 60 Minutes that he and his father "had an amazing reconciliation, which is going on almost 18 years, where we have really been in each other's lives."
As such, a shift in the father-figure character in many of the director's later movies is evident: Catch Me If You Can, War of the Worlds, and even his upcoming film Lincoln deliver dad characters that rise to roles of heroism.
Check out the full interview below. Spielberg's Lincoln reaches theaters Nov. 16.
[Photo Credit: CBS]
More:
Steven Spielberg Opens Up About His Dyslexia
Daniel Day-Lewis Is Great, But Spielberg's 'Lincoln' Surprises with Amazing Ensemble
David Oyelowo on Daniel Day-Lewis in 'Lincoln': It Was 'Like Going in a Time Machine'
From Our Partners:

Jaw-Dropping Actor Transformations
(Moviefone)

(Moviefone)