'Life of Pi': How Irrfan Khan Nailed an Impossible Role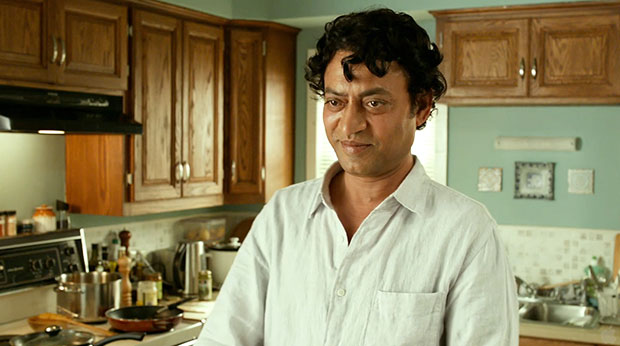 Irrfan Khan has a thankless job to accomplish in Life of Pi: as the older version of Pi Patel, a boy who survived being lost at sea with a Bengal tiger, the actor's role involves dictating the fantastical story to a curious writer (played by Rafe Spall) over a nice meal. The framing goes against the fundamental rule of filmmaking — show, don't tell — but for Khan, it was the ultimate challenge. As expected from a skilled performer who has appeared in both Indian and American films since the '80s, Khan makes the dialogue-heavy moments as mesmerizing as the films awe-inspiring visuals.
"I focused on the emotional aspect of it," Khan says. "Usually what happens in the film, you have a huge climax at the end. But this film does the opposite thing: he's bringing the whole experience of the journey and trying to assimilate. You should be able to engage the audience so that it's the climax of the film. They should be emotionally charged when they're watching this piece."
To dig deep and find that emotion, Khan had to remind himself that Pi's story wasn't being told with everyday dialogue. Khan describes the language as "very precise," and that every word came packed with layers. "Trying to incorporate so many ideas into one line… it took time for me to identify with the language."
Adding to the complexity of the seemingly simple role was director Ang Lee's constantly evolving approach to Khan's scenes. "He kept saying different things at different times and that really made things exciting to me," Khan says. The actor recalls Lee describing Older Pi as a enigmatic character, his story details balancing between truth and fiction. As Lee put it to Khan, a "bullsh**ter."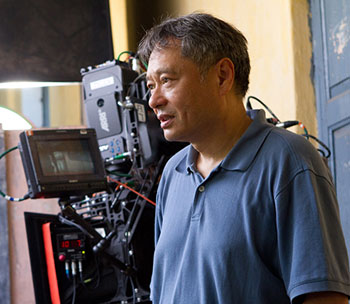 "Ang was suggesting to me to be as exciting as possible, but to still leave a doubt. It wasn't one layer. Trying to leave different impressions in an audience's mind. Leave them on the threshold. They shouldn't fall on one side. They should believe him, but have doubt."
Khan was keenly aware of Lee's grander vision for the film — which chronicles Pi's epic adventure — and admits he wasn't free to simply interpret Older Pi as he wished. It had to fit thematically and emotionally when juxtaposed against Life of Pi's spectacle. "To keep those emotions, not personal — it shouldn't be individual emotion," Khan says. "That was a challenge: it couldn't be the journey of one person. It should come across as if it's the voice of every human being. The voice of humanity. Not just the story of Pi. That is very challenging for an actor."
If the experience of playing architect wasn't challenging enough, Khan was asked to reshoot his scenes after Ang Lee decided his "Writer" character, first played by Tobey Maguire, was too well known. Lee brought on the lesser-known Spall (seen this year in Prometheus) and asked Khan to step up to the plate once again. "Initially, it was not the whole thing [we were reshooting]. Just to do a few portions of it. But I had the instinct to do the whole thing." In Spall, Khan says Rafe brought "a kind of innocence, inquisitiveness," a raw quality that reinvigorated the actor. "I felt I could dive again and see what comes out. All that was challenging. It was unsettling."
One thing Khan didn't find necessary to incorporate was any particulars from his younger counterpart, played by first timer Suraj Sharma. But when they met after Sharma was cast, he admits seeing bit of himself in actor. Recalling his own English debut, Asif Kapadia's The Warrior, Khan gave the newcomer sage advice: "I told him, 'You can never imagine what this film is going to do to your life,'" Khan says. "It will be such an enriching experience, you will never be the same person.'
Khan's is grateful for the opportunities he's been given in his career (yes, even that small, overly secretive part in The Amazing Spider-Man), and is eager for more challenges. Based on his work in Life of Pi, Hollywood should be throwing him those challenges every chance they get.
Follow Matt Patches on Twitter @misterpatches
[Photo Credit: 20th Century Fox (2)]
More:
'Life of Pi' Newcomer Suraj Sharma Reveals Ang Lee's Acting Boot Camp
'Life of Pi': Does the Movie Shy Away from the Book's Darker Parts?
New 'Life Of Pi' Trailer: That's One Visually Epic Movie — TRAILER

Lindsay Lohan Arrested for Assault: Here We Go Again

'Star Wars' Spin-Offs: Could a Boba Fett Movie Happen?