This Conspiracy Theory Connects Disney's 'Wreck-It Ralph' & 'Big Hero 6'
Is Disney's Wreck-It Ralph merely a game inside the world of Big Hero 6? A new conspiracy theory, posted by DisneyTheory, suggests Hiro Hamada's hometown of San Fransokyo is actually the larger-scale setting for Wreck-It Ralph, and by extension, every other animated Disney movie.
While you may think Disney conspiracy theories are just crazed fans trying to fit a square into a circle (or Baymax's marshmallow body trying to fit into his new armor), we promise this evidence is irrefutable.
Like nearly all Disney movies, shout-outs or "Easter eggs" referencing Ralph, Vanellope von Schweetz and the rest of their video-game world exist throughout BH6. Digital billboards promoting the game and featuring Ralph's notorious red jumpsuit and big, wrecking ball fists, are plastered all over San Fransokyo in the metropolitan shots.
But there's even more evidence to suggest that Hiro himself is a really big fan and avid player of the game (and others from Wreck-It Ralph). In one scene where Hiro searches for local bot-fighting tournaments, a figurine version of Ralph is perched atop his computer.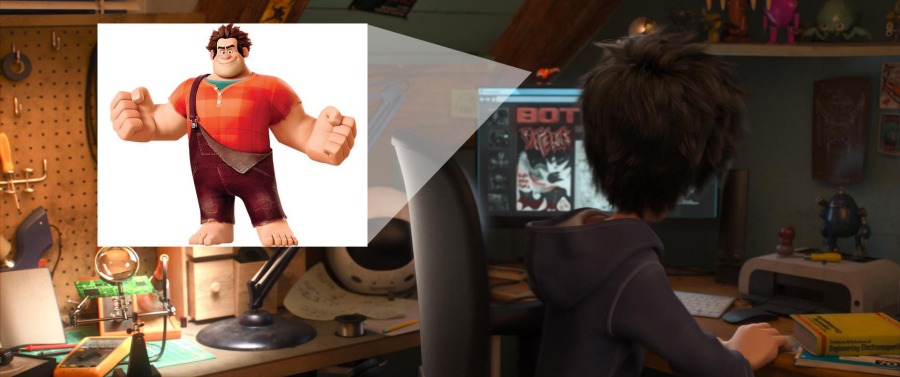 When Hiro gets wedged between his bed and dresser, a bunch of toys and action figures fall onto his head. One of these figurines is a soldier from the game Hero's Duty.
But Hiro isn't the only video game fan in Big Hero 6. His buddy Fred, has a life-size replica of soldier armor from the game Hero's Duty.
While there are a substantial amount of nods to Wreck-It Ralph throughout Big Hero 6, Disney Theory argues that it's not just coincidence. It's not just dainty little Easter eggs. There's a bigger picture: BH6 is the real world, Ralph's world is just a game within it, and all other Disney movies live inside of Big Hero 6.
Still with us? We know it's a lot of information to take in. After all, it's pretty crazy, to think that Big Hero 6 is the bigger universe within Disney movies, in which all other movies take place.
What are your thoughts on this conspiracy theory? Let us know what you think!