All of the Egregious Pop Culture References in 'We're the Millers'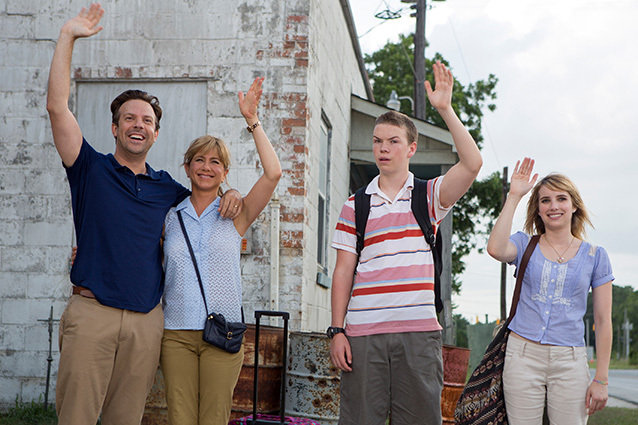 We're the Millers is a screwball comedy about a self-involved pot dealer, Dave (Jason Sudeikis), who wrangles stripper Rose (Jennifer Aniston), dopey loser Kenny (Will Poulter), and rebellious runaway teen Casey (Emma Roberts) to join him on a felonious trip across the border and back to smuggle tons of marijuana into the United States from Mexico. Such a wily storyline is sure to provide a slew of organic gags…of course, it doesn't, and the film instead relies on a nonstop barrage of egregious pop culture references to get audiences laughing without expending any real creative effort.
And since they do comprise the majority of the film's runtime, we decided it was only right to pay tribute to said quips. As such, peruse the following comprehensive list of all of the pointless, forced, groan-inducing pop culture references from We're the Millers:
The film opens with Dave watching a string of YouTube clips, most notably the "Double Rainbow" video.
Dave and a college friend (Thomas Lennon) discuss a Dave Matthews Band concert.
Dave makes a joke about Dexter.
Dave refers to a trio of long-haired ruffians as "the cast of Annie."
Dave does an impression of Bane, Tom Hardy's character from The Dark Knight Rises.
Dave calls a buttoned-up Midwesterner "Flanders," a reference to the Simpsons character.
Dave calls stripper Rose "Pretty Woman."
Dave mentions that he has rented, but not yet watched, Precious on Netflix.
Dave compares Casey to Eminem, specifically from his role in 8 Mile.
Dave mentions Dora The Explorer.
Dave contrasts his fake family with The Brady Bunch.
Dave compares his fake family to Marky Mark and the Funky Bunch.
Dave makes a joke about the movie La Bamba.
Casey makes a joke about Snoop Dogg's well-known affection for marijuana.
Dave denegrates LeBron James and compliments Michael Jordan.
Dave, Rose, Casey, and Kenny listen to, and sing along with, "Waterfalls" by TLC.
Dave makes reference to Tom Waits.
Dave utilizes the Miller Brewing Company slogan, "It's Miller Time."
A vacationing couple (Nick Offerman and Kathryn Hahn) mention the movie Free Willy.
Dave references Scarface.
Rose makes a vulgar joke with the title of the movie Black Hawk Down.
Dave sardonically contrasts Rose's acting talents with those of Meryl Streep.
Offerman's character mentions that his wife's vibrator is named Joe Morgan.
Rose performs a stripping routine, pulling a waterchord in an over-the-top reference to Flashdance.
A criminal (Ed Helms) references the mythology of Spider-Man in a discussion about a tarantula bite suffered by Kenny.
Dave references Barbra Streisand's celebrity in the theater community.
Dave uses the phrase "Whale emoji, hashtag YOLO" while mocking Casey.
Dave calls Kenny as "Ken Doll."
Dave makes a joke about 50 Cent.
And somewhere after that, the film ends. But the references do not! In the blooper reel…
A dumb thug (Mark L. Young) insults Kenny by calling him Don Knotts.
Hahn's character likens her tampon to a Stormtrooper.
Sudeikis, Roberts, and Poulter surprise Aniston by playing, and singing along to, the Friends theme song.
Did we miss any?
Follow Michael Arbeiter on Twitter @MichaelArbeiter | Follow hollywood.com on Twitter @hollywood_com
More:
'We're the Millers' Review
'We're the Millers' Trailer
7 'We're the Millers' Clips
---
From Our Partners


Battle of the Bikini Bodies (Celebuzz)


Complete Guide to Strippers in Movies and TV (Vh1)