Matthew McConaughey and Reese Witherspoon Stuck in 'Mud' in Lackluster Sundance Film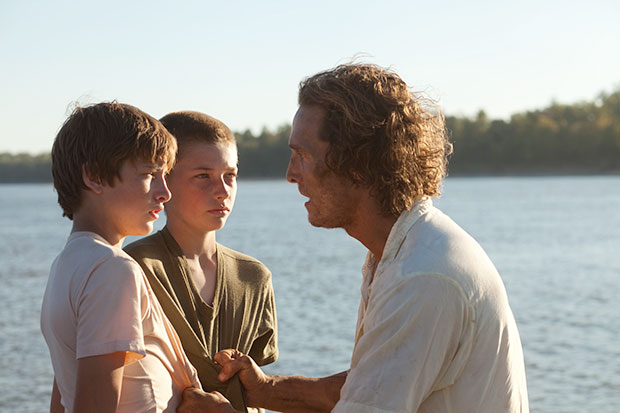 The funny thing about Sundance is that any person at any time could be a star. On the street you're just waiting to peer under a pair of aviators or a fur-trimmed parka hood to see someone totally famous. Everyone is looking for the same thing in the movie theaters too. You go out to see the stars, like Matthew McConaughey and Reese Witherspoon in the new movie Mud, but the problem is, while the stars show up, the movie always doesn't. Mud is a movie filled with great performances not only from the biggest names on the marquee, but also American Horror Story mainstay Sarah Paulson, Oscar nominee Michael Shannon and the two teenage newcomers Tye Sheridan and Jacob Lofland. The problem is, they're the best thing about the movie.
There are things to like about writer/director Jeff Nichols' (Take Shelter) heartwarming coming-of-age story, but its problems outweigh its delights. It's biggest problem is that the 130-minute running time is about 40 minutes too long. The second, and boy is it a doozy, that the movie is so close to verging on misogynist that the more feminist leaning parts of the Internet should rev up their keyboards now. There is not a woman in this movie who doesn't betray her man, cheat on him, use him, steal his home, rob him of his authenticity, make him move to a boring condo complex in the suburbs, or otherwise force him of his natural and driving male essence.
The story is about two boys, Ellis and the wonderfully named Neckbone, two kids who live along a river in Arkansas and one day stumble upon a fugitive (McConaughey) living in a boat stranded on an island in the river. He is a sweet-talking charmer (does McConaughey play anything but) who is on the run from the law after killing the man who beat up the woman he loves (Witherspoon). He has nothing but a pistol and a magic shirt that he uses for protection (the irony of the oft-topless McConaughey having a magic shirt should be lost on no one) and he needs the boys to bring him food. Slowly they get embroiled in his plot to escape with his girl Juniper and avoid both the law and the dead man's family that is hunting for him. This is all while Ellis' father and mother are getting a divorce and he's dealing with falling in love with his first girlfriend, who, of course, cheats on him and then humiliates him in public. This thing might as well be a river fort with a giant "No Girlz Allowed" sign out front.
The takeaway to the story seems to be that the only people you can count on in this world are your male friends and your father figure. At the end of the movie, after all hell breaks loose as Ellis and Neckbone's entanglement with Mud gets crazy and deadly, we see each male character have a touching moment with his father figure. None of them are any good – Ellis' father can't make money, Mud's adopted father is a deadly "assassin," and Neck's uncle treats women possibly the worst of any of them – but, heck, in a man's world it's the man who teaches you how to man like a man that man man man. And some of the man manning that men masculine you with is hatred of women. Ellis' father (the wonderful Ray McKinnon) tells him at one point, "Women are tough. They set you up for some." Eventually, when Ellis confronts Mud about how much girls suck, Mud replies, "If you find a girl half as good as you, you'll be all set." See, a woman can never be as good as a man. At least not a man who is loyal to other men. The movie ends with the Beach Boys song "Help Me, Rhonda," which a character explains earlier is about a man who needs to get over a girl by having sex with another girl. Even as the credits are rolling this movie is telling us that women are fickle and replaceable, good only for sex, and not nearly as good as the men in life.
For all of its gorgeous cinematography and Southern charm, this is a well-told story. Film festivals need another movie about teenage boys coming of age and their complicated relationships with their father like a Big Mac needs more calories. And it's not especially adept in its storytelling. There is a mention of snakes in the first 30 minutes followed by a complicated explanation that everyone in the theater sees is going to end in a snake bite and a redemption. The ending isn't as saccharine and predictable as you might think, but it's close. And of course that redemption in the end is only for those in the possession of at least one Y chromosome. Seriously, our stars deserve better than this.
Follow Brian Moylan on Twitter @BrianJMoylan
More:
Sundance Doc Makes Interesting Comparisons to Manti Te'o, Lance Armstrong Controversies
Hollywood.com at Sundance 2013: 10 Movies We're Dying to See
Sundance 2013 Line-Up Sports Daniel Radcliffe, Rooney Mara, Jessica Biel, and More
---
From Our Partners:

40 Hottest Celeb Twitpics of the Month (Vh1)

'Sports Illustrated' Swimsuit Issue: A Visual History (Celebuzz)