'Punch Drunk Love' on Netflix: Why the Right Director Makes All the Difference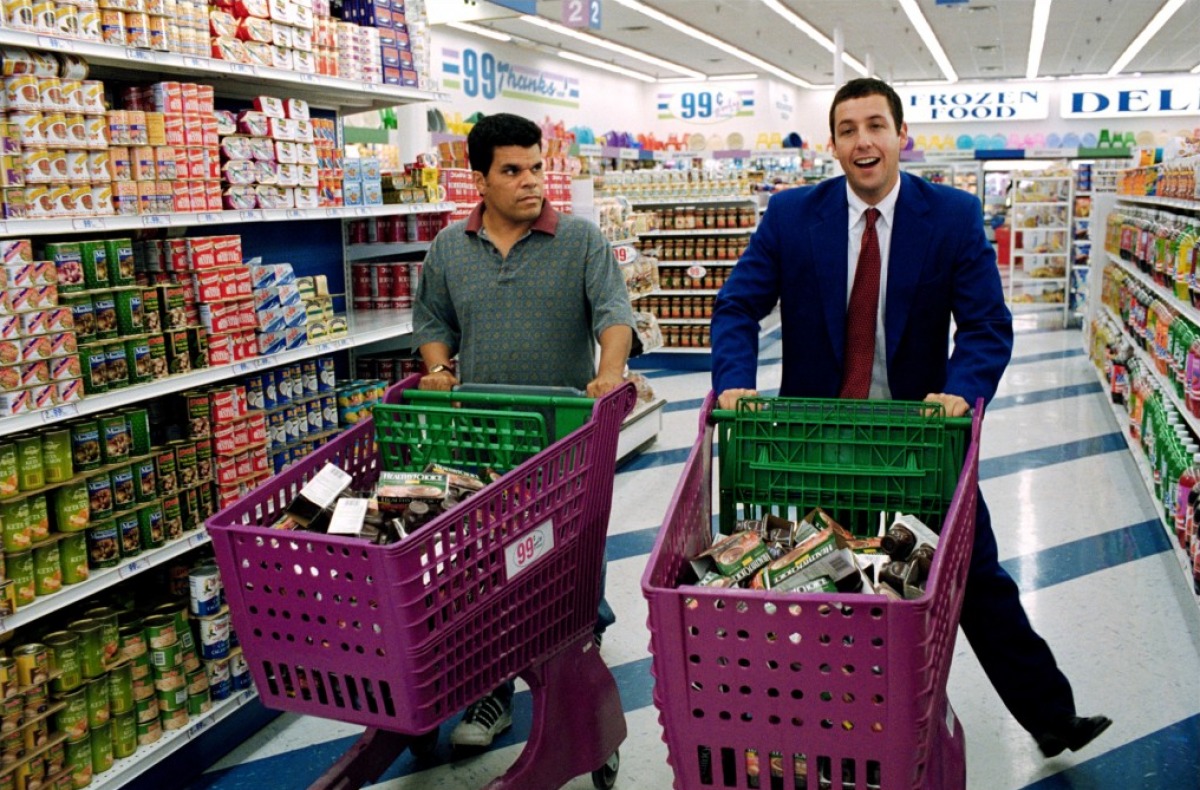 It's no small feat to become a master, no matter the field in which one toils. In the industry of film, the term is actually used far more often than it is warranted. There are a few individuals who are however worthy of such lofty praise on both sides of the camera. Fittingly, one such individual is director Paul Thomas Anderson. But it's not simply the convenient fact that his latest film, The Master, opens this week. P.T. Anderson has been demonstrating his command of the cinematic arts for many years.
Someone whose status as a master may be a matter of greater debate would be actor/comedian Adam Sandler. While there may be those who would argue he is a master of a very specific type of comedy, a type that long ago wore out its welcome, his name rarely appears on even the most extensive lists of those most accomplished in the craft of acting. Sandler made a name for himself in the '90s playing characters of a certain, painfully low mental acumen; characters whose development is so arrested as to make the term man-child too complimentary. This trend of intellectually bankrupt characters in lackluster films did not perish with arrival of the millennium. Sandler still helms nightmares like Jack and Jill and That's My Boy.
However, there are films in Sandler's catalog that serve as stark outliers in this trend. Chief among them is Punch-Drunk Love, his 2002 collaboration with P.T. Anderson that is currently available through Netflix's Watch Instantly service. In the film, Sandler plays Barry, a lonely small business owner who becomes entangled in a phone sex extortion scam. Throughout the film, he is dealing with the hired goons of that operation who beat him and steal what little funds he has. He is simultaneously falling deeply in love, to a degree that he has never experienced, with a friend of his sister. Barry has never had the guts to stand up for himself, or to go after the things he wants.
Sandler's performance in the movie is, at the risk of utilizing another recklessly overused term, a revelation. It reveals to us a side of the performer that we not only had never seen, but one that we were confident could not exist. He plays the part with such frantic discomfort, a crippling fear of anything unpleasant or contrary to his routine. We've seen Sandler play characters in the past who are removed from traditional social norms, but never one who elicited so much empathy from the audience. There is a palpable level of sadness in Barry's neuroses and we ache for him to finally come out of the shell that's suffocating him.
While promoting Magnolia, P.T. Anderson mentioned that his next movie would be a comedy with Adam Sandler. The journalists in the room, not surprisingly, laughed. But when he brought Punch-Drunk Love to Cannes, he won the Palm d'Or for best director. Sometimes the mark of a great director, and this can certainly be seen here, is his or her ability to summon stellar performances out of even the most unlikely star. P.T. Anderson had managed this many years prior as well with Mark Wahlberg in Boogie Nights. The expert guidance, the deep grasp of storytelling methodologies, is precisely how exceptional directors get the best from their actors.
This is the same unflinching eye for talent that defines filmmakers like Steven Soderbergh, who is among the best in this regard. Just looked at Haywire from earlier this year. Soderbergh took an MMA fighter with practically no acting experience (Gina Carano) and helped her adeptly lead an action ensemble with grace and formidable presence. He also evoked what is easily Jennifer Lopez's best performance in Out of Sight. The same skill set can be found in David Fincher. Rooney Mara had done little worth singing about before her collaborations with Fincher. In fact, most were prepared to write her off after A Nightmare on Elm Street. But then in The Social Network, and especially in The Girl with the Dragon Tattoo, she seemed fundamentally reborn as a performer.
These are master directors all, and as such have the unique ability to mine greatness from unpromising wells. If Punch-Drunk Love is an indication of what P.T. Anderson can do with Sandler, we can only imagine what he will do with celebrated talent like Philip Seymour Hoffman and Joaquin Phoenix in The Master.
[Photo Credit: Columbia Pictures]
More:
'The Master': Amy Adams is Not Messing Around — CLIP
New 'The Master' Clip: Hello, Sailor — VIDEO
New 'The Master' Trailer: A Study on Quiet Creepiness — VIDEO