Cannes Film Festival: Sex Drama 'Young & Beautiful' Proves an American Shouldn't Direct 'Fifty Shades of Grey'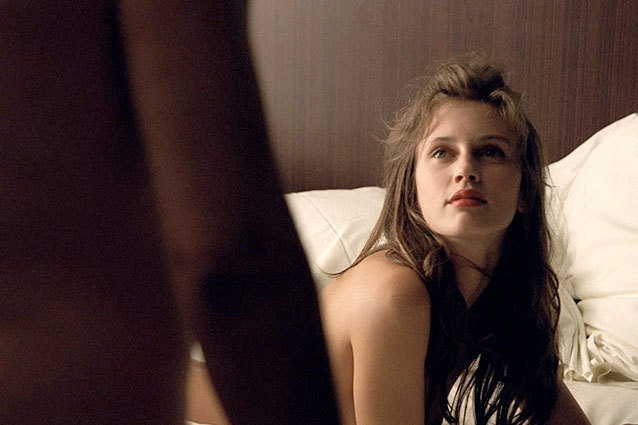 Soon after being hired to adapt the uberpopular Fifty Shades of Grey, screenwriter Kelly Marcel was quoted saying that her big screen version of the erotic drama would be "raunchy" and could even require an NC-17 rating. A nice promise to fans, but could it really happen? Hollywood doesn't play nice with sex — gratuitous violence still earns an R, actors can drop a few f-bombs in a PG-13 movie, but women keep their bras on even in the heat of passion, and the idea of showing a man below the belt (unless Michael Fassbender is on board) is not even an option. Sorry, Fifty Shades. There is no way you're going to be an NC-17 movie.
In fact, after watching François Ozon's 2013 Cannes Film Festival entry Jeune et Jolie (Young & Beautiful), it's possible that there isn't an American or studio-appropriate director even fit to turn Fifty Shades into something remotely watchable. In his erotic drama, Ozon examines the emerging sexuality of a 17-year-old girl over the course of a year. Isabelle (Marine Vacth, a 23-year-old Yves Saint Luarent model-turned-actress) has a burning desire for sexual pleasure, but it can't be met by boys her own age. So she turns to prostitution, an after-school gig where that allows her to freely encounter an assortment of older men with sexual demands of all varieties.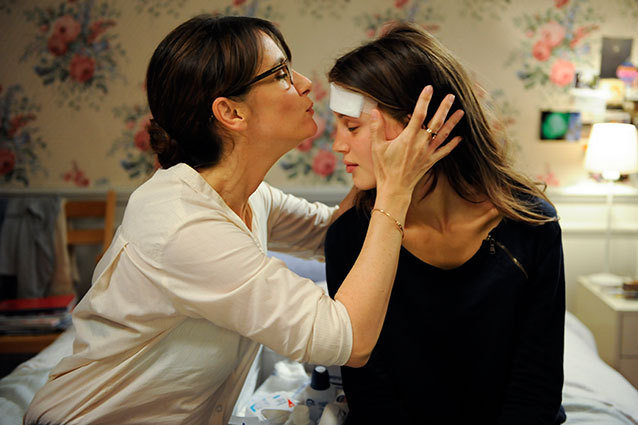 Ozon doesn't damn his character for her decisions or make excuses. Isabelle comes from a picture perfect family with a laissez faire attitude. She's close with her younger brother, who picks her brain about dating. One minute she's having a nice meal with her folks, the next she's telling her mother to get out of her life. She's a typical teenager. But Isabelle has secrets — ones we never see touched in mainstream teenage dramas despite them being prevalent and important. She craves sex and Ozon presents the journey with an unflinching eye.
Vacth effortlessly plays both sides to Isabelle's character. When she's with her family, Isabelle is nurturing, observational, and fragile. When she's experimenting with sex, she allows carnal instincts to wash over her. Ozon allows the character's "dates" to be sensual and raw. That's rarely the case in adult-themed dramas, let alone Hollywood's depiction of teen sex. Jeune et Jolie avoids any PSA moment and Vacth is bravely on board, letting subtle glances at Isabelle's evolution slip into impassioned sex scenes. Later in the film, Isabelle glows with sexual confidence, catching the eye of all the men around her (including her stepfather). She's empowered and Ozon finds a way to make it thrilling, terrifying, and wicked funny all at once.
The source material for Fifty Shades of Grey is often chastised for painting main character Anastasia Steele as a thoughtless, subservient lover to her male counterpart, Christian Grey. Author E.L. James' prose is presented without a winking eye — even at its most ridiculous. Knowing that François Ozon's sensibilities stand outside Hollywood thinking, is there room for improvement for the Fifty Shades movie? Maybe we don't even need one thanks to Jeune et Jolie, a sizzling, stark drama that finally does justice to early days of sexual hunger.
Follow Matt Patches on Twitter @misterpatches
More:
'Anna Karenina' Director Joe Wright a '50 Shades' Frontrunner
15 NC-17 Movies That Avoided the MPAA's Wrath
Cannes Review: The Bling Ring starring Emma Watson
---
From Our Partners:


What Happened to 33 Child Stars (Celebuzz)


40 Most Revealing See-Through Red Carpet Looks (Vh1)