'Zero Dark Thirty' Star Jessica Chastain, So Dedicated She 'Will Forget to Eat'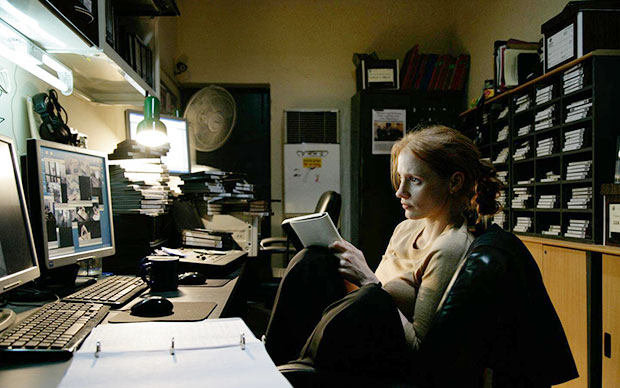 With only a few roles under her belt, Jessica Chastain has emerged has one of brightest stars in Hollywood, an actress who can slip into any role and layer it with an evocative performance. Her work in Zero Dark Thirty, the new film from Hurt Locker director Kathryn Bigelow, is no exception. Chastain raises the bar with her graceful approach to dark subject matters, as her character Maya is fully immersed (perhaps too much so) in the hunt for Osama bin Laden. According to Chastain, she doesn't share much in common with her operative counterpart.
"She's very different from me," Chastain tells Hollywood.com. "I'm a very emotional girl from Northern California [laughs]. The opposite of a woman in the CIA who is trained to be unemotional, analytically precise. Very different."
Although Chastain is convinced she doesn't have the cold edge to her personality that would make her fit for international intel gathering, she does consider herself an individual of immense concentration. That is, when she wants to be one. Chastain recalls being "very good at focusing" as a kid, but that it took a toll on her studies. "I was not a good student because I wasn't interested in it. But if there is something I'm really interested in, I could stay up all night reading a book or doing research. I will forget to eat. I love that kind of stuff."
Like Maya, Chastain approaches a script and her character much like an analyst, sifting through details to fully understand why she would play a particular scene in a particular way. She lights up at the mention of "specificity and details" and it's clear that, to best convey Maya's arc over the decade-long search, the actress had to toil over every word and every gesture. "I had to find and mark out the subtlety," Chastain says. "Same with this. I had to go subtly with each scene as I'm talking about 20 detainees recognize this photo of Abu Ahmed. Where is Maya at that point where I say that? How am I starting to lose myself and become obsessed with this?"
Chastain admits that Maya's occupational consumption was not easy to bring to life — but it was honest. "[The film] is true to the woman she was. She didn't have a personal life," the actress says. "Her whole focus was this mission. If we take a shot at the beginning of the film and a shot at the end of the film — it's like two different women." Chastain's boiled down assertion of Maya is spot on, speaking to why the role is so ferocious on screen. "She's not the same girl in that first scene when she was showing up in her suit for her first interrogation."
In the end, it's the challenges that keep Chastain coming back for more. Like a covert spy, the actress loves digging deep into the mind of her characters. Even when people are closed off to the outside world, they still feel. That's the key to Chastain's work in Zero Dark Thirty. "Just because she's trained to be unemotional doesn't mean — this is interesting for an actor to play — it doesn't mean they are unemotional. There can be things in there that she's constantly trying to not show."
Check out our entire interview with Jessica Chastain by watching the video above. Zero Dark Thirty is out in limited release now and opens wide on Jan. 11.
Follow Matt Patches on Twitter @misterpatches
[Photo Credit: Sony Pictures]
More:
'Zero Dark Thirty' Picks Up Best Picture, Best Actress for Jessica Chastain from National Board of Review
21 Movies So Unbelievable They Must Be True
'Zero Dark Thirty' Investigation Continues: Is Your Curiosity Piqued?
From Our Partners:

Megan Fox's 12 Hottest Moments (Moviefone)