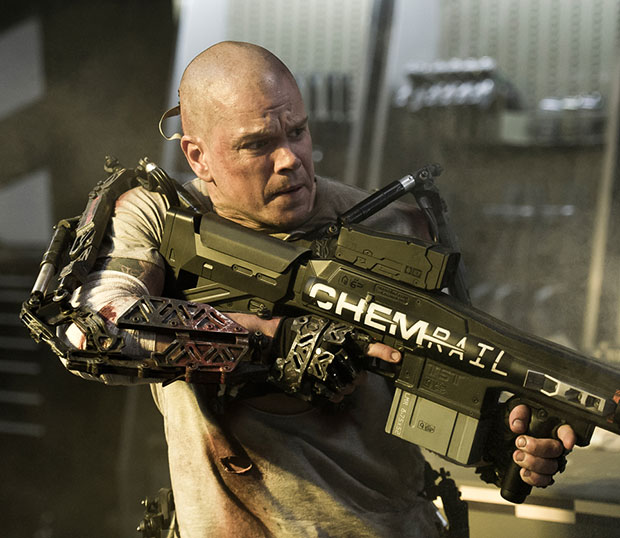 The success of District 9 was a dream come true. A first time director's sociopolitical sci-fi film that sported unknown actors normally would have found love from a few dozen genre fanboys before disappearing from theaters and popping up again on end-of-the-year "Movies You Should Have Seen" lists. Thankfully, the stars aligned: director Neil Blomkamp never missed a mark in his fast-paced alien tale, the August release date ended up as the perfect window to connect with audiences still hungry for summer entertainment, and vocal supporters of the film helped turn it into one of 2009's Best Picture nominees.
Now District 9 distributor Sony will try to replicate that success.
In an official announcement (via The Hollywood Reporter), the studio announced that it would be moving Blomkamp's District 9 follow-up Elysium from its slated March 1 release date to Aug. 9, 2013. Elysium — starring Matt Damon, Jodie Foster, District 9's Sharlto Copley — wowed audiences at Comic-Con, a similar reaction to the first glimpse of Blomkamp's first film back in '09. The stars appear to be aligning once again.
To accommodate for Elysium, Sony has moved its remake of RoboCop to Feb. 7, 2014. The film, which puts Joel Kinnaman (The Killing) under the helmet of the half man, half machine law enforcer, is currently filming under the eye of acclaimed Brazilian director Jose Padilha.
Also included in the announcement is a set date for the Cloudy With a Chance of Meatballs 2. Running with the title Cloudy 2: Revenge of the Leftovers, the animated film reassembles Bill Hader, Anna Faris, Will Forte, and Neil Patric Harris and will hit theaters Sept. 27, 2014.
Follow Matt Patches on Twitter @misterpatches
[Photo Credit: Sony Pictures]
More:
Comic-Con 2012: Jodie Foster on How 'Elysium' Predicts the Future (And It Doesn't Look Good)
Matt Damon Kicks Sci-Fi Ass in First 'Elysium' Footage
New 'RoboCop' Costume Follows Suit with Modern Superheroes — PIC