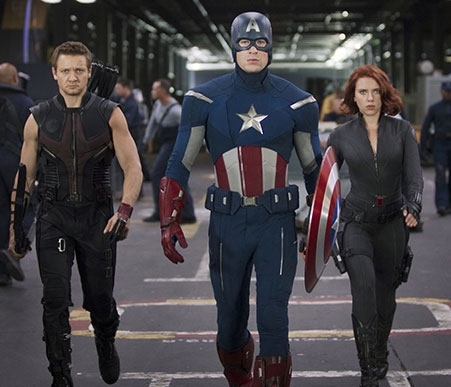 In a very surprising development, The Walt Disney Company has bought back worldwide distribution and marketing rights to Marvel Studios upcoming projects The Avengers and Iron Man 3. Paramount Pictures, which will still release Thor and Captain America: The First Avenger next year, will receive $115 million upon date of release of the fore mentioned films in return.
"In completing this agreement, Disney will now assume worldwide marketing and distribution of The Avengers and Iron Man 3 and leverage these two highly-anticipated films across the multiple global platforms of The Walt Disney Company," said Rich Ross, Chairman of The Walt Disney Studios. "We appreciate the tremendous momentum that Paramount established with these iconic Marvel characters and look forward to propelling the brand even further in the coming years."
"Five years ago, when Paramount and Marvel made our initial deal, both our businesses were in very different places," said Brad Grey, Chairman & CEO of Paramount Pictures. "We are grateful for the partnership we have had with the terrific Marvel team over these years and proud of the work we have done together. Today, this new agreement is the right deal for Paramount, for Marvel and for Disney. We look forward to working together on Thor and Captain America, and we wish Disney and Marvel the utmost success, in what we know will be a very productive and wide-ranging partnership."
For consumers, this new business initiative changes nothing, other than the fact that it ensures that the Marvel brand will continue to grow organically for years to come and that fans will be guaranteed a steady stream of content. For Marvel, it means that it can continue to build its ever-expanding cross-platform media universe without the difficulties of having to deal with two studios at once. You could look at this matter as a loss for Paramount, but it's receiving a hell of a lot of money in return for little more than the development costs on The Avengers and Iron Man 3, so the studio is actually getting the most bang for its buck (remember, Paramount would've had to split profits with Marvel - and by extension Disney - for those two films anyway).
My question now pertains to Marvel's other media partners like Sony and News Corp., who together have the rights to properties like Spider Man, Ghost Rider, the Fantastic Four and the X-Men. Does Disney/Marvel have the desire to pay off these companies for the respective characters or will they just let them continue their business as usual? Only time will tell, but one thing is for sure: with Iron Man, Dr. Strange, Ant Man, The Runaways and more, Disney has themselves one hell of a stable of money makers on deck. 
Source: The Walt Disney Company