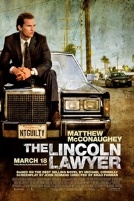 1. The Lincoln Lawyer: A March Thriller That Matters?
How to Train Your Dragon, Alice in Wonderland, and Monsters vs. Aliens are March films that took a box office weekend over the past two years. And of course 300 remains a prime example of a film being released in a forsaken time of year ... and thriving. Which brings me to The Lincoln Lawyer. This is the type of film we usually see in October -- it's not quite a summer actioner, but it's not an awards seeker either. Based on the trailer, it's Matt McConaughey facing off against Ryan Phillippe for "creepy" supremacy. McConaughey is a lawyer, but a completely squirrelly one, and Phillippe is a client, but a completely squirrelly one. And hey now, I think we're looking at a twist!
I'll admit it, that's a solid trailer, even if it gives 85 percent of the movie away. I'm expecting an entertaining ride in March, and you should too. Let the McConaughey wash over you like a fine wine.
2. A Spaceballs For Our Generation!
For decades I've been on the lookout for a new Airplane! or Spaceballs. Not a spoof comedy, (Hi Dance Flick!) but a film that's all about the punch line. This could be the one we've been waiting on. It looks ridiculously stupid, but not because of the setup. It looks like stupid fun. Besides, Jimmy Franco and Natalie Portman wouldn't have signed on unless the script made at least them laugh, right? And as both of them have had winning SNL appearances we can expect that they know what a hilarious bit of sketch comedy looks like. Check out the trailer for your own self:
There now, I've made your April and March worthwhile, and with The Oscars in February and Sundance in January all you need to survive is a few DVD recommendations. Which leads us nicely to ...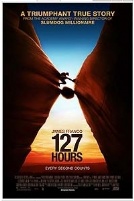 3. The Ten Best Films That Made Under $35m in 2010
Behold, the movies that were tragically missed by ticket buyers:
Cyrus: Funny and untraditional, Jonah Hill and John C. Reilly are great as comic adversaries. This is the sort of movie you'll usually only see at a film festival, because there's no way in hell the head of a major studio is going to screen this and think "Nailed it!" Cyrus is far too quirky for the risk-adverse crowd. But for those of us who love movies? Highly enjoyable.
Get Low: I get it, period piece dramas don't sell. Movies about robots sell, movies in 3-D sell, and movies adapted from popular books sell. But an original concept? They are almost an impossible sell because the general public has no idea what the movie is about going in. Still, Bill Murray, Lucas Black, and Robert Duvall are great in this story of a Tennessee hermit in the 1920s. There. Now you know what it's about.
127 Hours: This is a better film that last year's Best Picture Winner, The Hurt Locker. And yet, it's fading fast out of theaters. I'm not sure if it was just too gruesome, or if the premise turned people off, but I haven't met a person who has actually seen it that didn't love it. Usually Fox Searchlight knocks the marketing aspect out of the park, but it seems like Black Swan received all of their attention this year.
Youth in Revolt: The laughs come in strange places here, mostly from property destruction and dark, dark humor. But the Michael Cera support club has to start somewhere. Let's start here.
Going the Distance: I understand that audiences might be fatigued with Drew Barrymore doing romantic comedies. But this tale of a long distance relationship is innovative and features a gifted supporting cast. It's at least worth a dollar rental.
Remember Me: I've already mentioned this as one of my most underrated, it was crushed by people who forgot that film isn't always about providing an escape. Every so often movies have to provoke a reaction. This is one of those.
From Paris With Love: 90 minutes of John Travolta acting like a maniac, and violence abounds. No downside there.
Morning Glory: Rachel McAdams is worth seeing in just about anything right now. A young comedic actress at the top of her game.
She's Out of My League: The best part about this one is the authenticity. Jay Baruchel really is out of her league. Plus, the main character's best friends genuinely hate each other. You rarely see that kind of thing in a romantic comedy!
Scott Pilgrim vs. The World: I suppose this is the "nerdiest" film of the bunch, but it's also fantastic fun. In 20 years we're going to look back at Scott Pilgrim and note how many of the techniques became mainstream.
On that note, I'm off to correctly rate a few films.
Check out last week's Movie Musings here.
Laremy is the lead critic and senior producer for a website named Film.com. He's also available on Twitter.