Grammy Winner Kim Kashkashian: I Get Confused with Kim Kardashian 'All The Time'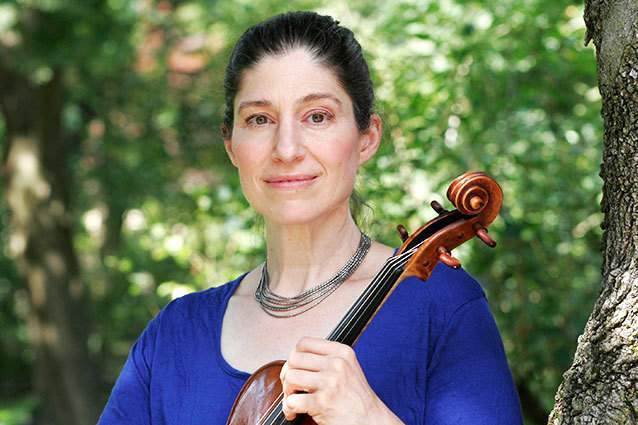 On the West Coast of the United States lives reality princess Kim Kardashian. She is known for her rather revealing E! reality shows and her highly publicized relationship with rapper Kanye West. On the East Coast lives classical violist Kim Kashkashian, who just won her first Grammy for Best Classical Instrumental Solo. What do these two women have in common? Not much… besides similar names.
On Sunday, confusion engulfed the Internet as music fans read that Kim Kashkashian had won a Grammy. Many people's first thoughts were: "Did the Grammy website spell Kim's name wrong? Oh wait… Kim's not a musician. How can this be true?" But it wasn't a spelling error, and this isn't the first time that Kim Kashkashian has been mistaken for Kim Kardashian.
RELATED: Kim Kashkashian Wins a Grammy
"Name-wise, it happens all the time," Kashkashian tells Hollywood.com exclusively. "People actually realize that I'm not that person, but they look at my credit card at a store and say, 'Oh, you're not Kim Kardashian, are you?' It's been happening for years."
And while Kashkashian has dealt with the name confusion "for years," it wasn't until Monday that she actually saw a picture of the reality starlet for the first time. "I don't think I would ever get confused in real life with her because, let me see, how can I put this and be very kind to both of us? I'm probably more than twice her age and I'm not in that kind of good shape," Kashkashian said. "And I don't have that kind of a look. I'm a middle-aged mother and a classical musician."
Kashkashian has admitedly never watched a reality show in her life, but she still thinks that she could learn a thing or two from the E! star. "I bet you we both could learn a lot from each other," she says. "I could take some fashion advice from her, I suppose."
RELATED: Kim Kardashian's Divorce Drama Drags On
Also unlike Kardashian, Kashkashian doesn't worry about cameras following her every move. Instead, she focuses on her career as a teacher at the New England Conservatory of Music in Boston, Mass. Kashkashian is so dedicated to her job that she even skipped the Grammy Awards Sunday to attend one of her student's graduations. "One of my students had her graduation recital, so I definitely had to be here," she says. "I had to do that. It was her big night, so I felt like I had to be here for her."
Kashkashian views her Grammy win not as just a personal accomplishment, but as a victory for all musicians who play the viola. "[My win] might help violists in general to have more visibility," she says. "Just to have that acknowlement and that visibility for composers and an instrument that usually doesn't get that public recognition; it's a good thing."
RELATED: 23 Kardashian Diet Covers: How the Kardashians Lost 388 Pounds
Kashkashian is proof that you don't need a reality TV show to gain fame or validate your success; she has found a meaningful path instructing young musicians to develop and culture their talents. Kashkashian has one message for her students and other young musicians who hope to one day win a Grammy, too: "Stay clear. Stay honest. Stick with your fantasy. Follow your dreams. Follow your heart. Work hard."
And if Kashkashian was one day to venture out and get a reality show of her own, she says the show would be all about music. "You would see a lot of music being practiced, rehearsals for concerts, and also a look at the headquarters of Music for Food Boston (an initiative started in Boston by musicians to fight hunger)," she says. "We are new, and are doing everything from making flyers to cooking for receptions to scheduling next year's events." Kashkashian adds, "Kim Kardashian and I may have no history in common, but I invite her to support Music for Food Boston."
Follow Lindsey on Twitter @LDiMat.
[Photo Credit: Claire Stefani]
---
From Our Partners:

40 Hottest Celeb Twitpics of the Month (Vh1)

'Sports Illustrated' Swimsuit Issue: A Visual History (Celebuzz)