Who Was the First Celebrity to Come Out of the Closet?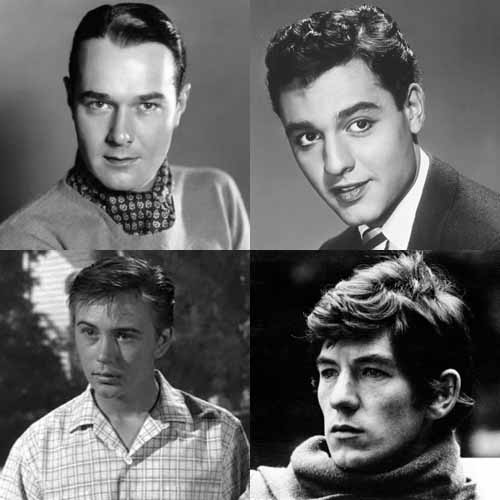 Last week, both Odd Future singer Frank Ocean and longtime glass closet denizen Anderson Cooper both came out of the closet. In the few months before that, we saw both stripper-with-a-body-of-gold Matthew Bomer and Big Bang Theory übernerd Jim Parsons make the declaration too. At this rate, everyone in Hollywood will be openly gay by 2015! But who was the first celebrity to come out of the closet?
Despite what you might think, it wasn't Ellen DeGeneres, Neil Patrick Harris, or even fitness guru Richard Simmons (who, to my knowledge, has never professed his love for anything other than aerobics and short shorts). It was an actor named Billy Haines.
But Haines didn't get his People magazine cover — the actor lived in the 1920s as a silent film star who was a huge box office draw, thanks to films like The Midnight Express, Little Annie Rooney, and Navy Blues. His luck only continued in 1926, when he met his life-long partner Jimmy Shields in New York before the couple moved in together in Los Angeles. While their partnership was well known in Tinsel Town, it was still a secret to the public. 
That all changed in 1933, when Haines was arrested in a YMCA after getting frisky with a sailor (only four decades before the Village People!) and his sexual orientation became public. Louis B. Mayer, the infamous head of MGM studio which had Haines under contract, demanded that Haines marry a woman and denounce being a homosexual in the press. Haines, however, refused in order to stay with Shields, and because of his respectable pride, the actor's contract was canceled. 
Haines never worked as an actor again. Instead, he became an interior decorator for stars like Joan Crawford, making him the envy of every gay decorator that has ever lived (and there have been a few).
As it turns out, the actor was well ahead of his time. It wasn't until the '60s when stars would come out again — and, when they did, the discovery was hardly met with celebration. Tommy Kirk, a Disney child actor who starred in The Shaggy Dog and The Absent-Minded Professor, came out in 1963 at age 22 after Walt Disney found out he had a sexual relationship with a teenage boy. He was fired by the studio and, while he did outreach work for the gay community, never had steady acting work again (although he eventually started a carpet cleaning business). According to Sal Mineo's website, the Giant and Rebel Without a Cause actor came out in the late '60s, but he was killed in 1976 in a robbery gone bad. 
  Indeed, things did get better for gay Hollywood elite, even if some felt they had to qualify their sexual preference in order to be accepted in the industry. Laying the groundwork for other musicians to be as gay as they wanna be, Elton John came out as bisexual in a 1976 interview with Rolling Stone. But as we all know, Elton turned out to be "bi now, gay later," and only admitted he was, in fact, homosexual after divorcing wife Renate Blauel in 1988.  
  In the late '80s, a rash of British actors including Ian McKellen, Rupert Everett, and Stephen Frye came out and their revelations refreshingly didn't impact their careers — after all, McKellen went on to costar in two of the most successful franchises of all time, The Lord of the Rings and X-Men. That industry- and fan-wide acceptance lead to our modern age, which sees celebrities periodically come out of the closet with nary a shrug (unless, of course, you're a headline writer). While there have been many trailblazers to make it safe for gay actors to live and work openly, we all really have Billy Haines to thank, who made a very tough decision back when it had very difficult consequences. Maybe Frank Ocean should dedicate a song or two to him? 
Follow Brian Moylan on Twitter @BrianJMoylan  
More:
Frank Ocean Comes Out, Makes Waves With Tumblr Letter
 Anderson Cooper: 'The Fact Is, I'm Gay'