It's a Bad Day to be Lance Armstrong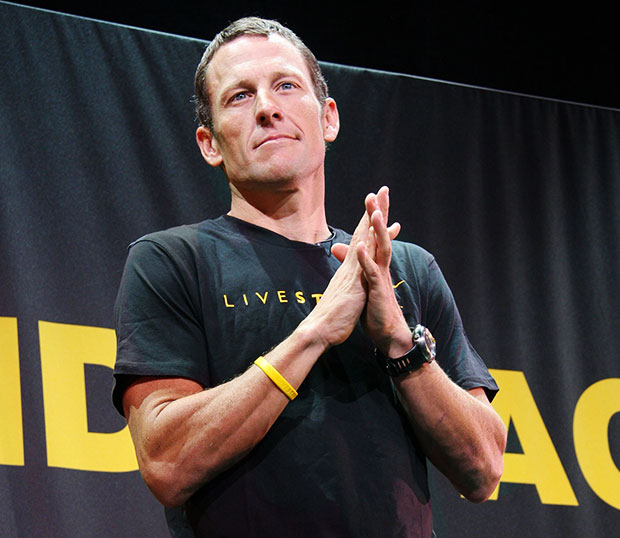 Those yellow bracelets, which once symbolized so much hope and optimism, are now tinged by the slowly decaying coat of controversy. Fifteen years after founding the LiveStrong foundation for cancer research and five years after becoming its chairman, Lance Armstrong has stepped down from his post. Armstrong cites the lifelong ban on cycling placed on him by the U.S. Anti-Doping Agency and his stripped Tour de France titles as the reason for his resignation.
In a statement on the LiveStrong website Armstrong said, "I have had the great honor of serving as this foundation's chairman for the last five years and its mission and success are my top priorities. Today therefore, to spare the foundation any negative effects as a result of controversy surrounding my cycling career, I will conclude my chairmanship." LiveStrong's Vice Chairman, Jeff Garvey, will take over for Armstrong.
Armstrong continued, "My family and I have devoted our lives to the work of the foundation and that will not change. We plan to continue our service to the foundation and the cancer community. We will remain active advocates for cancer survivors and engaged supporters of the fight against cancer. And we look forward to an exciting weekend of activities marking the 15th anniversary of the foundation's creation."
As news of Armstrong's resignation broke on Wednesday, Nike also announced that they have terminated Armstrong's endorsement contract. Nike has released a statement to CNN that reads, "Due to the seemingly insurmountable evidence that Lance Armstrong participated in doping and misled Nike for more than a decade, it is with great sadness that we have terminated our contract with him."
While Nike originally stood by Armstrong when his titles were revoked in August, the USADA's new reports have caused the brand to change its course of action. "Nike does not condone the use of illegal performance enhancing drugs in any manner," Nike says.
In addition to ending Armstrong's endorsement contract, Nike will be removing the cyclist's name from its fitness center in Oregon, CNN reports. However, Nike, which has been a longtime supporter of LiveStrong, says that ending its relationship with Armstrong will have no effect on its support for the foundation.
Follow Abbey Stone on Twitter @abbeystone
[Photo Credit: FayesVision/WENN]
More:
Lance Armstrong's Scandal and Why We Can't Believe Anything Anymore
Lance Armstrong Will Be Stripped of His 7 Tour de France Titles
Lance Armstrong Faces New Doping Allegations
From Our Partners:

'Twilight' Star Kristen Stewart Drops 2.2M on L.A. Home Near Robert Pattinson — PHOTOS
(Celebuzz)

Rihanna to Earn $8 Million for Turning on Christmas Lights: 14 Celebrity Appearance Fees Revealed
(Celebuzz)