5 Reasons James Franco Dating 'Game of Thrones' Star Emilia Clarke Is a Terrible Idea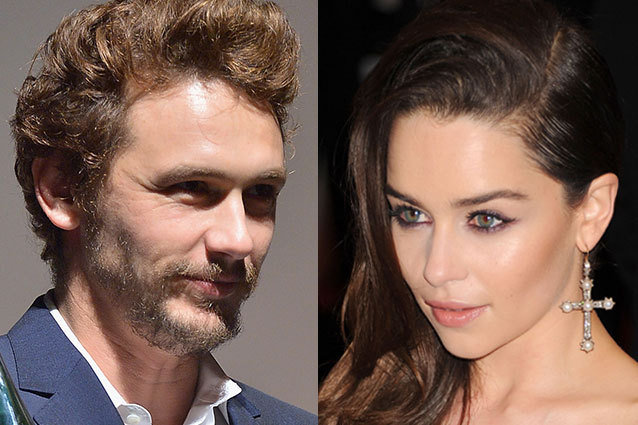 While some people believe that opposites attract, that doesn't always mean they should date. Such can be said about James Franco and Game of Thrones star Emilia Clarke. According to the New York Post's Page Six, the two went on date over the weekend.
Based on what we know about both actors, this rumored romance better not go much further than that. These two just aren't meant to be, and we've got five good reasons for our plea:
1. Clarke likes funny guys. Clarke reportedly dated comedic actor Seth MacFarlane in 2012. While Franco had to memorize a few jokes for his gig as Oscars host and was admittedly very funny in Spring Breakers, he tends to be seen in more dramatic movies like 127 Hours and Oz the Great and Powerful. I mean, did you see Franco host SNL? Not exactly side-splitting stuff. 
2. Franco is an Aries; Clarke is a Taurus. Those born under Aries want instant gratification. Taurus individuals are more patient. Clarke wouldn't move fast enough for Franco, and Clarke would probably be aggravated by Franco's demanding ways.
3. Franco is a movie star; Clarke is a TV actress. Confined to the small screen, Clarke could easily become jealous of Franco with all his shiny, big screen moments. And there's no guarantee Franco would like Clarke's green-eyed, scaly, possibly fire-breathing monster. 
4. Franco is an American; Clarke is English. Ever heard of the American Revolution? Despite what Brits say, there's a chance they still hold it against us for breaking away from their empire. Right? 
5. Franco doesn't have time to date. Franco is ridiculously busy. He's an actor, director, writer, poet, philanthropist, and student (among other, yet-to-be-announced things). He doesn't have time for a girlfriend, plain and simple. (After all, look at all his S*******T.)
Follow Lindsey on Twitter @LDiMat.
More:
James Franco's LinkedIn 
4 'Spring Breakers' Theories We're Obsessed With 
James Franco Pokes Fun at Oscars Hosting 
---
From Our Partners:


What Happened to 33 Child Stars (Celebuzz)


40 Most Revealing See-Through Red Carpet Looks (Vh1)