James Franco Writes a Poem for Barack Obama's Inauguration About James Franco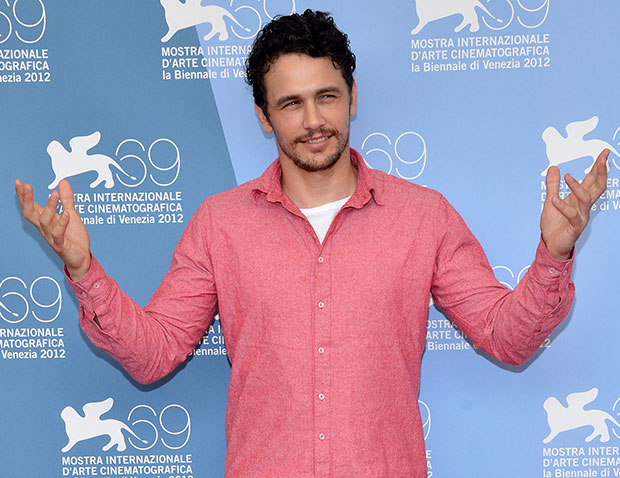 Monday marked the inauguration of Barack Obama into his second term of the United States Presidency. It marked the 27th official celebration of Martin Luther King, Jr. Day. It marked a celebration of the magnificent strides our nation has made over the past half a century in the realm of civil rights. But standing above and beyond each of these majestic individuals and phenomena is James Franco. At least as far as James Franco is concerned.
In honor of Obama's commencement of another four years as America's leader, Yahoo approached aspiring everything James Franco to pen a poem about the momentous date. A brief artistic expression of the occasion's political and cultural significance would be nice, the fine people at Yahoo might have thought. A true, earnest, objective perspective about the grandeur of this point in our nation's history.
But Yahoo's Franco radar must have run out of juice sometime around the announcement of 127 Hours. Maybe they heard he fancied himself a writer, too. Maybe they thought, "Now here's a star who can really handle a role!" And, in all parties' defense, he truly can. But they might not have been entirely aware of everything that James Franco has become over the course of the last year and change. And thus, they were dealt the following:
The free verse piece that was crafted by the actor-director-screenwriter-novelist-documentarian-pornographer-awards show host-shoe advertiser-teacher-guy who you have to assume is just f**king with us at this point-calligrapher strays quite a few kilometers (Franco is strictly a metric man) from what anyone might have anticipated a poem about Obama's inauguration would be. Instead of paying primary focus to the Commander-in-Chief, Franco opts for a more Charlie Kaufmanian approach (funny, since sometimes I think he's pulling an Andy Kaufman on all of us), lamenting his own inability to effectively write about the subject at hand.
RELATED: James Franco Had a Lot of Sex at Sundance Last Night
And instead of struggling to overcome his entirely relatable writer's block, Franco drives headfirst into a storm of meta deconstruction, attending his scripture to the burrito place he frequents, his film class' syllabus, and his own desires to actually play Barack Obama in a movie… dubbing his hypothetical performance of the POTUS Oscar-worthy (I know, that's not exactly what he was saying, but it's close enough where I feel comfortable making fun of it).
RELATED: Sundance 2013: James Franco's BDSM Porn, Drunk Policemen, and More — TRAILERS
Franco opens with a tirade about the deaths of the Fitzgeralds, chronicles his friendship with septuagenarian Frank, name drops company like Christopher Hitchens, Tom Cruise, and Katie Holmes (and Claire Danes!), belittles the inherent political element of any story to be told about Obama's plight… At least that last one is about Obama. Remember him, Franco? The one with the flag lapel pin?
But perhaps the dehydrated dragonfruit on the top of this carob avocado smoothie (Franco doesn't eat sundaes) is when the actor plugs the fact that the POTUS, upon meeting young Franco some time ago, recognized him from his work in Spider-Man. The true victory for Americans everywhere.
RELATED: Beyonce and Jay-Z: The Other First Couple?
Although this response is a bit harsh, I do not intend to deter creative expression in any form. The efforts of any young writer to capture an event or experience is a noble one; the casting of him or herself as a character in said explication is hardly something to be scoffed at. We, those who identify as writers or artists of any kind, as well as all human beings, are all trying to understand the world as best we can. And the transportation of oneself via poetic form to the middle of the action is not at all the worst way to do that.
But it's also kind of amusing to make fun of things that are silly. So there you have it.
[Photo Credit: SGP/FameFlynet Pictures]
---
From Our Partners:

 Craziest Celebrity Swimsuits Ever (Celebuzz)