5 Classes Taylor Swift Could Offer At Her New Education Center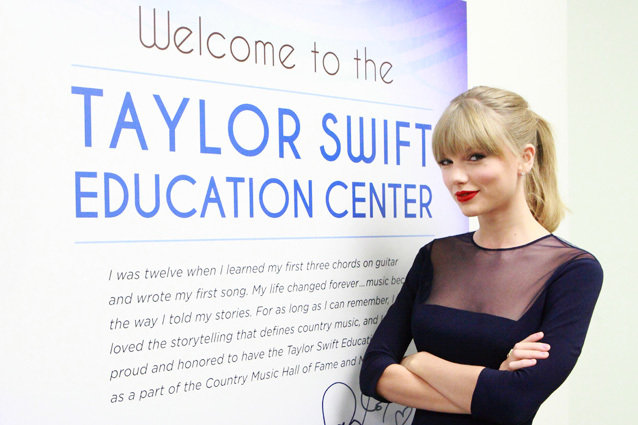 Royce DeGrie/TAS/Getty Images
In between selling out world tours, writing multi-platinum albums, baking with celebrity friends and receiving a record sixth songwriter-artist of the year award from the Nashville Songwriters Association International, Taylor Swift somehow found the time to take on another major project. The pop/country superstar opened the Taylor Swift Education Center at the Country Music Hall of Fame and Museum this weekend. The center is designed to provide young people in the Nashville area with access to music education, and includes classrooms, instrument rooms, and educational opportunities. 
Swift also revealed that she was looking for ways to become more personally involved with the programs at the education center, which got us wondering: what kind of classes would Swift teach? Sure, she could host a songwriting seminar or teach guitar lessons, but we'd rather see her teach students to channel the essence of Taylor Swift. With that in mind, we've come up with five possible classes for Swift to offer at her new education center. 
Advanced Stage Twirling 
Swift may not be a particularly gifted dancer, but when it comes to twirling around in pretty dresses on an arena stage, there's nobody better. In this class, students will not only learn proper twirling technique — you don't want to make yourself dizzy in the middle of your concert, after all — but how to incorporate instruments, such as the guitar, into their routines. This class will also cover the ideal dress fabric and styles to ensure maximum spinning impact. For the final, students will choreograph their own twirling routine, set to the Swift song of their choice. 
Writing Songs to Generate Tabloid Interest
It's not important whether or not Swift is actually dating that actor/musician/heir to the Kennedy fortune. What's important is that people will spend their time dissecting her songs, looking for clues as to their inspiration. In this class, students will learn how to craft lyrics that are simultaneously deeply personal and extremely vague in order to whip tabloids and gossip sites into the greatest frenzy. If time permits, there will also be a lesson on using the album's liner notes to hide clues and create an interactive experience for fans and reporters alike. 
An Intensive Study of the Color Red
Swift loves the color red — she's always in red dresses, lives in red lipstick, and even named her fourth album after the color. Therefore, it's only right that students at the education center learn to appreciate red, in every shade from crimson to scarlet. The class will cover selecting the best shade of red for your skin tone, a history of the color and its significance throughout time, and, of course, a lyrical analysis of the album Red. Students will have to take both a midterm and a final: for the midterm, they will be expected to paint about an important moment or person in their lives using only shades of red, while the final will require them to write a song inspired by the color. 
Cultivating Your Award Show Face
Swift has won an incredible amount of awards, and every time she wins, a great deal of comments and jokes are made about her "surprised" face. In this class, students will learn to cultivate and perfect their own award-winning expression. Topics will include understanding the cultural significance of the award, learning your angles, and appreciating the endless parodies that will inevitably result. Students will also spend time with local comedians, in order to create a signature face that is not only memorable, but easy to impersonate as well. 
Arts and Crafts
Even multi-platinum pop stars need hobbies, and in this course, Swift will teach aspiring musicians fun, creative ways to spend their downtime. Students can take lessons in painting, baking, jam making, and antiquing, amongst other topics. For those more fashion-oriented, a course in bedazzling is offered, as well as smaller sessions on the appreciation of a sequined dress. Beginner students can learn the proper technique for decorating their arms in song lyrics before a show, while more advanced students can take classes in encouraging kittens to be photogenic. The center's arts and crafts program also boasts a great deal of extra-curricular activities such as knitting circles, guitar decorating, and the Association for the Appreciation of Nautical Stripes.