Channing Tatum to be in a Movie About Something from Director of '50/50′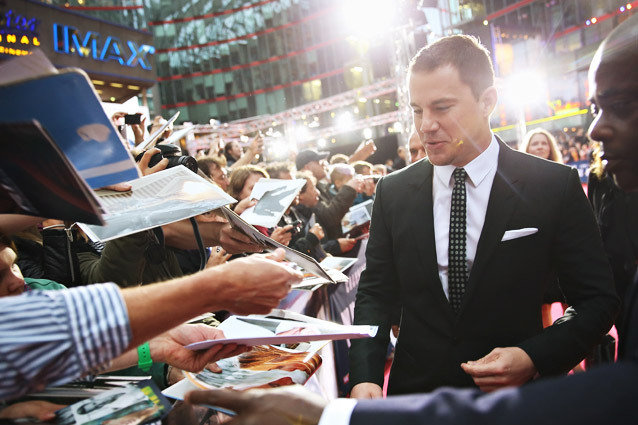 Getty
Channing Tatum has signed on to produce and star in Jonathan Levine's Bad Romance. There are no details about the film available right now, but the pairing is intriguing. Tatum has been on a years-long hot streak, with only the recent White House Down coming even close to a disappointment. And in the next year or two, he's due to hit it again, with a Wachowski movie, a voiceover credit for Lego Movie, 22 Jump Street, a biopic of Evel Knievel, and a dark drama with Steve Carrell (Foxcatcher). With such a packed schedule, it might seem like he's willing to do any and everything, but since he hit it big with Magic Mike a few years ago, the weepy Dear Johns and cheesy Step-Ups have evaporated from his resume.
Levine has only made a few films: the long unreleased All the Boys Love Mandy Lane, The Wackness, 50/50, and Warm Bodies, but all are thoughtfully made and deeply committed to their genres. And only one of those films (The Wackness) is directed from Levine's own original idea and screenplay. That film was odd, personal, and somewhat surreal at times, a coming-of-age story that managed to incorporate drugs, love and hip hop in equal measure. The scope was small and intimite and let the New York City location inform some of its characters and conflicts. That's something that carried over to 50/50 as well, and of course Warm Bodies proved Levine is up to the challenge of writing a romance between any pair of characters, even if one is dead. 
This might help puzzle out some vague impressions of what type of film Bad Romance will be. Logically, there should probably be a romance involved, and, at least at the outset, it should be a bad one. That can fit into almost any genre and almost any tone. Obviously there's a good chance it will be a small, somewhat indie rom com, though it would be awesome if Levine and Tatum went way out of the box and made, say, a Jane Austen-esque wedding plot. There's no way to know exactly what to expect from Bad Romance, but with these two names attached, at least there's something interesting on the horizon.