'Fruitvale' Lives Up to Award Hype Thanks to Michael B. Jordan's Stunning Performance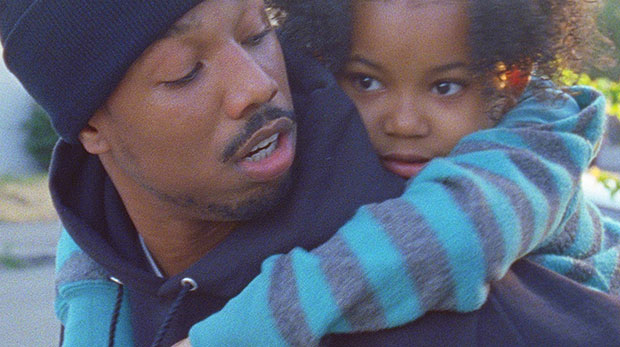 The worry with Sundance is that by the time the movies that premiere at prestigious festival arrive in theaters, they could already have worn out their welcome. The first wave of audiences rave and applaud the best of fest, but is it because the films are fantastic or because seeing them without any preconceived notions — a near impossible experience in today's trailer-filled world — fills the viewers with euphoria?
This year had its fair share of hype, but one film stands out as a work of art that lives up to the buzz. In Fruitvale, Friday Night Lights and Chronicle actor Michael B. Jordan puts on the shoes of Oscar Grant, victim of an infamous 2009 incident of police brutality that ended in the 22-year-old's death. It's a star turn for the young actor, who reminds us that Grant, now an icon for the country's epidemic of police-related violence, was a person trying to get his life back together while the world was working against him. At the Sundance Award Ceremony, former 20th Century Fox CEO Tom Rothman presented the festival's top honor, the Grand Jury Prize, to Fruitvale, declaring that it wouldn't be the last time newcomer director Ryan Coogler would make his way to an awards podium in 2013. That's a high bar — and one Fruitvale is worthy of hitting.
Coogler sets his film in the final 24 hours of Oscar's life. Although he was recently incarcerated for drug-related crimes, Oscar is a charming, loving man, ready to get his life back on track. He's settling down with his girlfriend (Melonie Diaz), raising his four-year-old daughter, and on the day of the incident, celebrating his mother's (played by Octavia Spencer) birthday. The world of drug dealing still surrounds him, but he brushes it off — we see Oscar dump an enormous bag of marijuana into the ocean after attempting to get his job back at the local supermarket. In Jordan's hands, Oscar is a man filled with regret, but who sees a future for himself. A bright future.
Before the shocking moment of violence that radically changes Grant's family's life, spurring riots in the streets of San Francisco, Fruitvale meditates on Oscar's quest to get back on his feet. His family is demanding of him: Diaz's Sophina worries their relationship is unstable and that Oscar won't take raising their daughter seriously. He quells he fears through emotional professions — in the hands of other actors, this would be hammy. But this is why Jordan's subdued work is tremendous. He's gentle, broken, and hopeful. In flashbacks, we see Oscar in prison, begging his mother for forgiveness before lashing out at a group of racist inmates. When he reflects on that time in the present day, we see Oscar's intense desire to do right in the world — even if it means cleaning up after his mom's birthday dinner. It's all in Jordan's eyes — although having another stellar performance by Spencer alongside him doesn't hurt.
Coogler is committed to intensity and raw emotion in his buildup, and he doesn't flinch when it comes to Fruitvale's disturbing conclusion. Kevin Durand and Chad Michael Murray (who, inexplicably, has zero lines or even a close-up in the film) play the cops who apprehend Oscar on the San Francisco's BART train early on New Year's Day, and it's every bit as startling and confusing as one might expect flipping through newspaper stories on the subject. Early in the film, Coogler utilizes actual video of the murder shot from bystanders cell phones. He recreates it with fluid motion and the perspective of the young men seized by the police. Heart-racing doesn't begin to describe it. What happened that night could have happened to anyone — as Fruitvale helps us realize, that "anyone" was a spectacular individual.
If Fruitvale takes a misstep, it is in digging deep into Oscar Grant then treading backwards to put him back on the pedestal of a martyr. Documentary footage of protests remind us that Oscar has become the face of police brutality in the U.S. when the film strives to humanize him. But Jordan's performance is too solid to allow the grander ideas to overload the picture. While Oscar's death put police brutality under a microscope, Fruitvale is a powerful reminder that at the heart of every issue is a real person.
Will Fruitvale follow in the footsteps of Beasts of the Southern Wild and be an Oscar contender of 2013? Sorry, Tom Rothman, but it doesn't matter — the important thing is that the movie lives up the the raves of Sundancers and that we'll be seeing this one in theaters before year's end.
Follow Matt Patches on Twitter @misterpatches
[Photo Credit: The Weinstein Company]
More:
'jOBS' Is Like an Adaptation of Apple's Wiki Page, But Kutcher Sells It
Sex, Drugs, and Rock 'N' Roll: The Sundance 2013 Documentaries You Absolutely Must See
That Time Michael Cera Went to Chile and Made Two Bizarre Sundance Movies
You Might Also Like:

J. J. Abrams and 'Star Wars': Has the Lightsaber Been Passed to the Right Director?