'Star Wars: Episode VII': Could Mark Hamill and Carrie Fisher Return?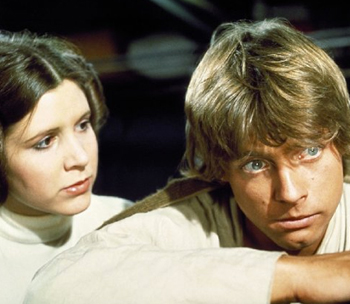 The news earlier this week that George Lucas had sold his production company, Lucasfilm Ltd., to Disney and that Star Wars: Episode VII would be produced by the Mouse for release in 2015 came as a shock to just about everyone. Everyone, that is, except for two Star Wars legends: Mark Hamill and Carrie Fisher. In an interview with Entertainment Weekly, Hamill revealed that, although Lucas did not inform them of the impending Disney deal, the mogul did take him and Fisher out for lunch back in August and revealed his plans for a new Star Wars trilogy to be exec produced by Lucasfilm co-chair Kathleen Kennedy.
"I thought he was going to talk about either his retirement or the Star Wars TV series that I've heard about," Hamill says. "So when [Lucas] said, 'We decided we're going to do Episodes VII, VIII, and IX,' I was just gobsmacked. 'What? Are you nuts?!' [Laughs] I can see both sides of it. Because in a way, there was a beginning, a middle, and an end, and we all lived happily ever after [at the end of Return of the Jedi] and that's the way it should be — and it's great that people have fond memories, if they do have fond memories. But on the other hand, there's this ravenous desire on the part of the true believers to have more and more and more material."
RELATED: Disney Buys Lucasfilm for $4.05 Billion, Plans 'Star Wars: Episode VII'
Hamill goes on to say that, though Lucas did not mention anything to him about casting him and Fisher as an aging Luke Skywalker and Princess Leia, respectively, that "[Lucas] wanted us to know before everybody else knew."
Now, informing two of the core members of his original cast before anyone else may just have been an act of courtesy and respect on the part of Lucas. He's become very close with Hamill and Fisher again in recent years, as Hamill told me when I interviewed him for EW myself in July. The three of them took part in an impromptu on-stage reunion in front of thousands of adoring fans at Star Wars Celebration V in Orlando in 2010. Or Lucas may very well be setting the stage for Hamill and Fisher to be involved in the new trilogy—even if their parts are very small. I noted yesterday in my theories about Episode VII that J.J. Abrams' Star Trek reboot established the idea of rebuilding an aging movie property around a new, young cast, while still including a beloved favorite (in that case, Leonard Nimoy's Spock) who fulfills the dual functions of anchoring the reboot to the franchise's storied history and helping pass the torch to a new generation.
This could very well be what happens in Episode VII. Decades before Abrams' Star Trek, when George Lucas first talked about his proposed "Sequel Trilogy," this seems to be what he had in mind. We here at Hollywood.com did some research and dug up some old interviews that suggest as much. Speaking to comics legend Jim Steranko, an artist who contributed key concept art for Raiders of the Lost, in an interview for Steranko's Prevue magazine for its September-October 1980 edition, Lucas said that Episode VII would begin "roughly 20 (or perhaps 30 or 40) years" after the end of Return of the Jedi. He also told TIME in 1983 that he imagined Mark Hamill, Carrie Fisher, and even Harrison Ford appearing in Episodes VII, VIII, and IX when they're in their 60s or 70s. And in a sweeping profile titled "George Lucas: Father of the Force" in a February 1988 issue of Starlog, Lucas revealed that he imagined Luke having a romantic relationship with a female love interest in the sequel trilogy.
RELATED: 'Star Wars – Episode VII': Eight Directions It Could Take
Mark Hamill himself confirmed much of this in a press conference at Fox Home Entertainment's junket for the DVD release of the Original Trilogy in September 2004. Recalling Lucas' original plans for his involvement in a sequel trilogy, Hamill said the following: "[George] said, 'Um, how'd you like to be in Episode IX?' This is 1976. 'When is that going to be?' '2011.' I defy anyone to add 36 years to their lives and not be stunned." Hamill then added, "I said, 'Well, what do you want me to do?' George said, 'You'll just be like a cameo. You'll be like Obi-Wan handing the lightsaber down to the next new hope.'"
Well, Episode VII is slated for 2015, so only a few years after Lucas's original prediction that Hamill would reprise his most famous role in 2011. All of this is still up in the air, and anything could happen, of course. But, if you didn't already feel bullish about the chances of at least Hamill having a cameo in another Star Wars movie, check out this cryptic tweet from the erstwhile Jedi Master: "Congratulations to George for today's mega-deal! Can't comment on Ep 7 before I have all the facts which are short supply right now-Patience."
Maybe Episode VII will be a return of the Jedi indeed.
[Photo Credit: Lucasfilm]