'The Hunger Games: Catching Fire' First Look: The Quarter Quell Begins! — PICS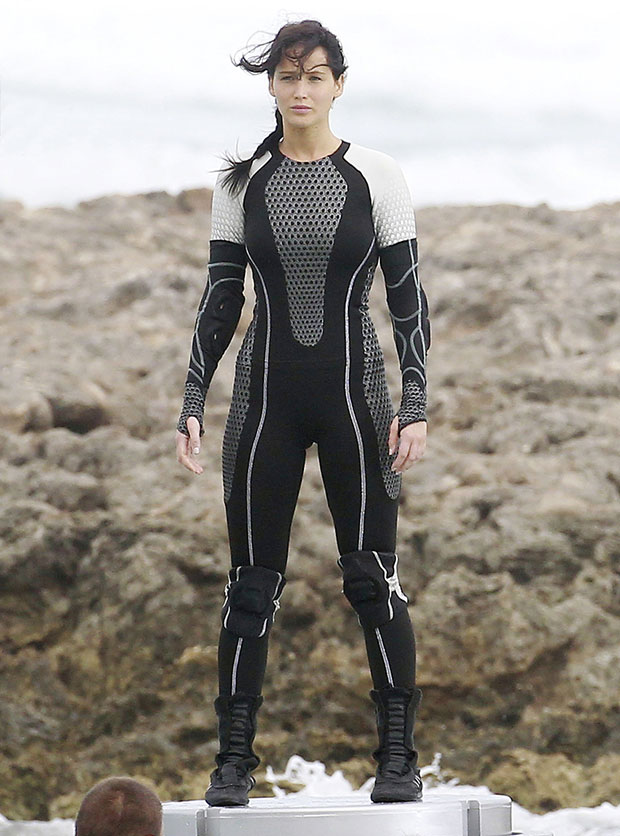 The Hunger Games: Catching Fire began filming in Maui, Hawaii, on Monday after wrapping in Atlanta earlier this month, and we have a first look at the beginning of the third quarter quell! Check out these just released photos of the start of the 75th annual Hunger Games.
In the Hunger Games sequel, adapted from Suzanne Collin's hit YA novel, Katniss Everdeen (Jennifer Lawrence) finds herself back in the arena when President Snow (Donald Sutherland) announces that this year's tributes are to be reaped from the remaining victors. Since District 12 has only one female victor, Katniss is thrust back into the subject of her nightmares for another go at the Hunger Games.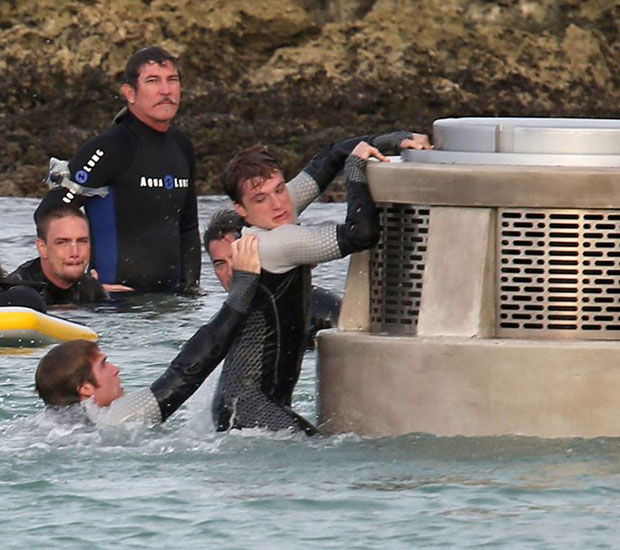 This year's arena is set on a tropical island, and the cornucopia bloodbath takes place in the water. This offers a unique advantage to sea-faring districts when the tributes are forced to swim to shore. District 12 tribute Peeta Mellark (Josh Hutcherson) doesn't know how to swim, and the first alliance is formed when Finnick Odair (Sam Claflin) helps him stay afloat, and alive.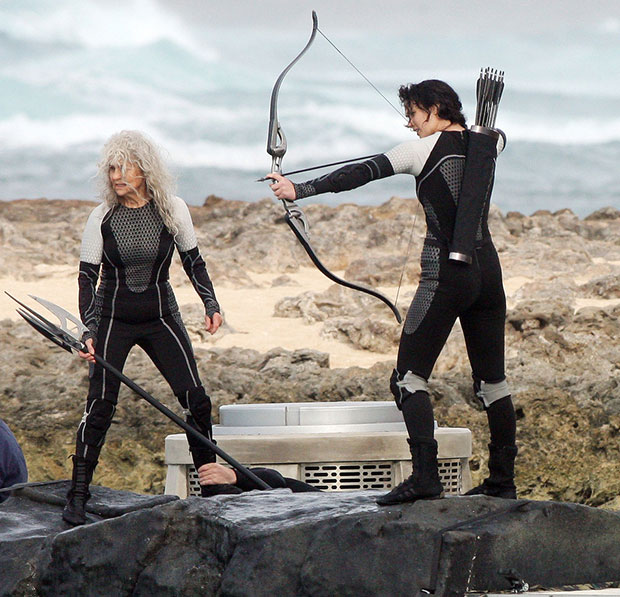 Also pictured is Lynn Cohen playing Mags, an elderly female victor with bite from District 4 (the same fishing district from which Finnick hails). Mags joins the unlikely alliance with Finnick, Peeta, and Katniss, along with a few other surprising tributes.
The wetsuit-inspired outfits look extremely useful in the conditions the tributes are dropped in, as well as all-around awesome. The uniform is streamlined and simple, giving the tributes a badass look. We also get a glimpse of Katniss wielding her legendary weapon of choice, a bow and arrow. I don't envy the tribute on the receiving end of that point.
The Hunger Games: Catching Fire hits theaters November 22, 2013.
Follow Sydney on Twitter @SydneyBucksbaum
[Photo Credit: Juan Sharma/Goodrich/Pacific Coast News (2); Zeus/Apollo/FameFlynet]
More:
New 'The Hunger Games: Catching Fire' Poster will Spark Your Excitement — POSTER
75th Annual Hunger Games Reaping Has Ended
'Hunger Games: Catching Fire': Meet All the New Cast Members

Jennifer Lawrence Bikinis in Hawaii: Her 15 Sexiest Pics

Beaten, Bloody Gabriel Aubrey After Fight With Halle Berry's Fiance: Shocking PICS