The Masters and Hollywood: We Need a Modern, Inspirational Golf Movie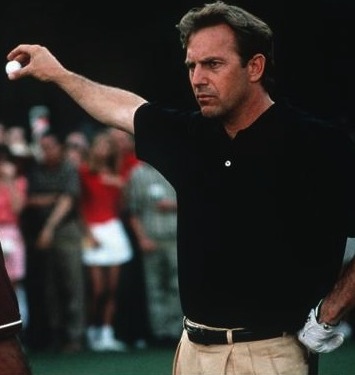 We're knee-deep in The Masters, arguably the most famous golf tournament on the planet (based purely on the fact that I, and most non-golf fans, know what The Masters is). Greats like Tiger Woods, Adam Scott, Luke Donald, Larry Mize and a handful of legendary players have assembled at the Augusta National Golf Club in Georgia for the competition, primed and ready to fight for their coveted green jacket (and an $8 million prize … but the jacket). For the players and golf fans, it's a week of intense swinging, chipping and putting. For the rest of us, it's the perfect programming for our grandpas to nap to.
The Masters may not carry the same weight as the World Series, Super Bowl or Olympics, but consider pulling off the athletic feats on display during the tournament. A team of one, in front of crowd of thousands, plus the dewing eyes of everyone tuned in to ESPN, all setting the course for the rest of the tournament. That's pressure — and it could make a great movie.
Golf movies are a strange breed. Football, hockey, baseball, heck, even Olympic bobsledding, all have their own "inspirational sports movie" takes. The dramatic arc of one man or one team rising to the occasion to overcome the opposition. Warrior may be the most recent example, a tale that incorporates enough characterization and drama outside of the MMA arena, but weaves the physicality of the hand-to-hand combat sport into every moment. The movie isn't just a taped fight — that's not a movie — but at its core, it's about the main duo's relationship to the sport, and how it has informed every aspect of their life. Warrior director Gavin O'Connor did the same thing for Miracle, showcasing how a successful team can inform a nation with its success, and how the individuals who comprise that team can become empowered by the voice of that nation. Sports movies emphasize what draws us to watch and play sports in the first place, an emotional connection to competition and athleticism. There isn't really a modern golf movie like that.
Let's face it, the audience for golf tends to skew older than the target 18 -25 demographic for Hollywood movies. But chew on this: nearly 10.5 million people tuned in to this year's Final Four basketball games. Last year's Masters? Around 11.8 million. The spectrum of ages may vary, but the fanbases appear equally dedicated. That said, golf movies of late haven't fared too well at the box office. Recent entries like Bobby Jones: Stroke of Genius, The Greatest Game Ever Played and Seven Days in Utopia all took in under $15 million. Even if the budgets were small, there's little indication that those golf pros tuning in for The Masters are trekking to the theater for every golf release.
There's an obvious element of risk taking in producing a golf movie, but there is yet to be a golf movie that has really taken the risk. The previous underperformers were all period pieces (or in the case of Seven Days in Utopia, a Christian drama first, golf movie second). Hollywood, either utilizing the phenomenon of The Masters or conjuring up their own wild scenario, needs to deliver a straight-up, serious golf movie. Caddyshack, Happy Gilmore and Tin Cup are highlights of the golf movie genre, but those films de-emphasize it instead of glorifying it. Whether they're lampooning or layering on twist that forces the lead to take up golf, the go-to examples rarely showcase as a sport. They aren't golf movies, they're movies with golf. The Legend of Bagger Vance comes close, but again, when it comes to golf, Hollywood's obsessed with the past. With The Masters still raking in ratings, the sport deserves a Warrior-style tribute.
This isn't a suggestion for a Tiger Woods biopic (which was probably a hot Hollywood idea thrown out of contention from all of his tabloid mayhem), but that there's room for a cinematic golf game that isn't a joke. It's not a sport for stuffy white guys when portrayed as not a sport for stuffy white guys — it just needs a writer, director and producer to tackle the game in a realistic, compelling way. The Masters provides ample golf entertainment, but you can only get so close to the action. And yes, swinging away at a little white pull trapped in a pit of sand is action. Or it could be.
Find Matt Patches directly on Twitter @misterpatches and remember to follow @Hollywood_com!
More:
It's Still Too Soon For Tiger Woods To Laugh About Tiger Woods: Late Last Night
Linsanity Spreads to Documentaries: Jeremy Lin Biopic On the Way