What Does Disney's 'Tomorrowland' Have to Do with Nikola Tesla?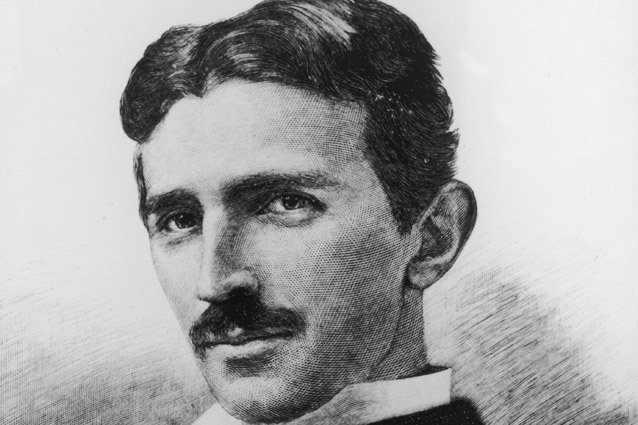 Hulton Archive/Getty Images)
There is probably no upcoming film more shrouded in mystery right now than Disney's Tomorrowland. The studio and the creative team have kept information about the project so tightly under wraps that it's possible to count on one hand the bits of information that have been released: it's directed by Brad Bird and written by Damon Lindelof, the cast includes George Clooney, Hugh Laurie, and Britt Robertson, it's a sci-fi film, and it's about a scientific teen and a former boy-genius inventor who go on a quest to unearth the secrets of a place known as "Tomorrowland." Oh, and thanks to Matthew Inman at The Oatmeal, we now know that the production team is very interested in Nikola Tesla. 
Tesla is the Serbian-born 19th century inventor best known for his work on alternating currents. Although much of his work was wiped from the history books after his death, he has recently grown in popularity and his contributions to science have become recognized once again. Writer/cartoonist Inman is a fan of Tesla's, and even ran a fundraising campaign to save the land where Tesla's laboratory was once located, hoping to build a science museum there. It has been reported that Inman was invited to meet with Bird to consult with them about the Tomorrowland film.
However, they actually ended up talking about something different: "As I said before, we didn't talk about the movie. Instead, they asked me a bunch of questions about Nikola Tesla. They asked what Tesla was doing in Colorado, and if he'd ever conducted experiments at Mineral King. They asked if Tesla belonged to an organization called 'Plus Ultra,' and if it was possible for him to have met Walt Disney. They also asked a variety of questions about the recently saved Wardenclyffe, particularly about the buried tunnels underneath the property that may potentially contain some of Tesla's old equipment."
So, what does Bird's interest in Tesla mean for the film? Theories have been circulating for a while now that Clooney's character is based on Walt Disney — this could still be the case, as according to Inman, Bird was particularly interested in whether or not Disney and Tesla ever met. However, the new information also raises the possibility of Clooney playing a version of Tesla, which would fit with the film's characters being scientists and inventors, as well as with Tomorrowland's furturistic sci-fi theme. Alternatively, Tesla could still be a character in the film, but a supporting one instead of the lead (as you'll recall, in the 2006 film The Prestige, Tesla has a small but important role, and was played by David Bowie). If one of the supporting characters is based on Tesla, it's possible that it could be Laurie's antagonist David Nix or the "pivotal" role that will be played by Thomas Robinson. 
There's also the possiblity that Tesla, or a character inspired by him, could be played by an actor who's casting has not yet been made public. If the character is revealed in or as part of a major twist, Bird and Lindelof would understandably want to keep that quiet. Or they've just managed to keep the casting under wraps much like they've been able to keep pretty much everything else about Tomorrowland a secret. After all, the mystery surrounding the movie is what has been causing most of the buzz surrounding it. 
Of course, there's always the possiblity that he has nothing to do with the film at all and Bird is just a really big Tesla fan. 
More: 
George Clooney is As Confused As We Are About 'TomorrowLand'
The 'TomorrowLand' Plot Thickens With New Story Details
Go On A 'TomorrowLand' Tresure Hunt
---
From Our Partners:


A Complete History Of Twerking (1993-2013) (Vh1)


15 Stars Share Secrets of their Sex Lives (Celebuzz)