Will Ferrell: The Best of His Nonsensical Monologues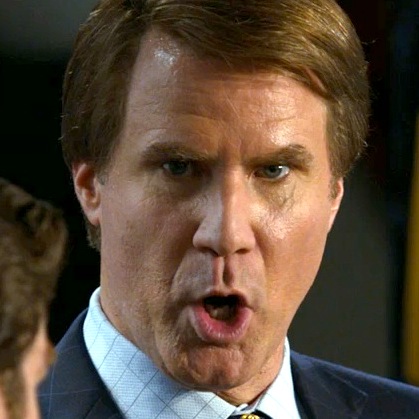 If Will Ferrell's comedy style were to be described by the title of one of William Shakespeare's play, it would undoubtedly be Much Ado About Nothing. Sometimes the jokes are bred of dynamite ensemble work, but often, at least once or twice in any of his given films, Ferrell is called upon to stand and deliver a monologue of pure nonsensical brilliance. This is more than likely a carryover from his days at Saturday Night Live, but whatever the reason, it makes for some truly memorable, if absurd and long-winded, hilarity.
One only imagines that playing a political candidate in his latest, The Campaign, will open the door to the similar wonderfully long-winded declarations. To prepare, here are a few of our favorite Will Ferrell speeches from years past:
No One Knows What It Means — Blades of Glory
The sports comedy is a plentiful genre, but there are a few individual sports that are sadly neglected. Figure skating, for example, has never enjoyed much in the way of the comedy treatment. 2007's Blades of Glory starred Ferrell and Napoleon Dynamite's Jon Heder as a pair of rival figure skaters forced to team up to circumnavigate their joint ban from traditional Olympic pairs skating. In this speech, Ferrell's character professes his love for the Black Eyed Peas and states why he only skates to their music. This speech was funny enough to catch the attention of Jay-Z and Kanye West, who sampled it in their track "Ni**as In Paris."
"Get Me A Juice Box" — Kicking & Screaming
One of elements that makes for a successful Ferrell speech is when he reaches a degree of rage that belies the inanity of the situation angering him. In Kicking & Screaming, Ferrell plays a terminally nice guy transformed into a raving maniac by his overly competitive father. He turns out to be so monstrous, that even the infamous NFL coach Mike Ditka can't reign in his temper. When Ditka refuses to bring him a juice box, and then promptly exists the field, Ferrell turns his wrath against the parents of his youth league soccer team; making one of them run a lap for having his shirt untucked.
"Amazing Grace" — Talladega Nights
Ferrell has become well known to movie-goers for playing a very particular type of character. The actor has shown a tremendous talent for portraying the rude, ignorant, developmentally arrested man-child. Arguably his most sinfully hilarious oaf was none other than NASCAR champion Ricky Bobby in 2006's Talladega Nights. Ferrell proves his ability to go from zero to screwball in seconds flat as he delivers one of the most hysterically inappropriate dinner table prayers ever caught on film.
"Mugatu Invented the Piano Key Necktie…He invented it!" — Zoolander
Zoolander is a film that gets a bad rap from most people, but it is actually a clever, fantastical spoof on everything superficial. Even if you aren't a fan of Ben Stiller's comically self-obsessed dolt Derek Zoolander, there is no question that Jacobim Mugatu is easily one of Will Ferrell's greatest cinematic creations. In the film's not-so-dramatic climax, Mugatu becomes fed up with all the attention Zoolander gets for doing seemingly nothing. He also demands credit for inventing one of the single tackiest articles of clothing to ever plague mankind.
"That's The Way You Debate" — Old School
Watching all these speeches, asides, and tirades fosters a certain expectation for his style of humor. You may even labor under the delusion that all his comedic rants are created equal. Submitted for your approval, this last speech, which comes from Todd Phillips'Old School, is a fabulous divergence from the previous entries. In the midst of a debate with the famous pundit James "The Ragin' Cajun" Carville, Ferrell surprises everyone with an eloquent, well-reasoned argument delivered almost in spite of himself. Now, that is how you debate!
[Photo Credit: Warner Bros. Pictures]
More:
'The Campaign': Will Ferrell and Zach Galifianakis Head-to-Head Interview
On 'The Campaign' Trail: Politics Is a Dirty, Hilarious Game
Will Ferrell and Zach Galifianakis Win By a Nose in 'The Campaign' Poster