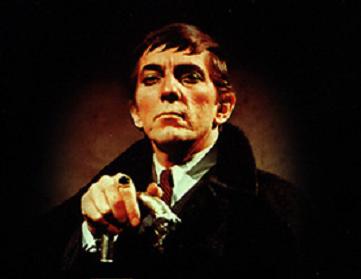 Less than a month before Johnny Depp's take on the character he made famous hits the big screen, original Dark Shadows star Jonathan Frid died in his native Ontario, from natural causes. He passed away on Friday, April 13, at the age of 87.
Frid appeared in a few other projects during his career — such as the TV version of Dial M for Murder — but there is no question that he was best known for playing 200-year-old vampire Barnabis Collins on the cult Goth hit Dark Shadows that ran in the late '60s. Frid, who makes a cameo in Tim Burton's Dark Shadows (out May 11), last appeared on screen in Oliver Stone's 1974 directorial debut, Seizure.
Kathryn Leigh Scott, Frid's costar on the beloved series and fellow cameo recipient in the movie, addressed the actor's passing on her Web site: "May Jonathan Frid, 'our reluctant vampire,' live on in our hearts! How blessed I am to have known this dear man and to have such wonderful memories of him, both on screen and off."
More:
'Dark Shadows': Johnny Depp, Now in Color
Johnny Depp's 'Dark Shadows' Posters: Fingernails That'd Make Edward Scissorhands Proud
'Dark Shadows' Trailer: Johnny Depp Rises from Dead, Hits on Eva Green
[MSNBC]