10 Ridiculous But Totally Possible Plots for the 'Entourage' Movie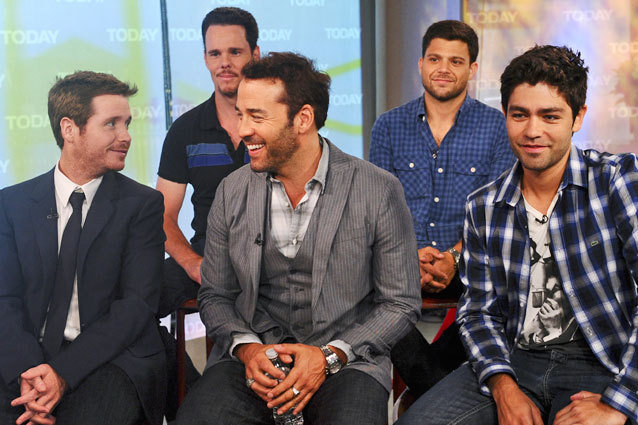 NBC Photo Bank via Getty
After weeks of conflict, bros all over the world can finally take comfort in the news that the Entourage film is set to enter production. According to writer and director Doug Ellin, the cast managed to hug it out and have all signed on to make the movie a reality. Jerry Ferrara, who played Turtle, also confirmed the news via Twitter last night. But while some people are rejoicing, and others are asking if it's suddenly 2007 again, we're left wondering what the plot of the film will entail. After watching Vincent Chase's (Adrian Grenier) rise and fall (and rise and fall) in Hollywood and his friends various successes and failures for eight seasons, are there any stories left for the Entourage film to tell? 
It's undeniable that the show's quality dropped during its last few seasons, and it felt like the writers were recycling old plots in order to fill air time, and watching Vince miraculously escape any consequences for his actions over and over became a bit tedious. In honor of the film moving ahead despite the conflicts and criticisms, we've brainstormed 10 possible plots for the Entourage movie, so that they don't have to keep putting the characters in the same situations again and again. 
1. Since the storylines on Entourage are often inspired by real-life events, the most likely plot for the film would center on Vince attempting to get the movie version of a successful television show that he starred in off the ground. However, tensions arise when he discovers that several of the cast members have decided to hold out on signing films contracts until they are paid the same amount of money as Vince, who became the show's breakout star. Things get even worse when Eric, who produced the show and is trying to produce the movie, calls the stars "greedy" to TMZ. Luckily for them, Turtle bonds with one of the actors, and together they help broker a deal while giving cheerful interviews to the media, exciting legions of frat-boys fans the world over.
2. In another storyline inspired by real-life events, Vince makes his Broadway debut in a play by David Mamet, alongside several well-respected theater actors. However, barely two months into the run, he gets sick and drops out the play immediately, leaving the cast in the lurch and surrounded by bad publicity. When his replacement gets better reviews than he did, Vince goes on the defensive, which only brings about more negative press, and he is forced to lay low for a while. He finally manages to turn his luck around when E convinces him to star in a PBS miniseries, which makes people respect him again. The chances of the Entourage writers using this plot depend on how frustrated they are with Jeremy Piven at the start of production. 
3. Instead of continuing from where the show left off, the team behind Entourage decides to scrap a film about Vince and the guys and instead give fans what they really want: a feature-length version of Queens Boulevard. Since it was Vince's breakout role, the movie has been referenced on the show often, and the tagline "I am Queens Boulevard" has become one of the show's most famous lines. Alternatively, the writers are inspired by Hearts of Darkness and decide to turn the Entourage film into a mockumentary detailing the making of Queens Boulevard, and the nightmare of working with Billy Walsh, the most unstable director in Hollywood history. 
4. In an attempt to lure in a new audience, Entourage goes highbrow with Turtle and Drama Are Dead, a Tom Stoppard-inspired film which outlines the major events of the series through the eyes of two of the more minor characters. Due to salary disputes, only Ferrara and Kevin Dillon actually appear in the film, but Vince, E, and Ari are all mentioned throughout. At the end, the two are ambushed by mafia hitmen after being unknowingly sold out by Vince after her couldn't pay back the money he owed for a drug deal. 
5. The Entourage team decide to find comedy in a more domestic set-up, and the film follows E and Sloan in their attempts to raise their kids in their Westchester mansion. Between one of their kids being bullied at school, attempting to help another break into show business as a child actress, and Sloan's ongoing conflicts with the obnoxious neighborhood mothers who look down on her for not raising their kids vegan, they think things can't possibly get worse until Vince, who is unable to properly function without E around, moves to New York and into their pool house. Vince gets into hilarious hijinks while babysitting the kids during the day and throwing massive parties at night. However, in a touching happy ending, he finally learns to grow up and let go. 
6. After the producers read on Twitter that the young people of today love when things get "meta", the film follows Vince's attempts to get a television show based on his life and his friends off the ground. Having never produced a show before, Vince must work with writers, casting directors and studio heads in order to get Hangers-On optioned. It eventually gets picked up by HBO and becomes a massive hit, but some of the people in his life are unhappy with their portrayal, causing Vince to have an internal battle against protecting their feelings and making good television. There are at least three references to the film Inception. 
7. Deciding that they've told all of the stories they could about Vince, E, Drama and Turtle, the writers instead decide to focus the Entourage movie on the true star of the show, Lloyd. After winning a harassment lawsuit against his former boss, Ari Gold, Lloyd decides to open his own talent agency, and is immediately inundated with clients. He makes a promise to himself never to verbally abuse his employees, which helps the company's roster of top agents grow quickly. However, his unbelievable success is putting a strain on his relationship with his fiancé Tom, and Lloyd must balance work and love while trying to plan the most outrageous wedding Hollywood has ever seen. When they eventually make it down the aisle, Ari is his man – the two reconciled during the film's third act. 
8. Hoping to rebuild their roster of celebrity chefs, Drama gets offered a cooking show by Food Network. His builds his culinary empire quickly, and suddenly finds himself richer and more famous than his brother. He hires Turtle to manage the business side of things, which upset E, who thinks Turtle isn't qualified enough. However, they must set find a way to band together when Drama insults Guy Fieri on a morning talk show, sparking the tackiest and worst-dressed feud in celebrity history. When Drama opens up a pop-up restaurant outside of Guy's Time Square eatery, Guy challenges him to a cook off of epic proportions, which will be televised after the hot dog eating contest on the Fourth of July. Paula Deen will attempt to recover from her recent scandals by making a cameo. 
9. M. Night Shyamalan comes aboard the project as the new writer and director, hoping to boost his profile after a string of flops. The boys fly to a remote village in the countryside in order to start work on Vince's next film, only to discover that the cast and crew are being mysteriously killed, one by one. Mark Whalberg will take on the role of the gruff detective in charge on investigating the murders after his wife, a costume designer, dies tragically on set. Shyamalan's twist is that the scripts are possessed and killing people, and only Turtle makes it to the end. It gets uniformly negative reviews, but still inexplicably becomes a hit. 
10. After years of their storylines being criticized as unrealistic, the Entourage film takes a more true-to-life approach in seeing where all of the characters have ended up. As a consequence of his constant stupid decisions, Vince has endured a second stint in rehab and a nasty divorce from his reporter wife, Sophia. He mostly makes ends meet through nightclub appearances and a string of mediocre films. E is also divorced, and has moved back to California to live with Vince and manage his mostly C-List clients. He and Sloan have joint custody of their child, but he still pines over her. By the end of the film, he is hopefully on his way to being a decent human being again. Drama's had a spike in popularity after a cable network decides to reboot Viking Quest. He's made a few guest appearances on the show, but mostly makes his living by appearing at fan conventions. Turtle owns a medical marijuana dispensary. Ari retired for good after all of his anger led to a minor heart attack, but his presence at home drives his wife crazy.
Or something like that.
Follow @hollywood_comFollow @julesemm