The 10 Dropped Plotlines of 'Grown Ups 2'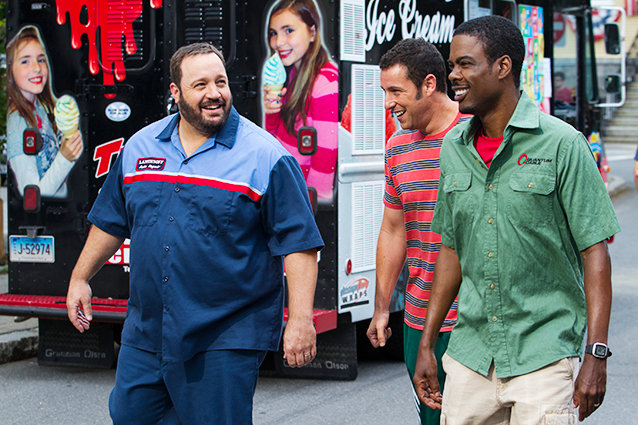 Give all the credit you want to high concept features like Pacific Rim, the most ambitious movie of the summer is undoubtedly Grown Ups 2. Although it seems like a pretty simplistic story — friends and families enjoying the summer in their hometown — there are actually so many plotlines in the Adam Sandler flick that you'd be hard pressed to name them all. Especially since so many of them are never concluded.
The amount of dropped plots in the Grown Ups sequel is so astonishing that it's hard to believe the film is actually a final cut. So what kind of arcs are we talking here? Peruse the list below.
Kevin James disapproves of how his Maria Bello is raising their children
James walks in on his wife validating their young son's incorrect answers in a series of math equations, exhibiting frustration with her dedication to "boosting his confidence" over teaching him math. Ditto for Bello's allowing their daughter to wear flashy homemade shoes to school. After we see how much Smith disapproves of these things, in the first scene wherein we meet the character by the way, we never broach the subject again.
Maya Rudolph forgets her and Chris Rock's wedding anniversary
There is something particularly bizarre about this one, considering just how "sinister" Rudolph seems in delivering the scene of forgetting her anniversary to Chris Rock (also the first scene in which we meet these characters). Later on, Rudolph is extremely sexually aggressive with her attractive male aerobics instructor… but… nothing. Never brought up again until, save for a "Happy Anniversary!" callback spoken from Rudolph to Rock at the end of the film.
Adam Sandler thinks Salma Hayek is cheating on him
This is mentioned once, not acknowledged for about an hour, and then set to rest when he realizes the guy he suspects as the other man is gay. Technically this plot does have an ending, just no middle.
David Spade's son defaces the local college fraternity house
A group of narcissistic frat boys blames Sandler and co. for the vandalism imparted upon their residence, but it is David Spade's estranged son who announces that he is to blame. Why? Because, despite his vehement disapproval of his "new" father's lies and lifestyle, does he truly want to connect with him? We… don't know. We never learn. The issue is never addressed again after a simple "It was me!"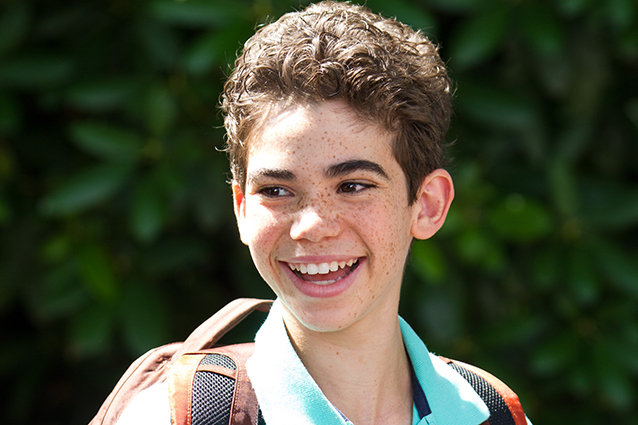 Kevin James' daughter is in love with Adam Sandler's son
It is made abundantly clear that James' daughter has a crush on Sandler's younger son. Sandler even points this out to son Keith, leading the audience to believe that love might blossom. But love never blossoms. Ever. We never see the two kids speak to each other through the remainder of the film.
Hayek thinks football is dangerous, or something
Sandler takes Keith out to practice some place kicks, resulting in a broken leg. Considering the attention given to Sandler and Hayek's argument about letting their kids take risks and do dangerous things, you might expect this to lead to some serious problems. It doesn't. It happens midway through the movie, setting to rest the heavyhanded theme altogether.
Sandler's other son, and Chris Rock's son, try to fit in with a bunch of college kids
Here's a plot, for sure! Sandler and Rock's oldest kids want the local college kids to think they're cool. So how do they do it? By faking drunkenness and pretending to be college seniors with false names. What traditional, albeit plausibly hilarious hijinks might ensue? None. Ever.
Chris Rock's son takes his driver's test
Granted, those college kids do see Rock taking his driver's test, and throw him a couple of beers en media res, but instead of earning him the scorn of instructor Steve Buscemi and thus careening him down a path of conflict and dejection, it just results in a one-off gag with Rock Jr. and Buscemi enjoying a cheerleader car wash together. And that's the end of that.
Kevin Smith is addicted to 5-Hour Energy drinks
He chugs a bunch of them in one scene, earning the concern of his friends. Never ever mentioned again. Ever.
Nick Swardson
It's all very confusing. 
Follow Michael Arbeiter on Twitter @MichaelArbeiter
More:
'Grown Ups 2' Review
'Grown Ups 2' Reveals Biggest Fears
Adam Sandler Faces Off with Taylor Lautner
---
From Our Partners


Stars Pose Naked for 'Allure' (Celebuzz)


20 Grisliest TV Deaths of 2012-2013 (Vulture)