16 Life Lessons To Be Learned From Buddy The Elf
They say people go to New York City to make a name for themselves, and Buddy the Elf did just that back in 2003. Will Ferrell's portrayal of Buddy, a human raised by elves who journeys to The Big Apple in hopes to find his human family, became a classic (and also one of the most quotable holiday movies ever). Buddy's unbreakable Christmas spirit and love for smiling inspires us each holiday season, making Elf an unbeatable comedy with tons of important life lessons to learn.
1. "The yellow ones don't stop!"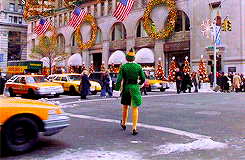 If you're not from the city, this one is especially important, and Buddy found out the hard way. Living in the age of Uber may make this rule exponentially harder, but let's assume that any taxicab or Uber driver is on a mission. Buddy taught us that you're never too old to "look both ways before crossing."
2. Gum on the street does not equal free candy.
Buddy the elf: Teaching kids to not eat garbage since 2003. A truly applicable life lesson for all the youngsters out there this holiday season. Any pre-chewed gum, not found in the North Pole, seems pretty off limits.
3. There are four main food groups.
The key to a balanced diet is getting your fill of Buddy's four nutritional food groups: Candy, candy cane, candy corn, and (of course) syrup! The best part is, you can add them to anything. Even spaghetti. Say goodbye to low blood pressure and hello to a serious sugar high.
4. "Do you want to get food?" is code for going on a date.
Who'd ever think to take dating advice from an elf (who took dating advice from a 10-year-old)? Still, we think this is a pretty reasonable life lesson, and one totally useable for that New Year's goal of finding that special someone!
5. Best way to spend a winter day? Go ice skating, eat a WHOLE roll of Tollhouse cookie dough as fast as you can, and then SNUGGLE!
What better way to spend time with someone you love than all of the above? Although we can't help but wonder if the snuggling is a result of feeling a little sick over eating an entire roll of cookie dough… At least the ice skating burns a few of the calories?
6. Be wary of "World's Best Coffee" claims.
Now, we're all about a good 'mom and pop' coffee shop but Buddy teaches us that you can't trust every advertisement you see. Make sure and test out that 'World's Best Cup' before recommending it to your crush.
7. Santa Claus does NOT smell like beef and cheese!
We're going to assume that Santa probably smells like hot cocoa and sugar cookies. One whiff of a Jimmy John's sandwich and you can be sure they're an imposter. Never trust a St. Nick who sits on a throne of lies.
8. Just because something doesn't come naturally for you, doesn't mean you're a cotton-headed-ninny-muggins.
One of the most heartfelt lessons we can learn from Buddy is to never get too down on yourself. Buddy believes he's a cotton-headed-ninny-muggins because he only made 85 Etch-A-Sketches instead of fulfilling his quota of 1,000 (he's 915 off the pace!). Instead, he learns that his talent may not include toy-making, but spreading cheer to all of NYC and in turn, saving Christmas. Etch-A-Sketch building seems pretty lame now, right?
9. The Ray's Pizza on 11th Street really IS the original Ray's Pizza.
New York is full of Ray's famous pizzas, but this advice is straight from the the big man in the red suit, himself! We're taking his word for it. He's been to the city a few times over the years.
10. Not everyone in this world will have your level of Christmas spirit.
The world may want to rain on your parade, but like Buddy, continue to keep smiling! We admire Buddy's will to keep on hugging strangers to this very day. Especially after that rabid raccoon.
11. "The best way to spread Christmas cheer is singing loud for all to hear."
This is one of the best lessons to be learned from the elves of the North Pole. Papa Elf and the other elf teachers taught Buddy well, equipping him with this essential mantra. Whether you're singing in a store, in the shower, or down the streets of the city, this is the ultimate motto to live by this holiday season.
12. You'll know you're truly in love when you want to shout it everywhere you go
We totally ship Buddy and Jovi, partially because Buddy isn't afraid to shout his love from the Empire State Building. While we wouldn't advise interrupting a meeting with a renowned children's author to share the good news, Buddy isn't afraid to tell the world that he's found the love of his life.
13. A corporate office is sort of like Santa's workshop.
There are creative meetings, worker bees, a shiny mailroom, and an elevator with light-up buttons. Are there conference calls in the North Pole?
14. Family are the people (or elves) that you surround yourself with during the holidays.
Even if they aren't impressed by your ability to burp for 15 seconds straight, family are the people you surround yourself with during this time of year. They're the ones who will accompany you in a snowball fight and love you unconditionally.
15. Friends come in all shapes and sizes and can be found in the most unlikely of places
Whether they be elf, narwhal, snowman or puffin, friends come in all shapes and sizes. Even when we venture across the seven levels of the candy cane forest, past the whirly, twirly gum drops and through the Lincoln Tunnel, we know that these loyal companions are back home, awaiting our return and supporting us through our journey. Buddy also showed us that new friends can be made wherever you go, even if it's an office mailroom.
16. Never stop believing in what you know is true.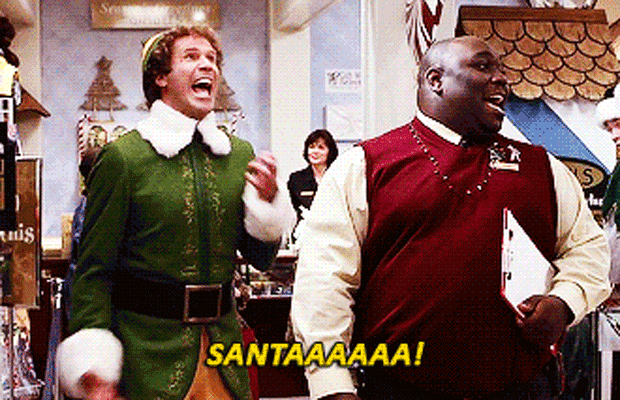 Most importantly, our favorite elf taught us to never give up. In the end, his faith in Christmas caused Santa's sleigh to appear on the local news, thus causing hundreds of New Yorkers to believe in the true spirit of Santa. You are an inspiration to us all, Buddy.