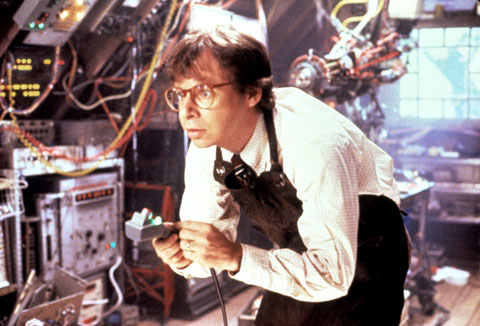 So far, during the course of this column, we've examined the disappearances of child actors and Hollywood royalty; of great genre directors and television stars who were once household names. The causes of these disappearances have ranged from ill-advised career choices to the decision to purse a career in politics. Or, in the case of Sean Connery, it was less a disappearance and more a retirement after a long and legendary career. Today's subject made a similar choice, but under tragic circumstances. Today we send a search party after Rick Moranis.
Why We Love Him
Moranis got his start on the Canadian sketch comedy television show SCTV. This landmark series was the launching pad for a veritable heap of renowned comedic talents. This list includes, but is by no means limited to, John Candy, Eugene Levy, Harold Ramis, Catherine O'Hara and Dave Thomas. Moranis and Thomas created a duo of characters known as the McKenzie Brothers who derived much of their humor from being overzealously Canadian. The characters proved to be so popular that they were given their own movie in 1983: Strange Brew.
The very next year, Moranis landed a role that would forever define him as a performer and would inform the vast majority of characters he would play from that point forward. He played Louis Tully, Sigourney Weaver's hopelessly nerdy neighbor in Ghostbusters who has the grave misfortune of being turned into a demon dog. This nerdiness would translate well to his next major film role. In 1986, he was cast as Seymour Krelborn in Frank Oz's film adaptation of the musical Little Shop of Horrors. His thick glasses and high-water trousers were his signature armor of dweebiness, and yet his haplessness and sincerity made him instantly likeable.
In 1987, Moranis was among the stunning ensemble cast of Mel Brooks' Star Wars parody Spaceballs. He was comedic gold as the evil Dark Helmet and has some of the best lines in an already incredibly quotable film. He also proved just as charmingly hapless as a villain as he did as a hero. He would follow this by reprising his role as Louis in Ghostbusters II before portraying wacked-out professor Wayne Szalinski in Disney's Honey, I Shrunk the Kids. By then, Moranis had made nerdiness an artform.
What Happened to Him?
In 1991, Rick Moranis' beloved wife Anne, with whom he had two children, passed away from liver cancer. By this point in his life, he was already growing restless with the Hollywood system and found little reward in it. In addition, Rick was struggling to raise his two children on his own. As a result, he announced his retirement from acting in 1997. Moranis has not appeared in a live action film since.
Where He's Been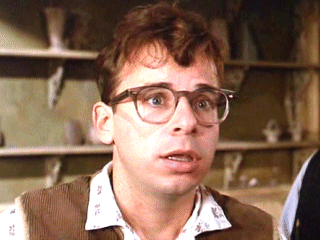 He was offered the role of the governor in 2001's Evolution, but deferred the role to his friend Dan Aykroyd. Between 1997 and 2001, all was quiet on the Moranis front. In 2003, he lent his voice to the Disney film Brother Bear. In fact, since his retirement, the only brief reappearances made by Moranis have been animated films for which he provided voice work. Evidently, his decision to retire was not one entered into lightly.
What Now?
Rick has remained relatively off the cinematic grid since his retirement. Even with limiting himself to animated films, the last of those that he did was Brother Bear 2 in 2006. What is often most interesting about researching these MIA celebrities is finding that they have been dabbling in other artistic mediums or even entirely separate occupations. In the case of Rick Moranis, the new medium in which he decided to dabble was that of comedic country music. In 2005 he released an album entitled ''The Agoraphobic Cowboy." I don't think I'm alone in my hope that Rick Moranis will soon trade in his Stetson for a pair of suspenders and pocket protector and return to the big screen. The state of modern comedies could be greatly improved by his return…Zuul knows it couldn't hurt.