10 Movies That Made Us Love Emma Stone (Even More)
America's sweetheart and everyone's favorie actress, Emma Stone received her first ever Oscar nomination! She's nominated in the Best Supporting Actress category for her edgier, more foul-mouthed role in Alejandro González Iñárritu's Birdman, which is a bit of a different role for the 26-year-old who stole our hearts at age 19. In honor of Emma's incredible year, we take a look back at the movies that made us love her more and more.

1. Superbad (2007)
candacedoesgifs.tumblr.com
Her breakout role as the cool, gorgeous girl in the Judd Apatow-produced teen comedy set the stage for what we would come to think of Emma herself. Hilarious, beautiful, self-deprecating, and pretty much the person everyone wants to hang out with. It's because of her character that Jonah Hill is inspired to endure all of the challenges in this movie, and we can't say we blame him. Come on, who wouldn't?
2. The House Bunny (2008)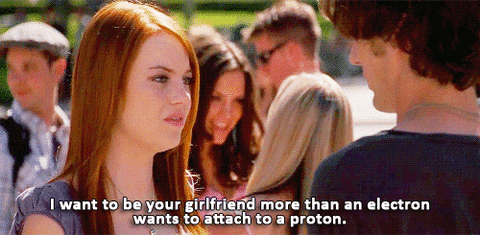 GIPHY
Her role in the not-that-great-but-not-that-bad Anna Faris comedy as Natalie, an unfortunately styled nerdy sorority girl, was maybe a bit hard to believe at first (because she's flawless), but it was fun nonetheless. We would rewatch this movie any time just to watch Emma Stone as the virgin sacrifice at Zeta Alpha Zeta's Aztec party.
3. Zombieland (2009)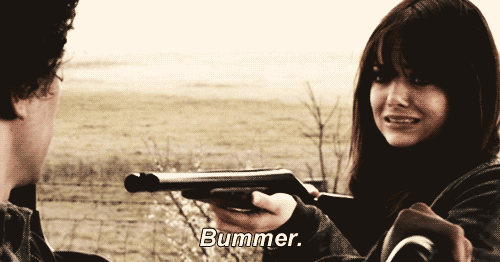 GIPHY/mylifethroughemmastone.tumblr.com
Wichita is probably the last person you'd want to encounter during a zombie apocalypse…or so it seems. Once you get over her penchant for conning people and her habit of pointing shotguns at you, you'd realize just how lovely an addition she'd make to your zombie-fighting group. She'll even be there to do drugs with Bill Murray. That is a cool girl.
4. Easy A (2010)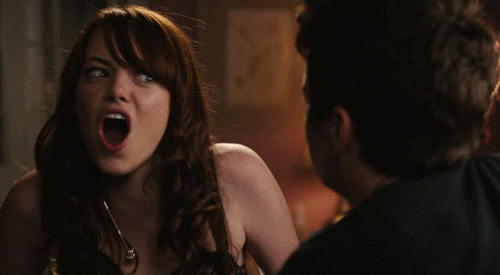 GIPHY/gifhell.com
The movie that earned Stone her first Golden Globe nomination, Easy A, is easily her greatest role ever. As Olive Penderghast, Stone lies about losing her virginity, turns that lie into a business of sex-related lies, styles herself as a lingerie-clad Hester Prynne, and battles head-to-head with super conservative Marianne (Amanda Bynes). One of the most entertaining teen movies, this gets extra points for reimagining a book we hated in high school and making it awesome.
5. The Help (2011)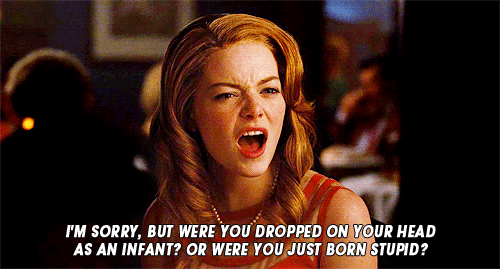 GIPHY
Emma plays the lovable "Skeeter" whose relationship with two black maids during the Civil Rights era in Mississippi begins as the maids assist the aspiring journalist with her cleaning column, but soon intensifies as she chooses to write their stories instead. Though it's Octavia Spencer who steals the show here, Stone's role is still as incredible as we've come to expect.
6. Crazy, Stupid, Love (2011)

GIPHY
As a recent law school grad who first rejects and then falls in love with Ryan Gosling (lucky girl), Stone shined as bright as ever. Our favorite moment of the whole film is when she's Gosling's house, looking "R-rated sexy," and telling him that they're going to "bang" before self-consciously calling the super-hunk out for looking like he's Photoshopped.
7. Friends with Benefits (2011)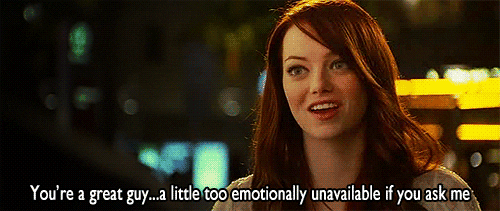 GIPHY/broocewayne.tumblr.com
Though only a small role, her turn as the girl dumping Justin Timberlake for missing "Your Body Is A Wonderland" at the John Mayer concert is not only totally understandable (because he kind of is "the Sheryl Crow of our generation," right?), but is completely awesome. Her departure from the conversation, entirely over this relationship and more concerned with the Mayer concert, is perfect.
8. The Amazing Spider-Man (2012)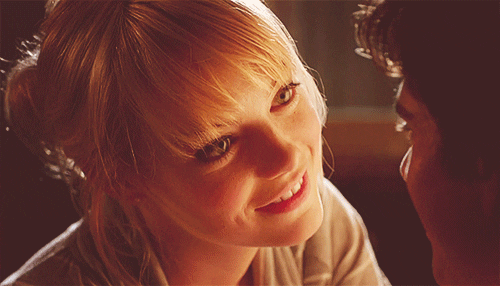 GIPHY/butlercat.tumblr.com
SHE'S GWEN STACY! Arguably the greatest, most adorable movie girlfriend ever in the history of movies. Going too far? We don't think so! She's Peter Parker's love interest and the daughter of the police captain (who sooo does not approve of his daughter dating the dangerous Spider-Man), and we love her for it. More importantly than anything that happens in the actual movie, though, is her real life romance with the real life Spider-Man, Andrew Garfield. We love them on and off the screen.
9. Magic in the Moonlight (2014)
a-movie-dream.tumblr.com
It should be clear that any movie starring Emma Stone AND Colin Firth is going to be adorable and charming, right? Okay, now that we've settled that… Emma plays a psychic who doesn't really care that Firth is trying to disprove her powers, yada yada yada, she falls in love with him. The most charming part of the movie is, of course, Emma, particularly in her 1920s Gatsby-esque style. To die for!
10. Birdman (2014)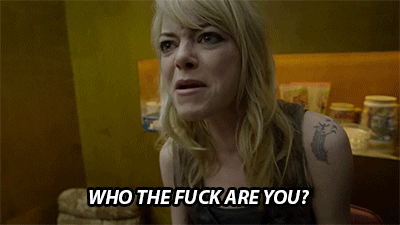 GIPHY
Is this the movie could land Emma her first Oscar?! Stone plays Michael Keaton's aggressive and brash fresh-out-0f-rehab daughter-turned-personal-assistant who seemingly doesn't give a hoot about anything. From her potty mouth to her pursuit of adrenaline highs, we were shocked and amazed at how terrific she was in this role.