'Ant-Man' or 'Ghostbusters 3': Which Film Should Ruben Fleischer Direct?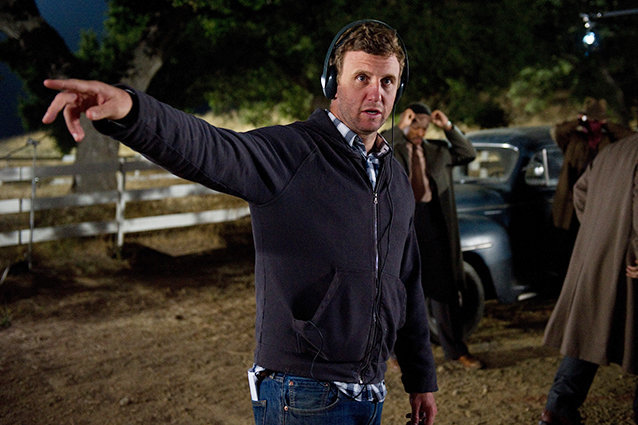 Warner Bros. Pictures via Everett Collection
Since Edgar Wright stepped down as director of the upcoming Ant-Man movie, speculation about who Marvel would pick to replace him has been steadily growing. Currently, the two frontrunners are We're The Millers director Rawson Thurber and Ruben Fleischer, the latter of whom is best known for his work on Zombieland and Gangster Squad. However, according to The Wrap, Ant-Man isn't the only blockbuster franchise hoping to convince Fleischer to step behind the camera, as he is reportedly being considered to take the helm of Ghostbusters 3.
Like Ant-Man, Ghostbusters 3 has been in the works for a long time, and has weathered everything from the death of Harold Ramis to the difficulties of finding a replacement for Ivan Reitman to Bill Murray's refusal to reunite with his former co-stars. Having Fleischer on board would be a major step in the right direction for the project, mostly because it would allow them to actually make that tentative 2015 start date. If the rumors are true, it puts Fleischer in the difficult position of having to decide between two major blockbuster films. To make things a little easier on him, we've broken each film down to see whether the rewards outweigh the risks and whether ants or ghosts are better suited to his sensibilities. 
Ant-Man
Tentative Start Date: Mid 2014 with July 17, 2015 as the planned release date. That doesn't give Fleischer a lot of time to prep for the film, or to squeeze in or finish up any other projects beforehand.
How Well He Fits the Project: His previous films have shown that he's talented at handling both comedy and action in a way that would be useful for handling Harold Pym's adventures and super powers. Ant-Man isn't a particularly serious character, and so having someone on board who knows how to inject some humor into the proceedings while still keeping the fight sequences intense and impressive would be a major asset for the film. 
Creative Control: Marvel has all of their properties under strict control, as everything needs to work well in the overarching Cinematic Universe, both in terms of plot and tone. Though he'll be able to add his own flare to the character, everything still needs to be approved by Marvel first, which limits just how inventive he'll be able to get.
Pressure From Fans: High. Comic book fans tend to be very particular about the way their favorite characters are adapted, and they won't hesitate to make their displeasure known if Fleischer messes something up. After all, people are still making fun of Ben Affleck for Daredevil, and Tobey Maguire's career hasn't been able to rebound from Spider Man 3. Wright also had a lot of good will amongst that community as well, so they might be a bit more hesitant to accept Fleisher's version of the film.
Risks: Making an Ant-Man film in the first place is something of a risk, considering he's a lesser known superhero with a weird set of powers, but both fans and critics have come to expect a certain level of quality from marvel's films, and won't be willing to cut Fleischer very much slack if the film isn't good. Plus, Ant-Man is meant to kick off the next round of the Universe and will most likely impact every film that comes out afterwards, including future Avengers projects, and that's a lot of pressure to put on someone directing their first superhero film.
Rewards: Marvel's films almost always do well, and so even this far in advance, it seems likely that Ant-Man will be at least a modest hit. Fleischer is coming off of two critical and financial flops – 30 Minutes or Less and Gangster Squad – so directing a major, successful blockbuster could go a long way in helping him out of his slump. It also puts him in the running for a lot of other, varied projects, which would help him break away from the comedy-with-a-touch-of-action comfort zone he's been stuck in.  A successful Marvel film would have a major impact on his career, and could even help him establish his name in Hollywood.
Ghostbusters 3
Tentative Start Date: Early 2015, and since The Playlist reports that Fleischer is a new father, the time off could play a significant role in convincing him to take the job.
How Well He Fits the Project: Though he's got plenty of experience with action, Fleischer's forte is clearly comedy, which makes him a solid fit for Ghostbusters 3. The film needs someone who understands the goofy, irreverent tone of the original, without turning it into a parody of itself, and Zombieland proved that he can do just that. Plus, he's already got a relationship with Bill Murray, so even if he can't convince him to step back into the jumpsuit, at least he understands the style of comedy that a Ghostbusters film needs.
Creative Control: Though Reitman and Dan Aykroyd will be heavily involved in the film, Fleischer will have a lot more creative freedom with Ghostbusters 3 than he would on a Marvel property. Fleischer would need to come with an inventive way to revisit the characters in order to keep the film from feeling stale, and comedy naturally allows for more creativity than a rigidly structured superhero universe does, so it could truly be Fleischer's version of a Ghostbusters film.
Pressure From Fans: Low. Very few people actually have faith in Ghostbusters 3, and since people are already expecting it to be a trainwreck, Fleischer doesn't really have any pressure on his shoulders. Whatever he does has got to be better than what people are expecting him to turn out.
Risks: There aren't a ton of risks with this one: Fleischer has already proven that he can handle a supernatural comedy well, and expectations are already pretty low. However, Fleischer really needs a his next film to be a success – either critically or commercially – in order to help him out of the rut he's currently in, and Ghostbusters 3 has a lot going against it. If the film bombs terribly, it would be very hard for his career to recover.
Rewards: Because the risks are lower, so are the rewards. However, if Ghostbusters 3 is a hit, it not only helps Fleischer recover from his recent flops, but it also helps open up opportunities for other big comedy films. He might still have trouble breaking out of his comedy niche, but at least he would be in the running for plenty more major comedy blockbusters.