'The Skeleton Twins' Reminds Us Of the Best of Kristen Wiig and Bill Hader
Friends who star on Saturday Night Live together go on to star in almost every movie they make together. At least, that appears to be Kristen Wiig and Bill Hader's philosophy, and the two are carrying on the tradition with their latest film The Skeleton Twins. The first trailer for the Sundance darling showcases a slightly different side of the pair, however, as they play twins who reconnect after they coincidentally each cheat death on the exact same day. Their second chance at life inspires both of them to re-evaluate their lives and mend their relationships with one another. Between the eight years they spent together on SNL, the 10 movies they've both starred in, and the countess talk show and award show appearances they've made together, Wiig and Hader have created many wonderful, weird, and goofy characters. In celebration of their chemistry, here's a look back at all of the hilarious pairings that Wiig and Hader have entertained us with over the years…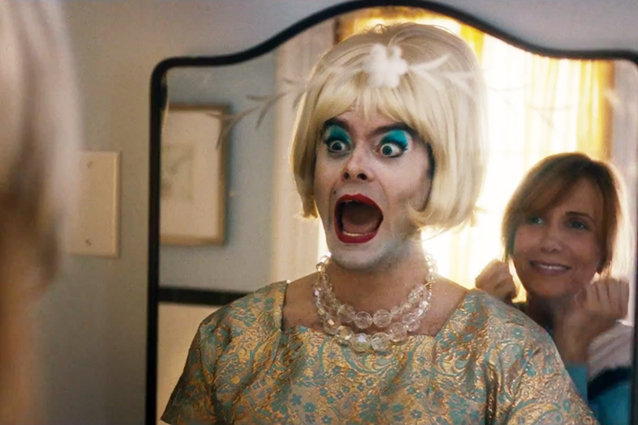 Roadside Attractions
Devin and Karina, The Californians 
Despite being one of SNL's most divisive recurring sketches, The Californians was a cast favorite, which explains why it was performed so many times. Still, the pointless soap opera about rich people giving directions would be nothing without Hader's Devin, whose close relationship with Wiig's Karina caused a great deal of tension with her husband, Stuart (Fred Armisen).
Brady Trunk and Anastasia Hicks, Hollywood Dish 
As the world's worst entertainment news hosts, Wiig and Hader had the perfect opportunity to showcase both their most obnoxious, arrogant voices and their silliest faces during some extremely uncomfortable interviews with various celebrities that culminated in a series of dramatic spit takes.
Lyle Round and Mindy Elise Grayson, Secret Word 
Nine times out of ten, if SNL was doing a game show sketch, Hader played the host. Still, his most famous host was Lyle Round, an obnoxious, sleazy '50s television personality who always laughed at his own jokes and alternated between flirting with and yelling at Wiig's Mindy Elise Grayson, who has never been able to understand the one rule of the show. It's Wiig and Hader at their most over-enunciated, which is generally when they're at their finest. 
Bobby and Paulette, Adventureland 
As the permanently exasperated couple that runs the titular theme park, Hader and Wiig got the chance to introduce audiences to their relaxed, hilarious chemistry and the oddball characters that we'd come to love them for, along with the real reason why nobody ever wins a giant panda while playing arcade games. They just don't have that many left. 
Phone Sex Callers, Her 
In perhaps their strangest co-starring role (and considering the kind of weirdos these two normally play, that's saying something), Hader and Wiig each provided voices for people in a chat room that Theodore Twombly (Joaquin Phoenix) enters at the beginning of the film to connect with another person. Though Hader plays a man pretending to be a woman, his cameo is brief (and if you didn't know to listen for him, it would probably pass you by completely). Wiig's performance as SexyKitten, on the other hand, is much more memorable, primarily because she asked Theodore to… well, "choke [her] with the dead cat" in the throes of passion. You'll never be able to watch Bridesmaids the same way again.