Shameless Product Plugs in Music Videos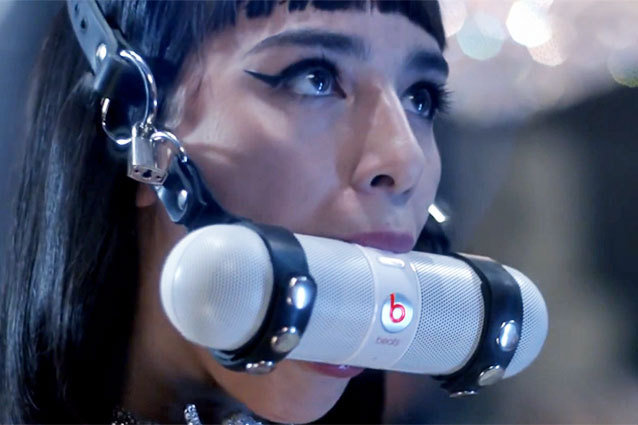 BritneySpearsVEVO/YouTube
We're aware the idea of "selling out" and the backlash it used to incur against artists doesn't hold the same weight as it did in the nineties, but if we wanted to watch blatant product placement in our entertainment we'd just stick to watching Bravo TV. Musicians have been shilling products since before Wayne and Garth held up a Pepsi can, but the product placement in music videos has gone from subtle to center stage. When music videos made the shift from TV to online (remember The BOX anyone?) record labels starting pumping out music videos as a source of revenue and not just an extension of the musician's "artistic vision." Pretty soon it's going to be Geico lizards singing backup while Gucci Mane raps with a Dairy Queen Blizzard tattooed on his face
Britney Spears – "Work B ** h"
While everyone was clamoring for Brit's latest comeback single, not much has changed since her Femme Fatale album of 2011. Tanned abs? Check. Flashy Underwear? Yep. Over-the-top product placement of her latest perfume? Absolutely! Just like her video for "Hold It Against Me," where she reportedly made half a million to hold product props, her latest single, "Work B ** h," is no different — except this time she's pushing her Fantasy Twist perfume instead of Radiance. Subtle product placement is one thing, but in this video we are literally gagged with it — as one of scenes features a dancer using a Beats by Dre speaker as an S&M ball-gag. In addition to plugs for the casino Planet Hollywood where she has a two-year residency performing, Britney proves if you want to make the big bucks with corporate sponsors… you better work, b ** h.
Avril Lavigne – "Rock N Roll"
Avril Lavigne is a lot of things — but a rock star is not one of them. In her video for song "Rock Star," the product placement makes an appearance before the music even begins. Her gentle guitar strumming is interrupted by "her new Sony phone is ringing," making us cringe before she starts warbling about ripped jeans and "hipster bulls**t." She's obviously very cozy with Sony since their shiny electronics also make a star appearance in he video for "What the Hell." That's exactly what we were thinking.
No Doubt – "Settle Down"
Here's another case of an artist plugging the brand they're a spokesperson for. As Gwen is on her way driving to the uber cool party in a shipping container, she carefully applies her L'oreal lipgloss to achieve her signature red lip and makes us all ill in the process. Maybe their next video can be her sitting by her vanity applying L'Oreal RevitaLift after their live gig? Does Tony approve of this?
Ke$ha — "We R Who We R"
Given her penchant for whiskey, we would have expected to see a Jack Daniels plug in Ke$sha's videos, but it turns out the party girl prefers Revolucion Tequila, which makes plenty of appearances in her single "We R Who We R." Not that we set the bar for artistic integrity for Ke$ha very high. The song's mantra could apply to her entire career, she's unapologetic about her image and "dancin' like we're dumb," lyrics; so good for her. Tequila and flashy watches naturally fit in the dance party concept of the video, but what's with the constant reference to the dating website 'Plenty of Fish' on the DJ's laptop? Turns out, the site had a partnership with Interscope Records. Now we'll forever wonder, is that guy is REALLY DJing at the bar or his he just cruising for dates?