Kellan Lutz Auditioned for 'Tarzan' in His Underwear and a Conan Wig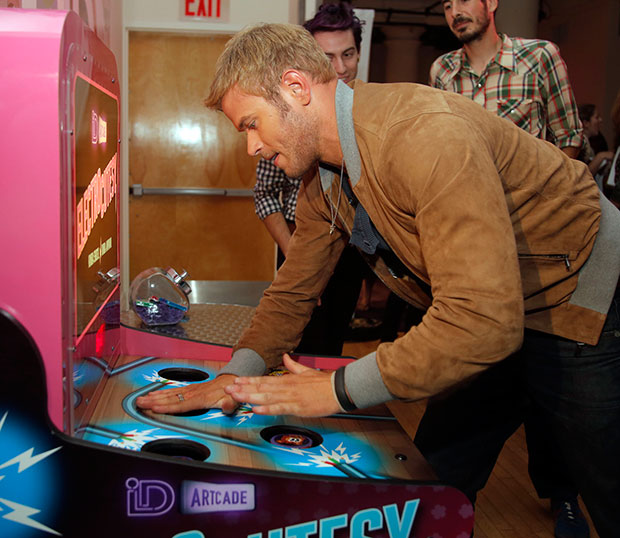 Fans who worried that Twilight Saga: Breaking Dawn — Part 2 might be the last time we would see a super-powered Kellan Lutz grace the silver screen may not want to throw up their arms in dismay just yet. Talking to Lutz at the iD Gum Launch Event in NYC on Wednesday, Sept. 19, Hollywood.com was assured by the star that his previously announced Tarzan movie is on track — and that he's having a ball playing the classic jungle hero.
Unlike his Twilight character Emmett Cullen, Lutz's Tarzan will be brought to life with performance capture, the same CG technology used to realize Lord of the Rings' Gollum and fully animated films like Polar Express and The Adventures of Tintin. "It's kind of like acting in live theater, so you have to be expressive," says Lutz. "Normal acting, you can be somewhat expressionless, [but] that won't register. You have to be bigger. You have to take your beats. If I'm wrestling an alligator… 'Grab the knife!' — STAB! Versus like doing something so quick and fluid." 3D animated performance capture also speeds up the acting process. According to Lutz, the experience is "like having 60 cameras at one time, so when you do a scene, you only do a scene twice because they have every angle."
While Lutz loves the technology-infused style of acting, he didn't audition for Tarzan knowing he'd end up in a one-piece, swinging from vines that would only be created after the fact. "When I auditioned, I wore my Conan wig, because I was testing for Conan the Narbarian at the time," says Lutz. "So I had this wig that I made for that so I wore that and then I walked into the audition in my underwear." (Remember his 2010 Calvin Klein X underwear campaign?) Only after his audition was he told the film would be animated. Unfortunately, his beefed up physical presence — what you might expect from a Tarzan — wouldn't work. "They're like, 'No can you actually slim down so you can fit in the suit,'"Lutz explained.
Lutz has moved on to his next project, but he'll always be game to talk about his time on Twilight. Like most of the cast, he's tight-lipped on what we'll see in Breaking Dawn — Part 2's grand finale, but he didn't reveal how he passed the time on set. Inspired by a scene in Part 2 where Emmett arm wrestles a newly-vampiric Bella, Lutz held a few strength competitions of his own. "When you are on set, you kind of get bored easily and I arm wrestled everyone, even Ashley [Greene]. She'll kick me in the shin to beat me. We have fun. It's a really tight-knit family." From the sound of it, Lutz didn't have a problem besting his costars (sorry, Mr. Lautner).
As with most young stars, Lutz is already looking ahead to the future. With a vampire and a classic literary figure under his belt, the actor dreams of playing a superhero. "There's Aquaman. There's Flash," says Lutz. "Honestly, He-Man. I just grew up with my He-Man tighty whities. Or Aquaman because I love being in the water." Any could be a perfect match for the physical star — just as long as he remembers to check if they're animated before beefing up.
Follow Matt Patches on Twitter @misterpatches
Reporting by Lindsey DiMatinna
[Photo Credit: Gary He/Insider Images]