10 Inspiring Celebrity Commencement Speeches to Watch Before Graduation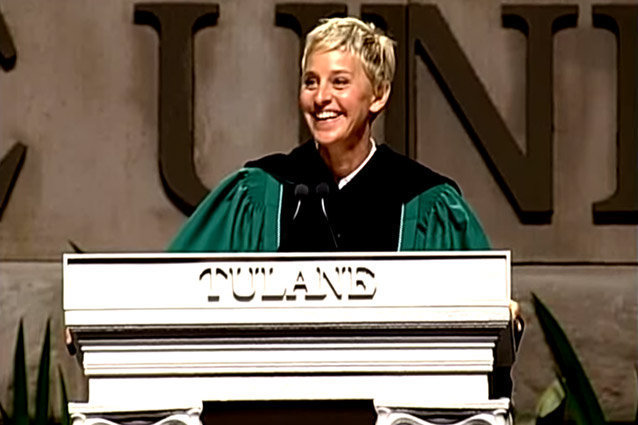 YouTube/Tulane University
For many college students, graduation is a terrifying time. It means leaving behind your friends and the isolated playground in which you lived for the past four years and moving to the so-called "real world." Nobody wants to do this, so universities typically invite successful individuals to deliver a commencement speech in an attempt to offer wisdom and guidance to the nervous graduates. Below are ten of the most inspiring speeches by some of our favorite celebrities. Whether you are graduating from college or not, these speeches will give you the courage and strength to persevere in life. 
1. Ellen DeGeneres, Tulane University, 2009
Ellen's hilarious speech for Tulane graduates is rather short, but it's full of classic one-liners and important life-lessons. In particular, Ellen talks about her decision to come out and be true to herself.
Key quote: "Follow your passion and stay true to yourself. Never follow anyone else's path, unless you're in the woods and you're lost and you see a path, and by all means you should follow that."
2. Meryl Streep, Barnard College, 2010
The Academy Award winning actress reveals a side of herself in this speech that she rarely shows. Streep tells a few stories from her life to stress the importance of being authentic, and admits that being famous and winning awards does not make her fulfilled.
Key quote: "I can assure you that awards have very little bearing on my own personal happiness, my own sense of well-being and purpose in the world. That comes from studying the world feelingly, with empathy in my work. It comes from staying alert and alive and involved in the lives of the people that I love and the people in the wider world who need my help. No matter what you see me or hear me saying when I'm on your TV holding a statuette spewing, that's acting."
3. Aaron Sorkin, Syracuse University, 2012
In his powerful speech, acclaimed writer Sorkin talks about his experience with drug addiction and his early struggles as a playwright. What remains is a passionate plea to take risks, dare to fail, and follow your dreams.
Key quote: "You're going to fall down, but the world doesn't care how many times you fall down, as long as it's one fewer than the number of times you get back up."
4. Arianna Huffington, Smith College, 2013
Huffington's famous remarks to Smith College find her redefining success for a new generation. She tells students that money and power alone aren't sustainable, and that it's more important to focus on the third metric: personal well-being, wisdom to make the correct decisions, wonder for the world, and a willingness to give back. Ultimately, she encourages graduates to sleep more, work less, and find happiness within. 
Key quote: "So as you leave this beautiful campus today to follow your dreams and scale great heights in whatever profession you choose, I beg you: don't buy society's definition of success. Because it's not working for anyone. It's not working for women, it's not working for men, it's not working for polar bears, it's not working for the cicadas that are apparently about to emerge and swarm us. It's only truly working for those who make pharmaceuticals for stress, diabetes, heart disease, sleeplessness and high blood pressure."
5. J.K. Rowling, Harvard University, 2008
The beloved author of Harry Potter talks to Harvard graduates about the benefits of failure and the power of imagination. She uses her own rags to riches story to demonstrate that failure is a great motivator, and her experience with Amnesty International to express the importance of empathy.
Key quote: "If you choose to use your status and influence to raise your voice on behalf of those who have no voice; if you choose to identify not only with the powerful, but with the powerless; if you retain the ability to imagine yourself into the lives of those who do not have your advantages, then it will not only be your proud families who celebrate your existence, but thousands and millions of people whose reality you have helped change. We do not need magic to change the world, we carry all the power we need inside ourselves already: we have the power to imagine better."
6. Denzel Washington, University of Pennsylvania, 2011
One of the most successful movie stars shares his wisdom with UPenn graduates in a moving speech. Washington urges the graduates to follow their passion at all costs and to not "fall back" on anything.
Key quote: "Fall forward. Here's what I mean: Reggie Jackson struck out 2600 times in his career — the most in the history of baseball. But you don't hear about the strikeouts. People remember the home runs. Fall forward. Thomas Edison conducted 1000 failed experiments. Did you know that?  I didn't either — because number 1001 was the light bulb. Fall forward. Every failed experiment is one step closer to success."
7. Joss Whedon, Wesleyan University, 2013
Whedon's clever commencement address ruminates on the significance of human contradiction. It's not a typical speech and in many ways it defies conventions, but it's inspiring and important in its own way.
Key quote: "If you think that achieving something, if you think that solving something, if you think a career or a relationship will quiet that voice, it will not. If you think that happiness means total peace, you will never be happy. Peace comes from the acceptance of the part of you that can never be at peace. It will always be in conflict. If you accept that, everything gets a lot better."
8. Lewis Black, Marshall College, 2013
In his first commencement speech, comedian Black brings his brand of humor to Marshall College. His speech is hilarious, but it's also earnest and touching as he encourages the graduates to stay young and idealistic despite whatever challenges they face.
Key quote: "Just because you get old, you don't have to let go of the beliefs you have now. You have them for a reason. It's called, generally, idealism. There's nothing wrong with being idealistic. But you're gonna run into a bunch of idiots ready to tell you that there is… What's insulting isn't your idealism. It's their lack of it. Their belief that nothing can be changed."
9. Barbara Walters, Yale University, 2012
Technically, Walters is speaking at Yale's traditional class day, but the premise is the same: to offer graduates wisdom that may prepare them for life. Her speech is funny and charming, and full of wonderful insights from herself and the many world leaders she has interviewed.
Key quote: "Don't worry about finding your bliss right now. Not even our President knew what his bliss was, nor did I. One of these days to your own surprise, your bliss will find you. But no matter what you do, participate, be there, full force, full heart, full steam ahead."
10. Oprah Winfrey, Stanford University, 2008
Of course Oprah has to be on this list. Her speech to Stanford University is typically insightful, as she preaches the power of service for others.  
Key quote: "This is what I know for sure: in order to be truly happy, you must live along with and you have to stand for something larger than yourself. Because life is a reciprocal exchange. To move forward you have to give back. And to me, that is the greatest lesson of life. To be happy, you have to give something back."