Kate Winslet Calls Her 'Titanic' Performance 'Awful'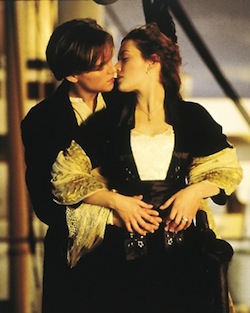 Next weekend audiences will return to theaters to see Titanic, and it's easy to understand why — unless you're one of the film's stars, that is. While the film may conjure up memories of developing a teenage crush on Jack and weeping as Rose promises to "never let go," all Kate Winslet sees is a young actress turning in a rather shoddy performance. "Every single scene, I'm like 'Really, really? You did it like that? Oh my God,'" she says. "Even my American accent, I can't listen to it. It's awful. Hopefully it's so much better now. It sounds terribly self indulgent but actors do tend to be very self-critical. I have a hard time watching any of my performances, but watching Titanic I was just like, 'Oh God, I want to do that again.'"
According to director James Cameron, Leonardo DiCaprio feels the same way. "I didn't show him the whole film but I showed him 18 minutes of it a few months ago," Cameron explains. "It was a good reunion for us but great to watch his reaction. He couldn't believe it. He said to me, 'I'm such a young punk. Look at me.' He was practically crawling under the seat. It was a good moment."
Winslet and DiCaprio aren't the only actors who find their early work cringe-inducing. Here's a look at the other actors who can't stand their most iconic roles.
Leonard Nimoy
Though Leonard Nimoy eventually embraced the role of Spock, he wrote the book on this subject — literally. Nimoy thought he'd finally be able to move past the Spock role when Star Trek was canceled in 1969, but when the show became a cult hit, he found he couldn't escape the pointy-eared Vulcan. He lamented in the 1975 book I Am Not Spock, "I went through a definite identity crisis. The question was whether to embrace Mr. Spock or to fight the onslaught of public interest. I realize now that I really had no choice in the matter. Spock and Star Trek were very much alive and there wasn't anything that I could do to change that." Nimoy initially refused to appear in a Star Trek TV reboot and insisted on having Spock killed off in the films. Later he came to terms his sci-fi star status, appeared as Mr. Spock in multiple projects, and penned the appropriately-titled book I Am Spock.
The Cast of Star Wars
As for the other major sci-fi franchise, practically all of the actors in Star Wars wound up hating the films. Carrie Fisher recalls some Princess Leia horror stories in her autobiography Wishful Drinking, writing, "George Lucas ruined my life." Alec Guinness hated the character of Obi-Wan so much that he pushed to have him killed off, and once told a child who said he'd seen the films 100 times that he'd only give him an autograph if he promised never to watch them again.
The Men Who Wore Batman's Cowl
George Clooney was so mortified by Batman & Robin that he's jokingly offered to refund the ticket price to anyone who saw the film in the theater. Christian Bale is pleased with his work as the caped crusader (despite his unintentionally hilarious Batman voice), but is no fan of the beloved musical Newsies. "At 17, you want to be taken very seriously — you don't want to be doing a musical," he says. "Time healed those wounds. But it took a while."
Shia LaBeouf
Though it didn't stop him from appearing in Transformers: Dark of the Moon, Shia LaBeouf admits that the second Transformers installment was an embarrassment. "There are a lot of people that liked the second one, but I hated it. I just didn't enjoy it," he says. "I thought we missed the mark. I got confused, I couldn't see what the f*ck was going on, you know with certain robots… I couldn't decipher what was happening. There were storyline paths that I just wouldn't have gone down."
Michelle Williams
Joey Potter fans definitely weren't wild about Michelle Williams' character Jen Lindley on Dawson's Creek, and years later she admitted she thought the wildly popular teen drama was cheesy. "I said to a friend being on Dawson's Creek was kind of like being a mobster," she said. "You set up a shop selling pizza but in the back you're laundering money. You're doing one thing in plain sight and secretly plotting something else. I was plotting my tastes, my interests, my beliefs and hopes for what I could be."
So far the stars of Harry Potter, Twilight, and The Hunger Games still seem to love the roles that launched them into megastardom, but don't be surprised if you hear Emma Watson bashing Hermione Granger after she's picked up a few Oscars.
[Movieline, StarTrekdom, Cracked, EW, Worst Previews, Huffington Post, Us]