19 Thoughts You Have While Watching All of the 'Real Housewives' Shows
Watching any season of the Real Housewives will make even the most die-hard fans a little crazy. From Atlanta to Beverly Hills, these ladies stir up the drama in ways most people didn't even know were possible, and it's hilarious, fun, and always over-the-top. These are the thoughts every Real Housewives fan has when they tune into their Bravo guilty pleasure week after week.
1. "OK, time for some Housewives. Where's the wine?"
2. "These intros, though. If I were a Housewife, what would my tagline be?"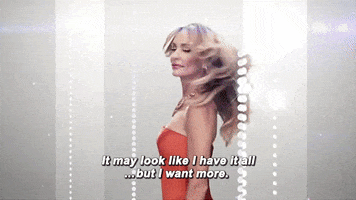 3. "Oh look, another beautiful day in paradise."
How long until someone fucks it up and starts a fight?
4. "What are the ladies up to tonight? Charity event? Dinner party?"
5. "These outfits are so over-the-top, as always. And yet, I die for them."
6. "Here we go: they're already drunk and fighting."
7. "Oh no, we've brought in the husbands. This is not good."
8. "There's a blow out fight. There are tears. There was almost a weave snatching."
9. "Cut to lunch and shopping the next day. This should go well."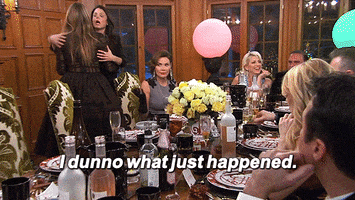 We're going to discuss the aftermath of "the fight."
10. "Someone is nervous about the tension in the group."
11. "Someone else is so over all the drama. Someone else storms off."
12. "What are we even fighting about again?"
Didn't we end this argument three episodes ago?!
13. "OK, we're going to hug this out, I guess. This seems super genuine."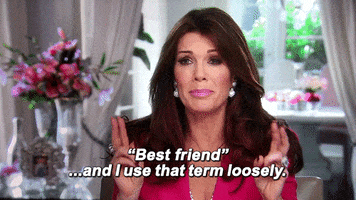 14. "Cut to some serious shit talking in the confessionals."
15. "I have so much closet envy."
16. "Someones at work. You know, when "at work" involves a cocktail empire or handbag line."
Not your typical desk job, of course.
17. "I want this life. How do I get a life this fabulous?"
18. "Oh wait, more drama. Nothing gold can stay with these ladies."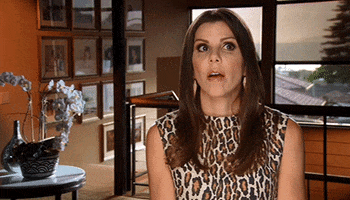 19. "I thought I wanted this life, but I'm actually totally fine being poor and drama-free."
I may not have a closet full of Louboutins, but I've got snacks and my couch and peace of mind. I'd say that's all I need.