Which Chris Pratt Is Your Favorite Chris Pratt?
Sure, Guardians of the Galaxy gave us an exciting, fun space adventure and a surprisingly moving relationship between a raccoon and a tree. But according to the Internet, the real gift is that of Chris Pratt: Movie Star.
He's everywhere right now — interviews, talk shows, movie theaters, television screens, .gif sets on Tumblr — all punctuated by the giddy exclamations of a nation head over heels in love. And why shouldn't America revel in the glory that is Pratt? He's goofy, charming, lovable, and humble, the funny guy next door wrapped up in an action-star package. But though this is the biggest wave of Chris Pratt adoration that we've experienced, it's hardly the first time that people have fallen in love with him. You might not realize it, but he's been breaking hearts for years now, thanks to his transition from teen crush to goofy best friend to supporting character to leading man. But is Chris Pratt as Star-Lord really better than all of these Chris Pratts, or did we miss the best Chris Pratt when we weren't paying attention? Let's take a look: 
Doe-Eyed High School Boyfriend Chris Pratt (a la Everwood)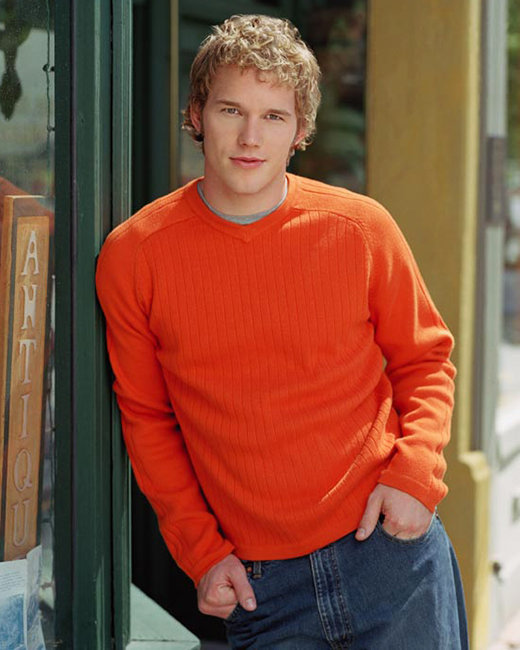 The WB
This is the original iteration of Chris Pratt, and everyone knows the sequels are never as good as the original. That's the face of a guy who is bound to grow into a movie star, but right now is going to make your teenage heart melt as the jerk-turned-dream-boyfriend. Have you seen his scenes with Hannah? When you were in high school, all you wanted was for someone to love you like that. All you still want is someone to love you like that. And look at that floppy hair – do any other Chris Pratt's have that ridiculous hair? No they don't. That's why this is the best.
Everyone's Chubby Best Friend Chris Pratt (a la Parks and Recreation)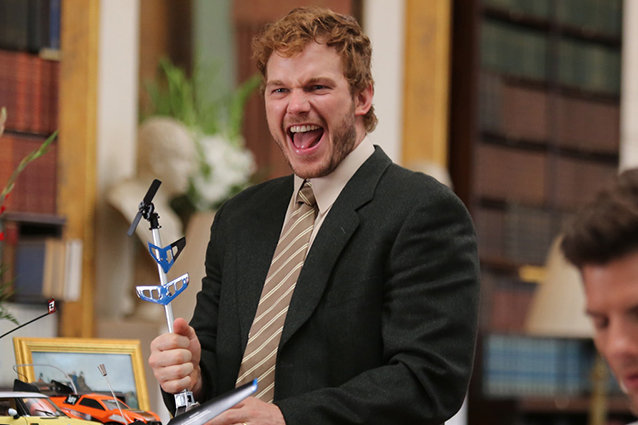 NBC
We're glad that people are finally waking up to Chris Pratt, but frankly, we feel a bit bad for them. See, they missed the best Chris Pratt of all: chubby, accident-prone, lovable doofus Chris Pratt. You want charm? He's got it. A brilliant sense of humor? Check. Dashing good looks? Always there. A relationship with both his on and off-screen wives that will make you swoon? Still here. On top of all that, chubby Chris Pratt is the kind of guy who will happily sit on the couch with you to binge-watch Netflix, buy you Chipotle whenever you're craving it and he won't care at all about what you look like, because he loves you no matter what. 
So Badass It's Scary Chris Pratt (a la Zero Dark Thirty)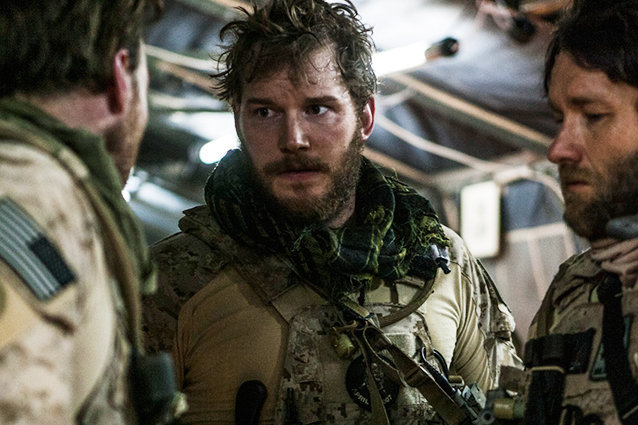 Columbia Pictures
Sure, Chris Pratt elitists can complain that earlier versions are superior, but the truth remains that ripped Chris Pratt is the best one of all. All of those amazing traits that the other Chris Pratt's have – the humor, the humble perspective, the charm – are still here, but now they're covered in the most incredible abs you've ever seen. Now he's a serious actor. No more running into ambulances, he's got serious business to take care of, and when he's done, he'll swoop you up into his toned, dramatic actor arms and carry you off into a terrorist-free sunset. 
Space Cowboy Chris Pratt (a la Guardians of the Galaxy)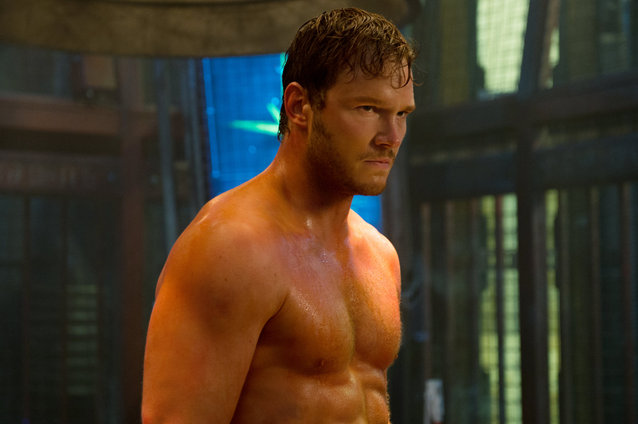 Walt Disney Pictures/Marvel

There's a reason everyone hopped on the Chris Pratt bandwagon after seeing him as Star-Lord: this is the best version of Chris Pratt. He's cocky, he's tough, he's suave, he's clever and he's got a heart of gold and the coolest friends in the galaxy. He's the best kind of action hero, the kind that has a wisecrack for every occasion and the sweet, sweet dance moves that are required in tense situations. Star-Lord is Han Solo for a new generation, the kind of character everyone wants to be and everyone wants to be with. It's everything you love about the other Chris Pratts, plus a super cool fighter plane. 
Moustachioed Chris Pratt in High-Waisted Pants (a la Her)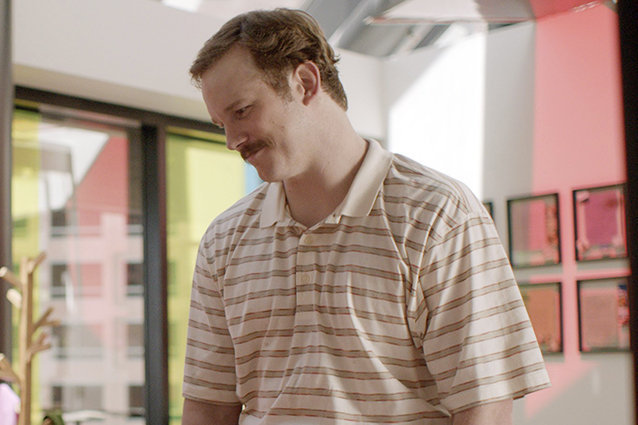 Warner Bros. Pictures via Everett Collection
Sure, he only has a few minutes of screen-time, but those few minutes show off the best Chris Pratt we've seen yet. He's sensitive enough to enjoy a well-written love letter, kind-hearted enough to accept his friend's non-traditional relationship, funny enough to break the tension, attractive enough to pull off that mustache-and-pants combination and – best of all – emotionally stable enough to be in a relationship with an actual human being. Imagine the weekends in Catalina with him. Would any of those other Chris Pratts take you on a romantic trip to Catalina? 
Chris Pratt: French Braider, Heart Breaker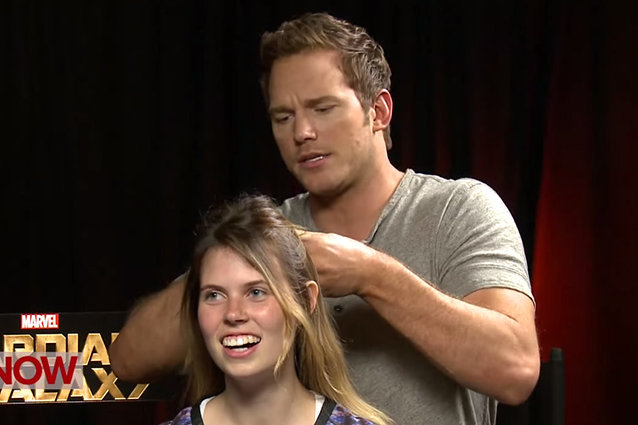 YouTube/Entertainment Tonight
Just when you thought Chris Pratt couldn't get any better he goes and braids an intern's hair. Not just any braid – a French braid. Most women we know can't manage a decent French braid… and there Chris Pratt is, effortlessly plaiting her hair into an artfully-messy style that people would pay good money for in a salon. He does it all without breaking his concentration, answering questions just as easily as he would if he weren't breaking the hearts of everyone watching. And then, just when it seems like you'll finally be okay, he chastises the interviewer for attempting to tie it off with a rubber band, because this Chris Pratt is the best Chris Pratt. 
Chris Pratt, Family Man 
WENN/Brian To
Chris Pratt is at his best when he's with or talking about his family, by far. All of his insanity and goofiness fades away to showcase all of the affection he has for them, and there is nothing in this world better than a hot man who loves his family. Have you seen the way he looks at Anna Faris? That's the dream right there. How about the way he talks about his son, Jack? It's heartwarming and charming and adorable, while still allowing him the opportunity to make poop jokes. It's the perfect combination of everything that makes Chris Pratt wonderful, with an extra helping of smiley, adorable baby and beautiful, talented wife. This, right here, is the dream. 
Cast your vote for the best Chris Pratt of all below!