Worst To Best: Spice Girls' Solo Careers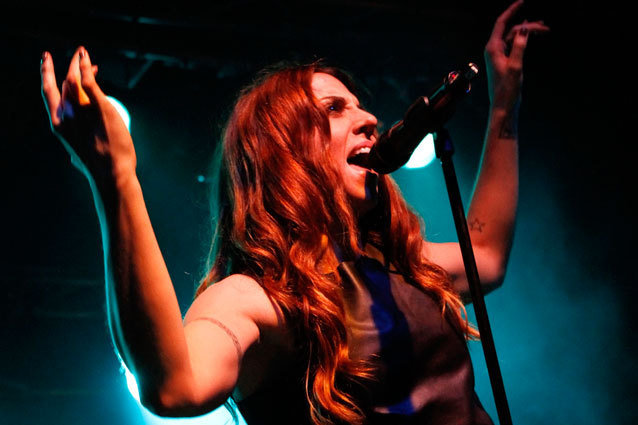 Frank Hoensch/Getty Images
Following on from their triumphant performance at the London Olympics Closing Ceremony, the majority of the Spice Girls have managed to switch their attention from trashy reality TV, weight loss adverts and clothing lines long enough this year to reignite their solo careers. Melanie C recently scored an unexpected UK Top 20 hit thanks to a duet with X-Factor winner Matt Cardle. Geri Halliwell will premiere her first new single in eight years on Australian TV next month. While only last week, Mel B unveiled her surprisingly half-decent comeback track, "For Once In My Life." Here's a rundown of each Spice Girl's solo material from worst to best.
5. Mel B
The first member to venture outside the Spice Girls bubble, Melanie B opened up her solo career in style with the futuristic R&B of 1998 Missy Elliot collaboration, "I Want You Back." Unfortunately, she failed spectacularly to sustain such a strong start. An ill-advised cover of Cameo's "Word Up" became the first ever Spice-related single to miss the UK Top 10. 2000 debut album Hot appeared to catch the likes of producers Rodney Jerkins & Teddy Riley on an off day, while 2005's disastrously low-budget L.A. State Of Mind suffered the ignominy of selling fewer than 500 copies in its first week.
Like Mel B, the most high-profile Spice Girl initially started off well. Jumping aboard the two-step garage bandwagon of the early '00s, her inspired hook-up with Truesteppers may have lost one of the biggest chart battles of all time to Spiller's "Groovejet" but it still sold half a million copies. However, 2001's self-titled debut album, a lacklustre affair filled with anodyne R&B and drippy ballads, badly underperformed. And although the tongue-in-cheek disco-pop of swansong "Let Your Head Go" restored a bit of dignity, most agree that she makes a much better fashion icon than pop diva.
The only solo album to reach the Billboard charts, Geri Halliwell's 1999 debut Schizophonic was arguably the record that Spice Girls should have recorded instead of the hopelessly generic Forever. Three of its four singles topped the UK charts, while her jaw-dropping entrance at the 2000 BRIT Awards proved that despite her 1998 departure from the group, the spirit of Ginger Spice certainly still lived on. However, she boxed herself in with a ridiculously camp cover of The Weather Girls' "It's Raining Men," while both 2001's Scream If You Wanna Go Faster and 2005's Passion lacked any of the spark that made her such a brilliant if slightly bonkers pop star.
2. Melanie C
Widely regarded as the Spice Girl with the best voice, Melanie C was supposed to be the Robbie Williams of the group. 1999's near-million-selling debut Northern Star, a hook-laden but mature mix of electronica, R&B and pop-rock featuring the likes of William Orbit, Lisa 'Left Eye' Lopes and Butch Vig, initially proved this to be the case. But a three-year wait for follow-up Reason completely destroyed any momentum and she rapidly became a fanbase-only artist with several increasingly bitter albums of plodding indie-rock. However, she remained the only Spice Girl to persevere with a solo career and 2011's return-to-form, The Sea, suggests she's still capable of recapturing her early glory days.
1. Emma Bunton
Easily the most unassuming Spice Girl, Emma Bunton unexpectedly delivered the greatest solo single with the driving pop-rock of "What Took You So Long" in 2001 before going onto produce arguably the most well-executed album with 2004's Free Me. An inspired pastiche of '60s pop which featured everything from potential James Bond themes to Bacharach-esque ballads to covers of Brazilian samba classics, it was the only Spice Girl sophomore to sell more copies than its predecessor. And although a lazy rendition of Petula Clark's "Downtown" sank the similarly-themed third album, Life In Mono, her back catalogue is easily the most consistently enjoyable.
More:
Hip-Hop Needs Azealia Banks To Drop That Album
Supergroups That Lived Up To The Hype
Jessie J Is Killing Music
---
From Our Partners:


40 Most Revealing See-Through Red Carpet Looks (Vh1)


15 Stars Share Secrets of their Sex Lives (Celebuzz)