Attention, Hollywood: Let Jason Momoa Take Over for Stallone and Schwarzenegger!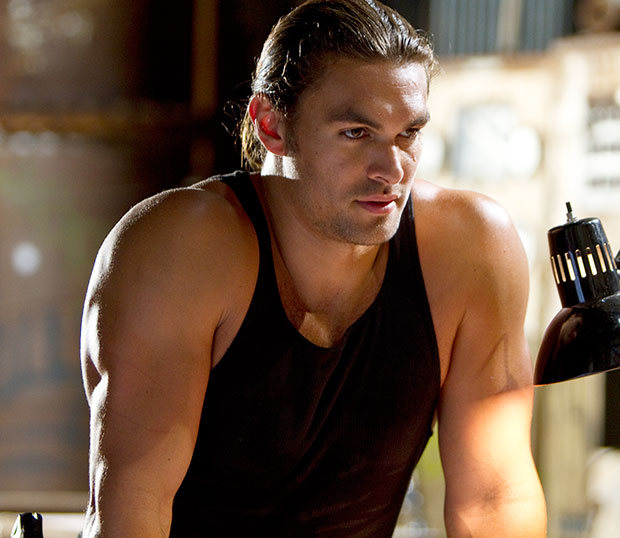 In 2002's, Arnold Schwarzenegger's Collateral Damage bombed at the box office. Many pointed to the unfortunate proximity of 9/11 to the terrorism-themed action movie. But Collateral Damage had a bigger problem on its hands: an aging action star losing his appeal with audiences.
The same dwindling effect happened to Sylvester Stallone after three decades of success in action. The 10 years that followed his last original leading role, 2002's Avenging Angelo, were filled with sequels and fan fiction-like promises. Rocky Balboa, Rambo, the Expendables franchise — less heroic comeback than wish fulfillment. This weekend, he returns with Bullet to the Head in hopes of recapturing some of that dumb, fun magic.
As a fan of both Schwarzenegger and Stallone's clobbering work — Commando and Rambo: First Blood Part II being stand outs — I'm sad to admit that at 65 and 66, respectively, the ball busting duo may be over the hill for entertaining action movies. Don't get me wrong: they're as ripped as ever. What they're missing is the "roar." While Stallone has packed so much muscle on for Bullet that his veins are literally being pushed up against his skin, both he and Schwarzenegger are going through motions in their latest vehicles (the Governator returned to solo stardom with The Last Stand). Audiences need goofy, brutal entertainment in their lives, but no longer can they be delivered by the hands of the legends. Nostalgia isn't powerful enough to empower them.
Luckily, the two have a successor.
Few people (including myself) saw model-turned-actor Jason Momoa in the final seasons of Baywatch or as Ronon Dex on Stargate: Atlantis and thought, 'Hey, this guy could be the next Stallone!' But after his turn as the vicious Keegan in Bullet to the Head, standing side by side with a man he's described in interviews as being a personal hero, it's clear the actor has the physique and light-hearted attitude to accept the torch. He's multi-faceted — in the right ways.
Schwarzenegger and Stallone aren't in the same category as Oscar winners, but they do have a talent few posses. Besides being structurally sound for pulling off stunts and choreographed fights, they get the humor of their moves. That's why it was never surprising that Schwarzenegger followed an alien gore-fest (Predator) and a futuristic deathwatch (Running Man) with Twins, or why Stallone thought Stop! Or My Mom Will Shoot was a good idea (I swear its not his fault). Momoa shows off the same attitude with Keegan. While he's evil, he's gleefully sadistic. We could picture him on the other side of it, rattling off Commando-like one-liners as fast as the bullets blasting off from his pistol.
Or he can play it straight. There's a reason Momoa was a logical choice for the 2011 remake of Schwarzenegger's Conan the Barbarian. He appears to pack the brute force of the Austrian bodybuilder and can do it with a stone cold face. That was obvious from Momoa's work as Khal Drogo on HBO's Game of Thrones, but there, the surroundings were far too serious. Thrones is engrossing and layered. As a flagbearer for potential escapism, Momoa needs to be the draw, a superhuman we know can triumph regardless of the setup. The sillier the scenario, the more faceless the baddies, the better the stage for an actor like Momoa to smash his way to stardom.
I wouldn't want Schwarzenegger and Stallone to disappear — in fact, during Comic-Con, I was enthusiastic over the possibility of Schwarzenegger trying his hand at another comedy — but when it comes to beating the living crap out of goons and leading the next big, nearly direct-to-DVD franchise, my chips are on Momoa. Conan may not have soared at the box office, but don't blame that one on the guy who delivered: with the right part — the ones still going to our heroes from the '80s — Momoa could inspire a whole new generation of action fanatics. And give me a reason to hoot, holler, and munch popcorn for 90 minutes.
Follow Matt Patches on Twitter @misterpatches
[Photo Credit: Warner Bros. Pictures]
More:
'Bullet to the Head' Cast Gushes Over Stallone Between Takes
'The Last Stand' Injuries: Schwarzenegger's Head Wound, Knoxville's Broken Penis — VIDEO
Stallone Does Kojak: See the 'Expendables 2' Cast in Their Early TV Roles
40 Hottest Celebrity TwitPics of January (Vh1)

'Star Wars' vs. 'Star Trek': 15 Insane, Awesome Mashups (Moviefone)