Anne Hathaway's Oscar Dress: Worst Outfit of All Time?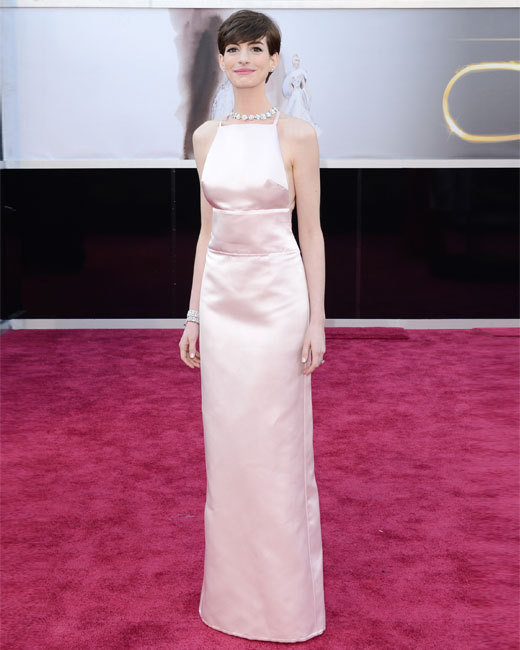 There is no question that Anne Hathaway is going to win a Best Supporting Actress Oscar for her role in Les Miserables. So we were only left to wonder: What was the actress going to wear for her triumphant moment on the podium? Well, we finally have our answer, and it is one of the worst dresses in Oscar History.
Hathaway showed up in a pale pink Prada number that looked as much like a couture lobster bib as it did a red carpet dress. The biggest problem about the gown? The baggy-ish top was shaped by two darts on the bust line that end… yes, just where the nipples are supposed to be. When she walked up to Ryan Seacrest, for those watching the E! red carpet from home, she looked like she was coming at the host with her headlights blazing. The front flap was not only held up by criss-cross straps around the neck but also a wider band that tied at her back, sectioning in the open back into several parts. It was simultaneously bland, confusing, ill-fitting, and vaguely inappropriate. 
RELATED: Oscar Red Carpet Looks: See the Photos
The word on the street was that Hathaway (who has long been styled by Rachel Zoe) was going to wear Valentino, but Hathaway told Seacrest that she only decided to wear this dress about three hours before leaving the house and that it "really spoke to her." Damn, Anne, maybe you shouldn't have listened to those voices and gone with your first choice. Now your acceptance speech is going to be scarred by this abomination forever. 
Follow Brian Moylan on Twitter @BrianJMoylan
[Photo Credit: Jason Merritt/Getty Images]
---
From Our Partners:


25 Most Scandalous Celeb Twitpics (Vh1)


33 Child Stars: Where Are They Now? (Celebuzz)
---
Oscars 2013 Special Coverage
---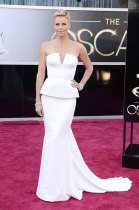 Oscars 2013 Red Carpet Arrivals: PICS!
• Anne Hathaway: Oscar's Worst Dressed?
• 15 Oscar-Winning Nude Scenes
• Seth MacFarlane's Opening: How'd He Do?
• Oscar's Problem With Pretty Boys
• What Happened to Renee Zellweger's Face?
• Oscars 2013: The Full Winners List
• The Winner, According to You