Ezra Miller: 'The Perks of Being a Wallflower' Was 'Transformative'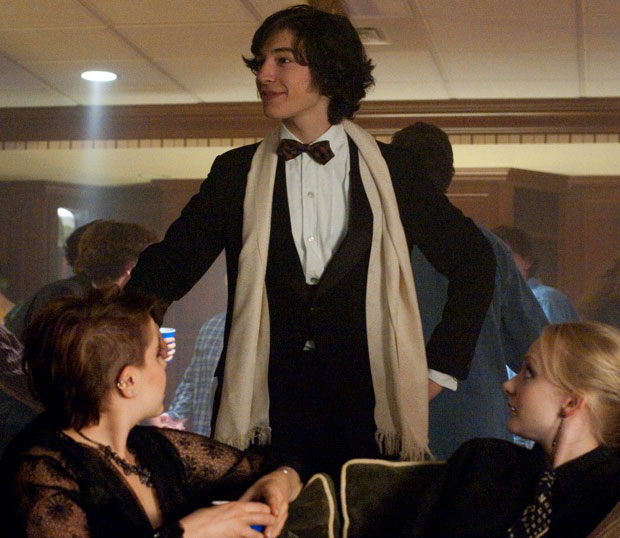 In The Perks of Being a Wallflower, Ezra Miller gives a performance that is by turns hilarious, heartwarming, and devastating. He plays Patrick, a high school senior who, even though he is a bit of an outsider, rarely lacks in confidence. Openly gay in an environment where being such can have violent consequences, Patrick continues to dress in drag for The Rocky Horror Picture Show and never shies away from being the center of attention. Like his character, Miller also recently came out, which adds another layer to watching him portray this charismatic, confident character on screen. 
While Charlie is the film's narrator and lead, Patrick — as played by Miller — is its emotional heart and is magnetic on screen. Hollywood.com spoke with Miller about preparing to play such an intense character and about the added pressure that comes with being involved with a project that has such dedicated fans as Perks does.
While Miller makes a perfect Patrick, he told Hollywood.com that when he first read the novel he related much more closely with Charlie. "The book is written so beautifully from the perspective of Charlie — so when I was 14 years old I read it as Charlie; I saw it initially through Charlie's eyes," says Miller. "But then when I got the script and started reading it I simultaneously came to the realization that I had to do this film — it was the next project that I all of a sudden felt thirsty for — and then at the same time I realized that it had been 4 years [since I last read the book] and I was 18 and I found myself in much more of a Patrick situation. And so yeah, from there on out it was clear to me and it was just a matter of convincing all those other people."
Miller, like fans of the book and soon fans of the film, finds Patrick to be not only a sympathetic character, but one who is easy to look up to. "There is a lot about Patrick that I aspire to," says Miller. "I think that Patrick has an incredible mechanism to transform his own suffering and the other people he loves, the people around him, that I'm still working on cultivating."
And that love is transparent on screen. The secret behind the strong bonds we see between the characters is that the friendships between the actors were very real, on screen and off. Miller explains, "It was really just like falling in love with a group of friends. When superficial friendship was no longer satisfactory in and of itself it turned out that we had actually been forming really real, loving bonds and it just became this wild family."
Miller goes on to describe his experience on the Perks set as "transformative." "Now I feel like I have a group of friends that supports me in my life and all the other works of art we're trying to make," he says. "Which is unique; it's hard to come by a pack like that. I think it was quite essential to Steve [Chbosky] that we all have this transformative experience and really became that group of misfit toys."
For Miller, the fact that so many teens look up to Patrick made it all the more important that he put his all into his characterization. "A layer of pressure is also a layer of motivation, a layer of excitement," he says. "And to feel that necessity, that we needed to make a character who could in and of his own fictional existence spur someone on to rebellion and reparation of the conditions of their own life, that just created a necessity that made it all the more crucial to play Patrick correctly."
"Personally, I think we fear pressure, but we know deep down that we are all responsive to it," says Miller. "That with the adaptive nature of each human being, we answer the call that comes to us. So sometimes it's kind of a blessing in disguise to receive a calling that is particularly challenging or seemingly impossible."
Follow Abbey Stone on Twitter @abbeystone
[Photo Credit: Summit Entertainment]
More:
Does 'The Perks of Being a Wallflower' Film Do the Novel Justice?
Mae Whitman Talks Love and Friendship on 'The Perks of Being a Wallflower' Set
How 'Perks of Being a Wallflower' Author Did it All for the Movie