16 Reasons Why Chandler and Monica Are Relationship Goals
Monica and Chandler started out as friends and ended up finding love, and we're still obsessed with them. Here are all the reasons why Chandler and Monica will always be our favorite TV couple.
1. They had a rough start, so it seemed unlikely they'd ever end up together.
Monica had a crush on Chandler, but overheard him refer to her as fat, which inspired her to lose weight and craft a plan to humiliate him. It didn't end well (RIP Chandler's toe) and hardly made for a fast-track to romance. To his credit, Chandler didn't remember calling Monica fat and felt awful about it when she told him.
2. They share history but also grow and navigate the murky, confusing twenties together.
They met when Ross brought Chandler, his college roommate home for Thanksgiving and Monica was still in high school. They see each other through the awkward early twenties (especially when he tried his hand at rock and roll fame with Ross in Way No Way) and support each other through some quarter-life crises.
3. Even as friends, they shared secrets between each other.
Monica knew about Chandler's third nipple when no one else knew (Joey had seen it but thought it was a "nubbin", whatever that is).
4. Before romance bloomed, they shared sexual tension.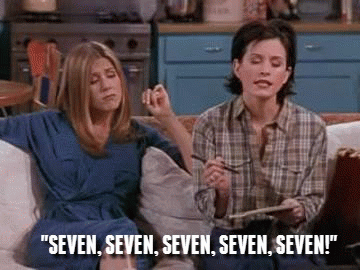 Chandler always seemed slightly jealous of Monica's suitors, especially Paul the Wine Guy. Monica taught him the ever-important female erogenous zones. Seven.. seven.. seven..
5. They helped each other through relationship woes.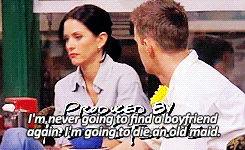 He was supportive of her during her struggles with Richard, and she didn't judge (too hard) when he kept going back to Janice. She deserves a medal for that alone.
6. They risked ruining their entire friendship when they hooked up, but took a chance on love.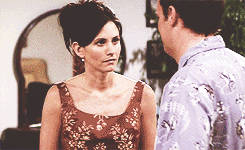 When they hooked up in London at Ross's wedding, they knew their friendship was effectively over, but took a chance anyway. And we're sooo glad they did!
7. They support each other's career aspirations.
She's supportive when he takes an unpaid internship to do what he really wants to do, and almost moves to Tulsa when he accidentally volunteers to move his job there. He gets them out of the move when she lands a dream job as head chef in the Big Apple. They're a team, no matter what.
8. They accept and forgive each other's flaws.
He married someone who cut off his toe, for crying out loud. But, more than that, he supports her neuroses and obsessive compulsive tendencies, while she forgives his weird jokes and accepts his fear of commitment.
9. They're not afraid to be weird around each other.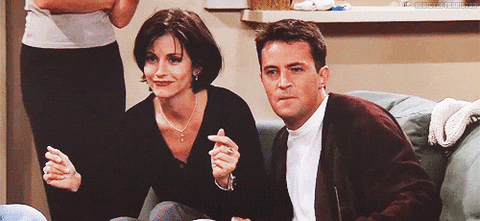 We're all kinda dorky, and the Bings prove that a little weirdness is a good thing.
10. There is nothing they won't do for each other.
After an unfortunate run-in with a jellyfish, Chandler pees on Monica. Chan gives her a piggyback ride after she spends way too much money on designer boots that torture her feet. Monica even agrees to watch shark porn when she thinks he's into that.
11. They fought so hard to become parents.
Ross and Rachel knew they'd make great parents, even naming them Emma's caretakers if something happened to them. Chandler was so afraid of failing as a father, but Monica knew he'd be great at it.
12. Laughter can get you through anything.
These two know relationships aren't always easy, but the good ones are ALWAYS worth any struggle.
14. The way he looks at her.
Could he BE any cuter?
15. Her proposal, and their wedding, are just perfection.
"Chandler, for so long I wondered if I would ever find my prince, my soul mate. Then three years ago, at another wedding, I turned to a friend for comfort. And instead, I found everything I'd been looking for my whole life. And now, here we are with our future before us, and I only want to spend it with you — my prince, my soul mate, my friend."
16. They're best friends first, and that is the key to making love last.
We'll always love you, Monica and Chandler.