'Golden Boy' Theo James on Being Mistaken For James Franco & The Appeal of 'Complex Women'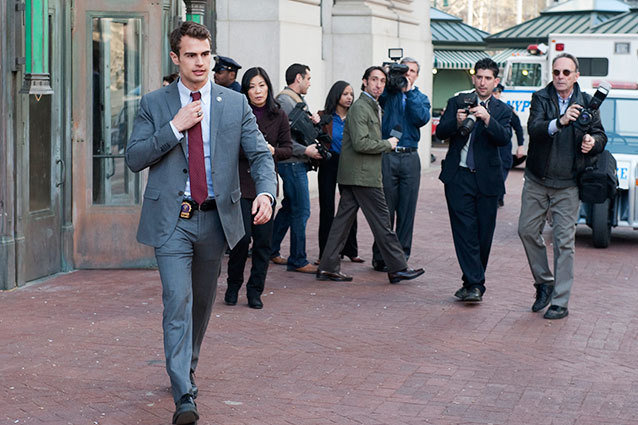 The devilishly handsome lead on CBS' new crime drama Golden Boy may have the chiseled face of a Franco brother (as in James or Dave Franco), but he's actually British actor Theo James… though you wouldn't be the first to be confused. 
James spoke with Hollywood.com to preview his new CBS show, and admitted that he was once approached by a paparazzo who thought he was the most eccentric Franco brother: "It was fun to be human and to wave and be like, 'What's up, man?', but [the paparazzo] was like 'Where are you going?' And I said, 'Um, we're going for some food, why are you filming me?' And he stopped and you could see he was like 'Oh s**t.' He thought I was f**king James Franco," he says with a laugh. But luckily for the newest CBS star, he hasn't had that issue recently. "Maybe it's because I changed my haircut and started doing press-ups," he jokes.
RELATED: 'Downton Abbey' Gets First Black Cast Member
But you may recognize James (Theo, not Franco) as a rather memorable guest star on Downton Abbey. Before he snagged the lead in Golden Boy, he played Mr. Pamuk, the man who stole Lady Mary's good name by seducing her and dying in her post-coital arms. Now, he's come back to life as Walter Clark, Jr., a young cop promoted to the illustrious homicide department (the big leagues) after becoming a New York City hero. James gave a little background on the series, which manages to play by new rules in CBS' never-ending crime drama landscape. 
"It is very different, because it's character-driven and the cases are secondary," says James. "It's about [the six characters and] their families, their lives, their affairs, their backgrounds, the mistakes they make, people they f**ked over." Rather than sticking to CBS' "case of the week" bread and butter, Golden Boy plays with the timeline a bit, bringing in various cases for varying amounts of time and often connecting them to people in Clark and his fellow cops' lives.
But it's not just the way the series works out each episode that sets the show apart. James is proud of his "flawed" young character. "He's very intuitive, he's very aggressive, sometimes too much, and he's arrogant," he says.
RELATED: A-Lister Returns to 'Arrested Development'
What's more is the series doesn't just follow modern day Clark; we also meet future Police Commissioner Clark, who, at age 34, is the youngest police commissioner in New York history. "[The 34-year-old Clark] is more of a broken person, so there's a big juxtaposition [to young Clark] in that way … you want to find out all that he's lost and the damage that's been done on the way to this pivotal point where he's the police commissioner," he says. Of course, there is one tie between young Clark and older Clark, because his arrogance hasn't waned with age: "I like the idea that Clark is going for the senate, if not ultimately president, baby," says James.
Of course, the thing we all want to know is: What about the handsome young officer's love life? With an attractive hot shot like Walter, there have to be some babes in tow. "He's a smart guy himself so naturally he's kind of attracted to smart, complex women," he says. And boy, are there some smart, complex women for Walter. "There's the reporter and obviously the D.A. … he has a history of not opening up, and then he manages to start kind of showing a little bit of color with [the reporter]," he adds.
But it gets juicier. James says a love triangle could be in his character's future, teasing that Walter's rival Arroyo (True Blood's Kevin Alejandro) could provide a romantic roadblock. "The triangle will definitely be explored, especially because of the dynamic between Arroyo and Walter and that just makes it even more interesting, all of the implications of their jealousy and pride and ownership and all those things," he says.
The series wastes no time in getting to the complexities of Clark's life, and it all begins Tuesday night at 10 P.M. ET on CBS. 
Follow Kelsea on Twitter @KelseaStahler
[Photo Credit: JoJo Whilden/CBS] 
---
From Our Partners:


25 Most Scandalous Celeb Twitpics (Vh1)


33 Child Stars: Where Are They Now? (Celebuzz)