'Real Housewives of New York City' Recap: A 'Real Housewives of Beverly Hills' Crossover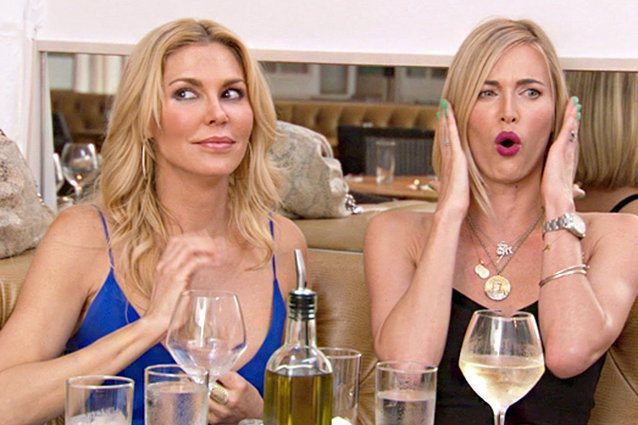 Bravo
In the latest episode of Real Housewives of New York City, the ladies seem like they may be taking a brief trip down to the Valley of the Dolls (and packing a lot of pharmaceuticals for the trip). There is something real and entertaining about New York City, pills and all. But the special guest appearance of Brandi Glanville and Yolanda Foster brings out the Beverly Hills in the Manhattan women.
The episode begins with Ramona Singer, the Eyelander, returning from her trip to Africa. It seems like she traveled by way of Darvocet as she literally stumbles into the party. Heather Thomson is shockingly excited to see her considering how much they fought last season. (Is that a Zoloft hug?) Heather is hawking jewelry but for a worthwhile charity. Despite her ghetto posturing, Heather seems the most real and her struggles with her son's health issues are heartwarming. She tells Ramona about her beef with Aviva Drescher from last week. However, Ramona is suddenly team Aviva despite not the two having spent a year not speaking to each other. It's strange Heather is uninviting Aviva from her anniversary party after she didn't invite Ramona to London last season. Hello, hypocrisy.
Sonja Morgan arrives at the party with a stunning body. Looks like she's a Dexetrim spokesperson. She is also surprisingly alert. Ramona recounts a story of two lions mating when desperate LuAnn Lesseps stops by to greet her. It's a subtle reminder that to LuAnn that she is no longer welcome in conversations with Ramona. She comes second to lion mating. Meanwhile, Carole Radziwill discusses orgasms with LuAnn's boyfriend Jacques and oral sex contracts with Kristin Taekman and her husband.
In boring product placement news, Aviva, Sonja, and Ramona meet at a store that sells containers to go shopping. Meanwhile, Heather hires Kristen to model for her shapewear line. Ramona tries to negotiate a détente. Cut to Kristen and Carole meeting Heather's husband Jonathan to help him pick out caviar for their anniversary. Meanwhile, starving children in Africa are wondering if Carole had a ghostwriter. Watching Carole scowl as she eats caviar is cruel and unusual punishment. An unabashed conversation about threesomes is not enough to save this entire scene from the Downton Abbey-level class insensitivity.
The confrontation finally arrives. Heather comes in, guns-a-blazin' to deal with Aviva. To put her opponent off she has elected use a weird folksy southern drawl, dropping a lot of y'alls and darlins. Aviva — trained by her all-female improv group Girls Just Want to Have Puns — does nothing but ask questions. Things get kooky and dramatic as they debate Anna Nicole Smith, name-dropping colleges vs. name-dropping rappers, and BookGate. They make peace because Aviva doesn't is scared because she believe Heather shot Coolio.
Speaking of pills, Ramona and her soon-to-be ex-husband Mario discuss Avery going off to college. Maneater Carole and Kristen decide to have a boozy brunch with ex-substance abuser Brandi and fellow Beverly Hills housewife Yolanda. Carole confesses she took a Xanax (which, in Upper West Side Elfish, means seven Xanax), two klonopin, and a can of Ensure. They discuss Kristen nearly cheating on her husband with an Elvis impersonator at her bachelorette party. It seems like her marriage is on its last legs. Between their not having sex and their constant bickering, here's hoping there's a pre-nup.
Heather's party arrives and is sponsored, shamelessly, by Ciroc. Ramona and Sonja boycott because Aviva wasn't invited. Meanwhile, Heather shows up fighting with her husband. Heather takes a long break from celebrating her wedding anniversary by trashing Ramona and her "Singer Stinger." Coincidentally, Ramona was born with an enlarged coccyx… so that's really insensitive, Heather! Heather gets her caviar and they all close out the night dancing around awkwardly, junior prom-style. Did they all take a few tablets of E?
Best Lines of the Episode
"Did I scream? Did I yell? Did I call you names? I just took it up the butt." – Aviva
"I never verbally raped Aviva. She's the one who verbally rapes people. I keep it real. If you don't want to hear the truth then you better not invite me to the party." – Heather
"You want to ask me one more time 'cause you're so f**king dramatic?" – Heather
"That's my career. Why don't you get a job?" – Heather
"You say you don't have to defend Carole. Are you guys lovers?" – Aviva
"I'm worried that Josh and Kristen are going to hit a rough patch. She should probably just practice blowies. That's what men really want, don't they? They don't call it a job for nothing." – Carole's personal widow's guide to sex and dating
"You're still married and I'm getting divorced." – Kristen
"Holla that b**ches!" – Heather reading our minds