John Woo Wants Liam Neeson To Lead His 'Flying Tigers'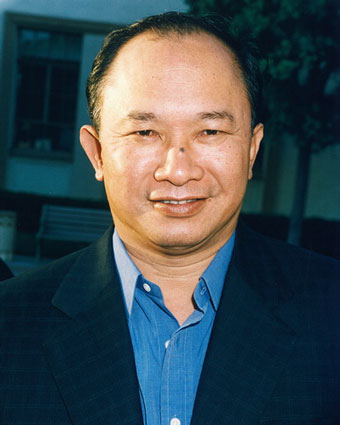 John Woo's most recent film, the historical epic Red Cliff, went largely unseen here in the states despite it's grand scale of adventure, but the veteran filmmaker is taking all the necessary steps to ensure that his upcoming Flying Tigers will have global appeal. The Hollywood Reporter has learned that Woo is interested in casting Liam Neeson as the star of the WWII aerial combat pic, an ambitious $90 million production which will is planned to be a major IMAX release.
The film would focus on U.S. Army Air Corp Lt. Gen. Claire Lee Chennault – the contentious American officer whose volunteer Flying Tigers squadron trained the first generation of Chinese fighter pilots taking on Japan in WWII. The Flying Tigers flew successful missions around the city of Kunming in Yunnan province against the raiding Japanese and flew supplies to both Nationalist and Communist Chinese forces. Playing opposite whoever is cast as Chennault will be a young Chinese actor in the role of a pilot in training. Woo mentioned the likes of actor Liu Ye, who last appeared in a lead role in Lu Chuan's Nanjing Massacre picture City of Life and Death. Clearly, the American audience will be more interested in whoever will be playing Chennault, so the casting process is key to ensuring the film's success.
"It's got to be a star but it's hard to find the right one, because at that time Chennault was almost 50 years old. Ideally, I've been thinking of Liam Neeson as the title actor," Woo said. CAA confirmed it represents Neeson but declined to comment on Flying Tigers. Woo is writing the script with Chris Chow and will co-produce with his longtime partner Terrence Chang of Lion Rock Productions.
Woo has long been one of my favorite foreign filmmakers and it's about time he had a fitting return to mainstream Hollywood cinema. His influence on the action genre is immeasurable – take a look at the works of Quentin Tarantino, Tony Scott and Brett Ratner (just to name a few), then go back and look at The Killer and Hard Boiled to see how profoundly he has effected these artists. I was left in awe by the imagery of Red Cliff and was saddened that it wasn't embraced by the public, but I realize that it was based on a story that most, if not all Americans are unfamiliar with. The equally expansive Flying Tigers focuses on a story that is well known to both Chinese and Americans, and that can only help in drumming up interest in the project. With the production gearing up for a spring start and a late 2011 release, Woo may finally begin the next chapter in his cinematic success story.
Source: THR